Arizona Diamondbacks unveil 4 new uniforms for 2024 season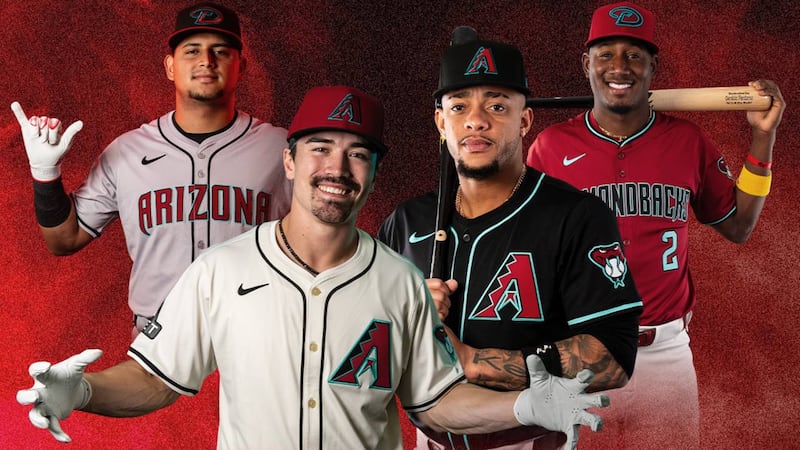 Published: Nov. 17, 2023 at 9:21 AM MST
PHOENIX (3TV/CBS 5) -- After a stellar postseason run, the Arizona Diamondbacks will be sporting some new fits for next year! On Friday, the Snakes debuted four new uniforms for a "refreshed and recharged" new look with a "nod towards tradition."
The new uniforms will all feature bits of teal, and some will bring back the original "D" logo. The home fits will have a classic off-white color, similar to the team's original 1998 uniform. The "A" logo will also be back in Sedona Red with a teal outline. Meanwhile, the road gray uniform will have an arched "Arizona" wordmark in classic Sedona Red. It will also have a teal outline on the wording. However, the caps will have the throwback "D" logo, a nod to the team's history.
A fan favorite at games is the black alternate uniforms, and this one is no different. The alternate fit features the Sedona Red "A" logo outlined in teal on the left side of the chest, and it will be topped with a black cap with the "A" logo. The second alternate uniform is the Sedona Red, another fan favorite. The full "Diamondbacks" name will be at the center of the uniform outlined in teal, and the sleeves and neckline feature teal and black braiding. Each player's number will also be featured in teal on the front of each jersey. All four jerseys will have the snakehead on the side.
"The 2024 Arizona Diamondbacks uniforms feature the return of retro elements in a bold new fashion with a nod towards tradition," Derrick Hall, President, CEO & General Partner, Arizona Diamondbacks, said in a statement. "As always, they were designed with feedback from our avid fan base, via surveys and focus groups, whose love for the Teal combined with Sedona Red makes it uniquely authentic to the Grand Canyon State."
Only a limited number of jerseys, player tees and hats are available for purchase at the team shop inside Chase Field.
See a spelling or grammatical error in our story? Please click here to report it.
Do you have a photo or video of a breaking news story? Send it to us here with a brief description.
Copyright 2023 KTVK/KPHO. All rights reserved.