Sponsored - The following content is created on behalf of Sunrise Native Recovery and does not reflect the opinions of Gray Media or its editorial staff. To learn more about Sunrise Native Recovery, visit SunriseNativeRecovery.com.
PHOENIX (Sunrise Native Recovery) – Addiction is an insidious disease, and nobody is immune. There is no vaccine or cure. While there is treatment, there is no one-size-fits-all solution. Treatment for addiction is individualized, more so than protocols for almost any other disease. The nature of addiction requires therapy involving the whole person – body, mind, and soul. That's impossible if those guiding a patient's recovery don't understand that patient. It's a challenge that's more prevalent than we might like to believe, especially when the patients are Native Americans.
Mainstream culture historically has not been kind to Native Americans. Not only do many people not understand the unique cultures of Native Americans, but they also have not even bothered to try. That lack of awareness makes the already difficult road to recovery exponentially harder for Native Americans. How can you move forward when you're alone in a crowded room, surrounded by people who have no sense of you, where you come from, and where you want to go?
Sunrise Native Recovery is changing that by integrating Native American cultures into every aspect of what it does. It takes treatments that have proven successful and surrounds them with "a nurturing recovery experience rooted in tradition" to create a "culturally focused treatment program."
Why a "culturally focused treatment program"?
"We're really influenced in sensitivity of the historical trauma toward Native Americans," Allen King, the chief administrative officer of Sunrise Native Recovery, explained. "That is part of our therapy, part of our rehabilitation."
Sunrise Native Recovery works hard to help its clients reclaim their identity and reconnect with the parts of themselves that have been lost.
"It's to see somebody come back to life when you see a client that is saying, 'I'm back, and I have a desire to live,'" clinic director Cristina Perez said. "For me, that is so meaningful."
There's nothing else like Sunrise Native Recovery in the addiction treatment space.
"We recognize what's really needed for [our tribal members] to succeed in reconnection with their therapy, as well as reconnecting with their culture," Allen said. "We have elders that come in from the community. We even bring elders from out of state who are from the reservations to talk to the patients."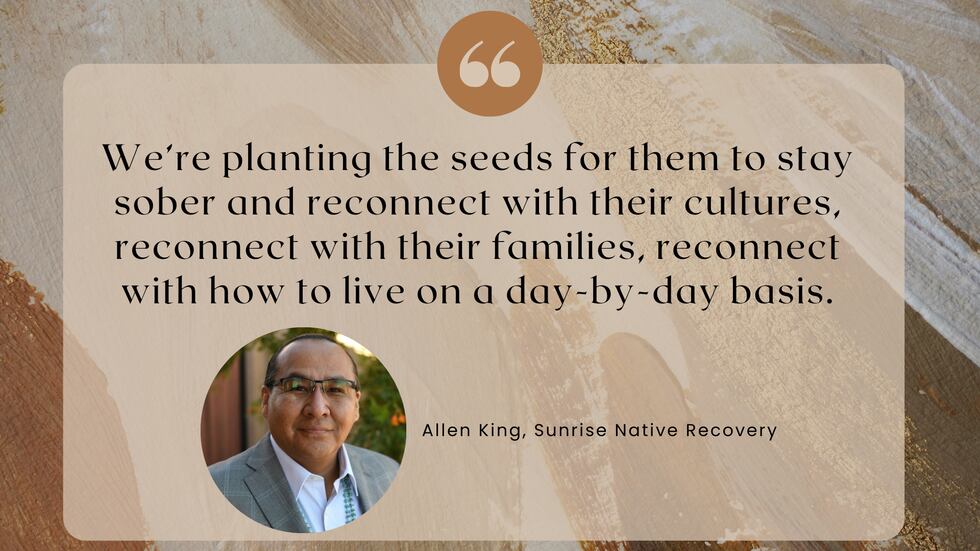 Every client has different needs.
Everybody needs to heal from whatever traumas they have suffered through life, including substance abuse, to work on their future sober lifestyle.
One of the tenets on which Sunrise Native Recovery is built is the Wellbriety Movement.
"The 'Well' in Wellbriety is the inspiration to go on beyond sobriety and recovery, committing to a life of wellness and healing every day," explains White Bison, a nonprofit organization specifically created to provide "culturally-based healing to the next seven generations of Indigenous People."
That's what Sunrise Native Recovery is about. There are only a handful of Wellbriety Certified treatment centers in the country, and Sunrise Native Recovery is proud to be one of them. White Bison reviews its certifications every year.
"Sunrise is dedicated to building healthier Native American communities and strengthening families through the healing of individuals struggling with substance abuse, trauma, and co-occurring disorders," the organization says on WhiteBison.org. "Together we will respect and uphold the genuine foundation of the Wellbriety Movement. Together, we will unite under the White Bison umbrella and collaborate on addressing the needs of our people from all tribes. Most importantly, we will remain teachable and listen to the tribal Elders as they are the voice of their people. Together, we will be of service."
Part of that service is an extensive outpatient program with sober living homes to help transition back to their daily lives.
"They're amazing houses," Allen said. "The key component is the culture. We do offer the herbs [and] whatever they need to pray while they're in the homes."
There is one thing that underscores every element of Sunrise Native Recovery, and it has to be earned.
"It's about building trust," Allen said. In recovery himself, he knows first-hand how difficult the journey can be. He also understands that recovery is a daily process. Addiction is never "cured." Those in recovery have to work at it every single day of their lives. It's a lot. "I can't do it alone."
Interconnectedness is essential to healing any community, according to White Bison, and the community already has the solution to deal with the root cause of addiction.
"We need to realize that all permanent and lasting change starts on the inside and works its way out," explains one Wellbriety Movement daily meditation. "If it's meant to be, it is up to me."
That's true of everyone.
"With the patients' help of them staying sober and myself staying sober, we're creating that community," Allen said.
And that community's future is bright.
"We're planting the seeds for them to stay sober and reconnect with their cultures, reconnect with their families, reconnect with how to live on a day-by-day basis," Allen said. "It's awesome stuff."