Sponsored - The following content is created on behalf of Local First Arizona and does not reflect the opinions of Gray Media or its editorial staff. To learn more about Local First Arizona, visit LocalFirstAZ.com.
PHOENIX (Local First Arizona) – The largest annual free festival in Phoenix is returning to kick off the 2023 holiday shopping season by showcasing everything that makes the Grand Canyon State special. The 17th Annual Arizona Fall Festival is 10 a.m.-4 p.m. Saturday, Nov. 4 at Margaret T. Hance Park in downtown Phoenix.
This "certified local" event is the largest of its kind in Arizona and will feature more than 200 vendors and more than 50 local restaurants, food trucks, and beverage makers. "Certified local" means businesses are locally owned and independent. They are not owned by a corporation or traded on the stock market. The people behind these businesses are your friends and your neighbors.
Shop local, eat local at Local First Arizona's Fall Fest this Saturday!
The Arizona Fall Festival is the perfect event for a family fun day, and when we say family, we mean the whole family. This is a dog-friendly event.
"Bring your dog, kids, or best friends to the Arizona Fall Festival to enjoy some of the best local craft breweries, wineries, food trucks, artisans, and musicians our state has to offer, along with lots of fun and games," said Thomas Barr of Local First. "All are welcome at this free community event that reminds us all why we're proud to be Arizonans."
New this year are live aerial yoga sessions held every hour by Elevate Yoga; kite-flying and face-painting for kids; a colorful Mujeres Mercado pop-up of local Latina businesses; and a Buy Black Marketplace curated by Archwood Exchange.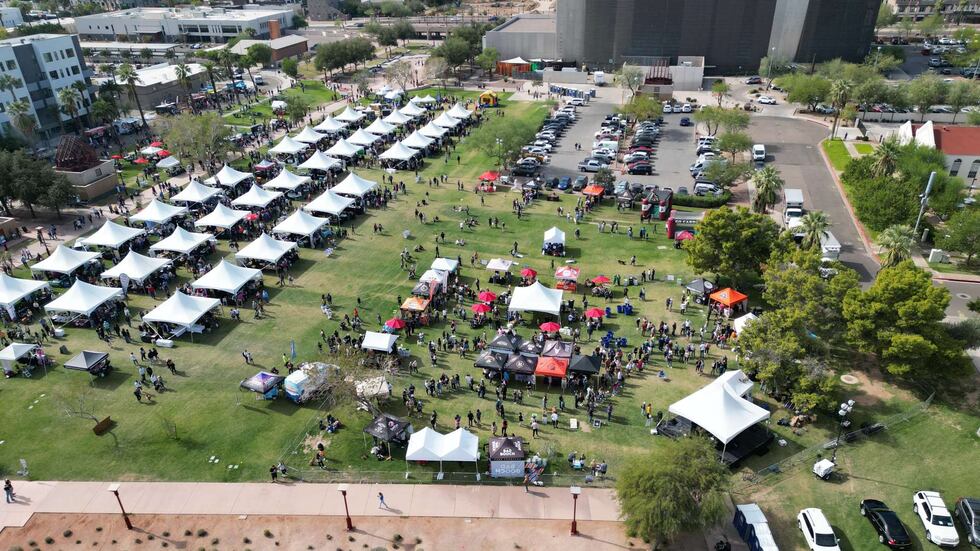 The first 300 attendees will receive a gift bag filled with surprises.
A few of the 200+ vendors in the marketplace include Uptown Hippie, Sunshine Sunflower Studio, Iconic Arizona, Bookmans, Samurai Comics, Zia Records, Wonder Rocks & Minerals, Milkweed Arts, and more.
Enjoy delicious food and drinks from The Aloha Menu, Beeline Brew Company, Cultura Vegan Streetfood, Elisa's Mini Pancakes, Hot Sauce & Pepper, Iconic Cocktail Co., Milly Moon Kombucha, Wok This Way, and more.
Bands will include Sammi Martinez, Jeordie & The Mixology Project, Lost in the Sun, Prime Society, Citrus Clouds, and Glenville Slim.
Arizona Financial Credit Union is this year's Fall Festival presenting sponsor.
"Arizona Financial is proud to be the premier sponsor and continue our support of Local First to assist in the growth of the small business community here in Arizona," said Amy Hysell, President and CEO of Arizona Financial Credit Union.
Local First Arizona hosts the annual event as part of its mission to help Arizona-based businesses thrive. It's crucial work grounded in building and fostering communities and giving Arizonans a sense of place and pride in the many things that make us unique.
"Local First believes that locally owned businesses are the backbone of our economy and require a level playing field to succeed," the organization's website explains.
How Local First Arizona started
Local First came into being in 2003, when Kimber Lanning, who owns Stinkweeds Records, teamed up with friends and fellow local business owners to connect Arizona customers with locally owned businesses and give entrepreneurs the support and resources they need to succeed.
Today, the nonprofit organization continues to encourage Arizonans to think local, buy local and be local. As CEO, Lanning remains as involved as ever.
"This is my home, this is my state, and I want to leave it better than I found it. So, I've dedicated my life to building a better Arizona," she said.
Everybody can – and should – be part of building a better Arizona. We all live here, after all. Building a better Arizona means supporting local businesses. Where you spend your hard-earned dollars matters. A lot.
"Supporting local businesses isn't just a choice; it's an investment in our community's future," LocalFirstAZ.com explains. "When you shop small, you ensure that your dollars stay within the local community. As each dollar spent within the community continues to circulate within the region, the domino effect will follow, creating more jobs, improving public services, and enriching the overall quality of life for everyone, making Arizona's economy more resilient and inclusive."
All of Arizona
Local First is a statewide organization dedicated to all of Arizona's small business owners. The team has developed training programs for Black business owners (We Rise), Spanish-preferred business owners (Fuerza Local), retailers (Retail Boot Camp), food businesses (Restaurant Startup Boot Camp), and businesses that want to save on water and energy costs (Green Business Boot Camp). Local First understands that these business owners face unique challenges and have particular needs.
Local First provides education and support for all phases of business development, from securing licenses to setting the foundation for success to taking businesses to new heights. For all of the services Local First provides, its most significant offering might be the network it has built. The organization encourages business owners to work together and support each other, giving them the tools to do it.
Boosting our local economy is just one effect of supporting local businesses. There are more, and they are priceless.
Preserving the character and culture of our communities

Reducing our carbon footprint

Empowering entrepreneurship

Strengthening community bonds
It's as easy to shop local as it is to hit a corporate online store
"In a world dominated by e-commerce giants and mass-produced goods, it can be challenging for consumers to find unique, locally made products," LocalFirstAZ.com says. "It can be easy to overlook the abundance of unique, small businesses found throughout our communities."
Local First understands that convenience is essential to consumers, so they built the Shop Local First Marketplace to make it easy for people to find and buy unique locally made products. This online shop puts products from makers throughout Arizona at your fingertips. And the sellers get 100% of the money; Local First does not take a cut.
Speaking of money, where we spend it is only part of the equation. Where we deposit and save it matters, too.
Keeping your money in Arizona takes more than buying local
According to a video from Local First, Arizonans have deposited more than $88 billion into three out-of-state banks. Three.
"These global banks then decide who among us gets to borrow money, and instead of investing in Arizona, they take our money and invest it far away," the video explains. "This is money that is needed to grow our communities and small businesses. Small entrepreneurs are essential for creating diverse wealth, family wealth, and generational wealth. Without access to money, entire communities can become trapped in poverty."
To fight that, Local First encourages Arizonans to move their money to Arizona-based institutions. Local First will even help you find the best options for your needs.
If you can't make it to the Arizona Fall Festival on Nov. 4, head over to the Shop Local First Marketplace and shop from the comfort of your home or wherever you happen to be.
Celebrating 20 years of all things local
And help Local First ensure the Arizona Fall Festival remains a Platinum Level Green Event recognized by ASU's Sustainable Cities Network.
Use the special trash bins to ensure at least 30% of waste from the event is recycled or composted. Any edible food not sold by the festival's food trucks will be delivered to nonprofit food banks by Waymo vehicles.