Sponsored - The following content is created on behalf of Discover Flagstaff and does not reflect the opinions of Gray Media or its editorial staff. To learn more about Discover Flagstaff, visit DiscoverFlagstaff.com and BestAstrotourism.com.
FLAGSTAFF, AZ (Discover Flagstaff) – You may already know Flagstaff is Arizona's Official Winter Wonderland, but you might not know that it's also a world-class destination for astrotourism. People visit from all over the globe to explore Flagstaff's night skies. Stargazing is a magical experience that enchants your mind, relieves stress, and captures your attention with beautiful shimmering constellations. You have got to see it to believe it in Flagstaff. It's like nothing you've ever seen.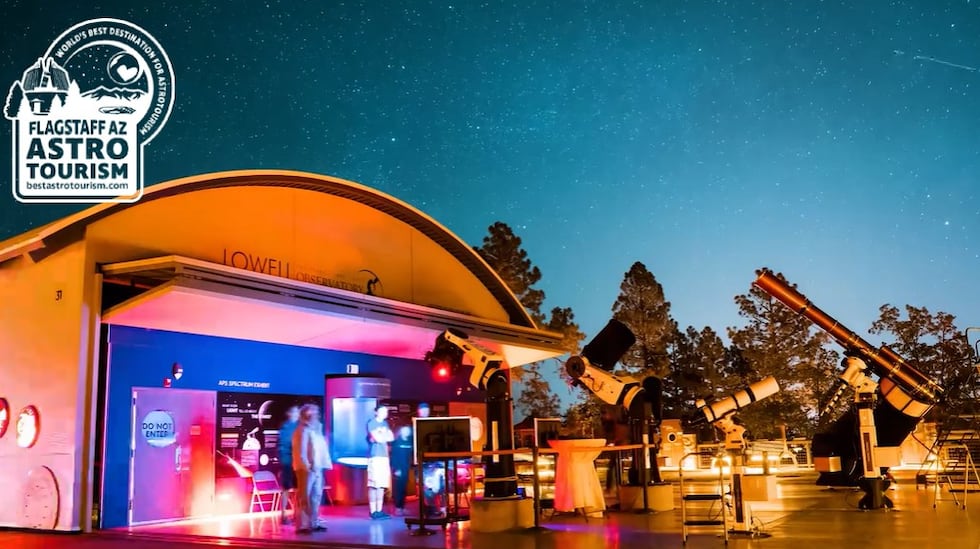 Why are Flagstaff's skies different? Flagstaff made the protection of the night sky a priority. In most cities, there is light pollution with sky glow and excessive artificial lighting that make it nearly impossible to see stars. In 2001, the International Dark Sky Association recognized Flagstaff as the world's first International Dark Sky City. Flagstaff made a commitment to support light restrictions designed to keep light pollution to a minimum making it an ideal destination to explore night skies and make the night sky twinkle to the naked eye. Flagstaff's light pollution is a tiny fraction of what other cities its size experience. You don't have to go anyplace special to see the Milky Way. Just look up; it's visible from almost anywhere in the city.
"A dark, star-filled night sky is often thought of as important for astronomy or research. Though this is true, the grandeur of the night sky is much deeper and broader, and accessible to anyone," says astronomer and Flagstaff Dark Skies Coalition President Chris Luginbuhl. "Protecting the night sky just for astronomers would be like protecting Grand Canyon just for geologists." Additionally, protecting the night sky benefits human health, wildlife health, energy conservation, boosts the economy and increases astronomical discovery."
Lowell Observatory
Lowell Observatory in Flagstaff made a name for itself in the astronomical world long before Flagstaff's designation as the world's first International Dark Sky City. Lowell Observatory is one of the oldest observatories in the country and has been exploring our universe for more than 125 years. Founded in 1894, Lowell became a National Historic Landmark in 1965.
Pluto was discovered on Feb. 18, 1930, at Lowell Observatory as the ninth planet in our solar system. In 2006, it was reclassified as a dwarf planet, and while its official classification changed, Pluto will always be celebrated in our hearts, and Flagstaff will always be its home. Lowell hosts a "Story of Pluto" tour twice daily; it's included with admission. The annual I Heart Pluto Festival Feb. 18-21, 2023 celebrates the discovery with science talks, science demos, food trucks, events, Pluto beer, Pluto pub crawl, new exhibits and a Night of Discovery at the Orpheum Theater with astronaut Nicole Stott. Lowell Observatory is famous as the "Home of Pluto," and is an active research facility. Lowell is an independent research institution with the mission of astronomical discovery often working closely with partner institutions such as the U.S. Naval Observatory and NASA. One of its telescopes, the 24-inch Clark Refractor, detected the first evidence of the expanding universe, Kevin Schindler explained. He is the historian at Lowell Observatory and is extremely knowledgeable of the observatory's fascinating history and its progress forward as the researchers continue to discover.
"We're still a thriving research facility and have one of the most powerful telescopes in the world in the Lowell Discovery Telescope," he said. One of the top 10 largest telescopes in the continental U.S., the LDT took its first light images in April 2012.
More than research
"Lowell is unique because we have a strong heritage of research. But it's not just historic; it's still going on," Schindler explained. "We have cutting-edge research going on. People can walk down the sidewalks here and run into one of our astronomers and chat with them."
The Observatory welcomes anybody with a curious mind and an urge to look up into the stars to marvel at and appreciate the vastness of the universe. Don't think of stargazing as looking at "some stars." You're looking at all of the stars and coming to realize that what's visible is only a fraction of what's out there. It's a heady experience.
On Aug. 21, 2017, a total solar eclipse traversed the U.S. The last time that happened was 1979, and it was only visible from a few states in the Pacific Northwest. There won't be another one like it, visible at least partially from everywhere in the country, until August 2045. Solar eclipses, when the moon passes between the Earth and the sun, happen somewhere about every 18 months, but they rarely occur where we can see them.
That's what happened on Aug. 21, 2017. Americans from coast to coast looked up to see the moon hide the sun during the "Great American Eclipse." It dominated headlines and captivated people. Arizona wasn't in the Path of Totality, so we only saw a two-thirds eclipse. It was still an incredible sight, and it piqued people's interest in celestial events.
"We spend so much time staring at computers and handheld devices, and to be able to reconnect with the universe and just look up or look through telescopes and feel part of what's out there . . . I think that's really captivating for people," Schindler said.
The state-of-the-art Giovale Open Deck Observatory is equipped with six telescopes designed to "collectively give you a viewing experience that goes far beyond seeing faint smudges of light," according to Lowell.edu. "It's like an instant star party every night," Schindler said.
The Kemper and Ethel Marley Foundation Astronomy Discovery Center, with its rooftop "open planetarium," is slated to open next year. Unlike traditional planetariums that use dome-shaped projection screens to show images of the sky, the Discovery Center's unique Dark Sky Planetarium will take advantage of Flagstaff's carefully preserved dark sky, using it as "a natural planetarium dome." It's basically a live tour of the cosmos. "This is going to be a crown jewel for all of Arizona," Schindler said.
Except for a few major holidays, Lowell Observatory is open every day and most nights. "You don't have to make reservations months ahead of time," Schindler said. "You can drop by any time." Lowell Observatory is located five minutes from downtown Flagstaff at 1400 West Mars Hill Road.
All-day admission includes tours, exhibits, stargazing, science talks, and more.
$29 for adults

$26 for AAA members, seniors 55+, military

$19 for college students

$17 for children 5-17
Here's a tip: A ticket provides access to enjoy daytime activities and the option to return that same day in the evening to view the night sky.
Meteor Crater
Less than an hour east of Flagstaff along Interstate 40, there's another gift from the cosmos. This one will have you looking down rather than up. Meteor Crater is one of the best-preserved meteorite impact sites in the world. An iron-nickel meteorite roughly 150 feet across slammed into the Earth about 50,000 years ago, hitting with the force of about 20 tons of TNT and excavating a massive crater in an instant. Today, the crater is about three-quarters of a mile across and 600 feet deep.
"It was a tremendous impact," said Matthew Kent, president and CEO of Meteor Crater Enterprises. "It just flipped the Earth inside out. Everything that was living within a 7-mile radius was killed off and disintegrated." "There's nothing else on Earth like it," Kent continued. "There literally is not another crater that's in this kind of condition, that's in this kind of shape that scientists and people from all over the globe can come and look at and study. It's an amazing and unique feature."
Fragments from the meteor are on display at the Meteor Crater and Barringer Space Museum, including the Holsinger Meteorite, the largest fragment that was recovered. Yes, you can touch it. You can lay your hand on something that hurled millions of miles through space and crashed into Earth tens of thousands of years ago. Let that sink in. "I think a lot of people marvel at what has happened to the ground," Kent said. "You can really feel the impact and the force of what happened here when you see giant boulders as big as a house flipped upwards on top of the rim."
You can make this easy day trip with one cup of coffee from Flagstaff to Meteor Crater. Meteor Crater is open daily from 8 a.m.-5 p.m. for exhibits, lookout points, discovery center, space museum, theater, and tours.
$25 for adults

$23 for seniors 60+

$16 for active military/veterans

$16 for juniors 6-12
Here's a tip: Buy your tickets online to save a few bucks; the electronic tickets never expire.
"We've tried to make this a really unique destination," Kent said. "Flagstaff -- this area – is the world's best astrotourism destination. Meteor Crater is just one thing that makes it unique."