Sponsored - The following content is created on behalf of Dairy Farmers of Wisconsin and does not reflect the opinions of Gray Media or its editorial staff. To learn more about Dairy Farmers of Wisconsin, visit WisconsinCheese.com.
(Dairy Farmers of Wisconsin) - Chef Karen Akunowicz says this is always a hit, making it one of her go-to favorites.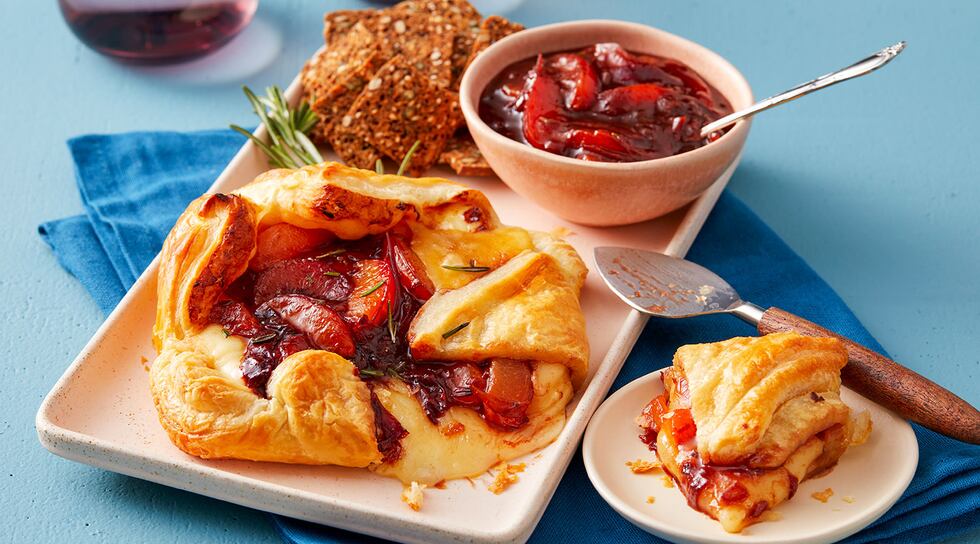 Ingredients - Plum Chutney
1 tablespoon olive oil

1 large shallot, finely chopped

3 tablespoons balsamic vinegar

2 tablespoons brown sugar

1 pound fresh plums, pitted and cut into 1/2-inch slices

1/2 teaspoon minced fresh rosemary

1/2 teaspoon salt
Instructions - Plum Chutney
Heat oven to 425°F.
Warm olive oil in a large ovenproof skillet over medium heat. Add the shallot, balsamic vinegar and brown sugar; cook and stir for 5-7 minutes or until shallot is tender. Remove from the heat. Add the plums, rosemary and salt; toss to combine.
Bake for 30-35 minutes or until plums are tender, turning once. Transfer plum mixture to a bowl. Cool completely. Cover and refrigerate until serving.
Ingredients - Puff Pastry
1 sheet frozen puff pastry, thawed

8 ounces Burnett Dairy® Smoked Provolone cheese

1 large egg

1 tablespoon water

Assorted crackers
Instructions - Puff Pastry
Reduce oven temperature to 400°F.
Unfold puff pastry on a parchment-lined baking sheet. Place provolone into the center of pastry. Top with 3 tablespoons chutney. Fold pastry edges up over filling. (Center will be uncovered.) Whisk egg and water; brush over pastry.
Bake for 30-35 minutes or until pastry is golden brown. Cool slightly. Top with 1/4 cup chutney. Bake for 2-3 minutes longer or until chutney is warm. Serve with crackers and additional chutney.
Active time: 30 minutes | Servings: 6-8, 2 cups chutney
More recipes featuring Wisconsin cheese