Suns look to keep 3-game winning streak going against Trail Blazers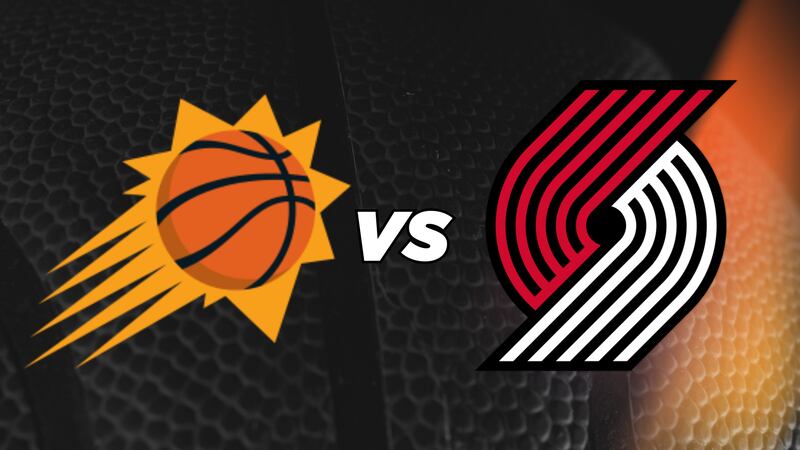 Updated: Nov. 21, 2023 at 6:00 AM MST
PHOENIX (3TV/CBS 5) — The Phoenix Suns hope to keep their winning ways going in their third In-Season Tournament game as they host the Portland Trail Blazers on Tuesday night. Tipoff is at 7 p.m. and you can watch it on 3TV and Arizona's Family Sports network. To find out how to watch, click/tap here.
This is the first regular-season meeting between the two teams, and it has significance on multiple levels. Phoenix and Portland were part of a blockbuster trade in September that sent former No. 1 pick Deandre Ayton from the Suns to the Trail Blazers for center Jusuf Nurkić, forward Nassir Little and guard Keon Johnson, who was later waived. Grayson Allen went from the Milwaukee Bucks to the Suns. Forward Tourmani Camara was also sent to the Trailblazers, while Portland's Damian Lillard went to the Bucks. It marked an end to an up-and-down relationship between the Suns and Ayton. The former Arizona Wildcat helped the Suns get to the NBA Finals in 2021 with his intensive defensive play and natural offensive skills. The following year, he signed a four-year, $132 million contract but didn't have the same production and fans felt like he disappeared in big moments or didn't have the same effort. Wednesday marks his first regular season back in the Valley of the Sun as an opponent.
The Suns also need a win to stay alive in the inaugural In-Season Tournament. They are currently 1-1 in the Western Conference Group A, with the Los Angeles Lakers 3-0 and the Utah Jazz 2-1. If the Lakers beat the Jazz on Tuesday night, they'll automatically head to the knockout round, with the Suns hoping to get in as a wild card. Portland is 1-2 and in fourth place.
The Suns are a double-digit favorite over the Trail Blazers and have won three games in a row, most recently against the Jazz in Utah. They won a nailbiter on Sunday night 140-137 in double overtime. Kevin Durant had a game-high 39 points on 14-of-27 shooting, 10 assists, eight rebounds and two blocks, including one on the final shot to win the game for Phoenix. Durant is averaging 31.4 points per game this year, second-highest in the NBA. Devin Booker, who has played in just five games this season because of various leg issues, finished with 26 points and eight assists, while Nurkic had a team-high 12 rebounds and 18 points on 7-11 from the field. They also beat Utah on Friday night for their first In-Season Tournament win. The Suns have scored 130+ points in each of their last three games, tying the franchise record for the most consecutive games with 130+ points.
It's been a rough start to the season for Portland, who has lost 10 of 13, including seven in a row. Ayton, who averaged nearly 17 points and about 10 rebounds per game during five years for the Suns, is averaging 12.2 points and 11 rebounds for the Trail Blazers. He's shot just nine free throws and made seven. He's part of the reason why Portland's offense is so bad. The team is last in the league in field goal percentage, three-point percentage and points per game. Portland got crushed on Sunday night by the Oklahoma City Thunder 134-91, the seventh time this season the Trail Blazers haven't scored at least 100 points. Injuries are also a factor, as Anfernee Simons has been hurt since the season opener, and No. 3 overall pick Scoot Henderson has an injured ankle. Malcolm Brogdon could miss his sixth straight game.
The Trail Blazers and the Suns met twice in the preseason, with Phoenix winning both. However, Portland won the regular season series last year 2-1.
See a spelling or grammatical error in our story? Please click here to report it.
Do you have a photo or video of a breaking news story? Send it to us here with a brief description.
Copyright 2023 KTVK/KPHO. All rights reserved.