Outside voices fuel pickleball craze in Phoenix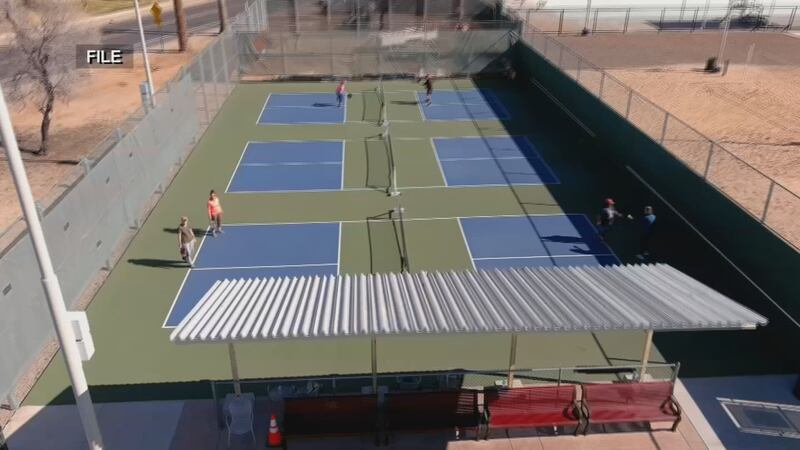 Updated: Nov. 21, 2023 at 6:00 AM MST
PHOENIX (3TV/CBS 5) - The battle between two sports, tennis and pickleball, has divided communities across the Valley, from 911 calls to fights and even lawsuits. Arizona's Family Investigates found Valley cities are wading through this differently.
"Tennis has been the biggest part of my life," Mark Tichenor said. "I was a junior tennis player, division one college player. I got into coaching right after," he explained.
As the city of Phoenix converts some tennis courts to pickleball, he's been a thorn in their side or, as pickleballers would say, getting into the kitchen. "I was a public park tennis player as a kid," Tichenor said. "If you keep taking courts away, where is the next generation, the generation after that, and the one after that going to play," he continued.
Pickleballers would point out it remains the fastest-growing sport for five years running. City leaders said they are struggling to keep up. "It's been difficult; it's been a challenge for sure," Alex Jovanovic, the Community Services Deputy Director with the City of Tempe, said.
Cities in the Valley have responded in different ways to the challenge. Phoenix said it's taken two tennis courts at four different parks and converted them to pickleball. Scottsdale confirmed they've done the same at three parks; they've also replaced a basketball court at a fourth park. Tempe hasn't converted any courts but has added pickleball lines to tennis and basketball courts.
"The old cliché, if you build it, they'll come, is really true in pickleball," Steve Manolis, a pickleball enthusiast, said. He's also known as Mr. Pickleball, and he's been pushing Valley cities to build them for years. "We started talking to the city, probably 9, 10 years ago and it was a 3-year conversation," Manolis explained.
He used those experiences to write two guides – "How to Introduce Pickleball to Your Community and Overcome Objections" and "Presenting Pickleball to Public Parks and Recreation and How to Overcome Objections." Notice a theme here? "Get advocates on your side and those advocates should include city officials, city park personnel," he advises.
Cities in the Valley said before converting any courts, they reach out to the community for feedback, often through surveys. But as Phoenix planned to move forward with changing over two tennis courts at Roadrunner off the 51 and Cactus, Tichenor wondered who weighed in.
Survey results showed nearly 500 people weighed in from 77 zip codes around the Valley and even out of state. Phoenix declined Arizona's Family Investigate's repeated requests for an interview but said in an email, "They typically focus on neighborhoods that fall within the service area of a park." But they confirmed, "surveys are open to the public."
Arizona's Family Investigates asked Jovanovic who's allowed to participate in their surveys. "Anybody, they're open to all, we try to be as inclusive as possible in Tempe," he explained.
Scottsdale had a similar response. "We haven't seen a real difference between what we're hearing from our citizens and what we're hearing from other folks who may or may not live in Scottsdale," Nick Molinari, the Scottsdale Parks and Recreation Manager, said.
But Tichenor sees it differently; it means those who are ultimately paying for conversions are having their voices diluted, and there's little accountability. He almost watched it happen again in his neighborhood park, Sandpiper, in north Phoenix.
The park has no playground, and the tennis courts hadn't been repaved in years. The city put out a survey. "There was no way that they were getting 90 votes for converting one tennis court to pickleball here," Tichenor said. "They used votes from 17 different zip codes outside the 85254, which is where the Sandpiper Park is located," he explained.
Scottsdale said those who come to play pickleball often spend money in the community, ultimately helping the local economy. Arizona's Family Investigates asked Manolis, "to homeowners who say I don't want to pay for your pickleball courts, the surveys and city money should go to something else. What would you say?" He responded, "If the city has the money and it's their final say, we pay taxes."
"Someone who lives 5 miles from here, 10 miles from here is taking an amenity from two kids that ride their bikes over here to play tennis. A family that walks over here to play tennis," Tichenor said.
The city of Phoenix ultimately chose to repave the tennis courts at Sandpiper and build new pickleball courts there. Manolis said that's really their goal. But that takes space and money many of our local cities don't have.
See a spelling or grammatical error in our story? Please click here to report it.
Do you have a photo or video of a breaking news story? Send it to us here with a brief description.
Do you have a story you want us to investigate? Tell us about it by contacting us.
Copyright 2023 KTVK/KPHO. All rights reserved.