Sun Devils overpowered by No. 6 Oregon 49-13
A forgettable afternoon in Tempe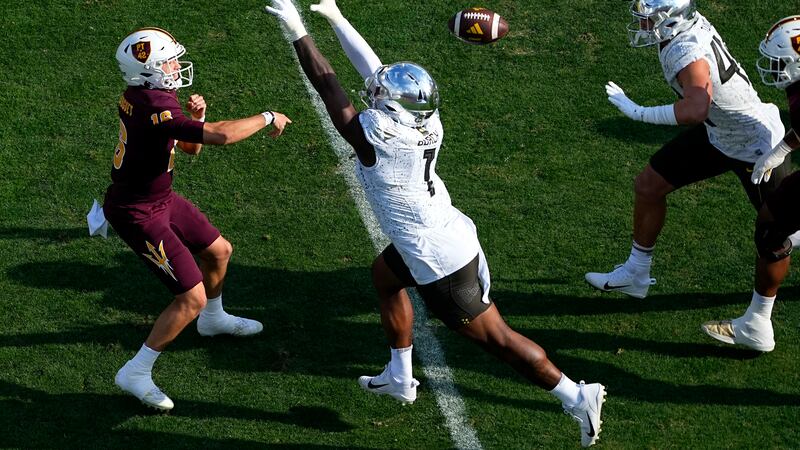 Published: Nov. 18, 2023 at 8:28 PM MST
TEMPE, AZ (3TV/CBS 5) -- He had a simple message for his former boss.
Go win the natty.
As Kenny Dillingham walked off the field after his Sun Devils suffered a thorough thrashing at the hands of the sixth-ranked Oregon Ducks, he didn't have to wonder much why his rebuilding program struggled against his old team
"That team was better than us, point blank," said Dillingham. "Significantly better than us."
Prior to being hired as ASU's head coach, Dillingham served as Oregon's offensive coordinator last year, helping to revitalize the career of quarterback Bo Nix in the process. Nix showed why he's one of the Heisman Trophy frontrunners on Saturday afternoon, throwing six first half touchdowns against his former coach in Oregon's 49-13 win. Meanwhile, the Ducks showed why they are the most complete team in the Pac-12 and a legitimate College Football Playoff contender with another strong defensive effort to shut down the Sun Devils until garbage time.
"Going against a team like that, you have to do almost everything perfect," said ASU tight end Jalin Conyers. "And we didn't do that."
The loss drops the Sun Devils to 3-8 on the season with just next week's game against Arizona remaining. While ASU's season has been difficult, they now turn their attention to winning back the Territorial Cup and regaining bragging rights in the intense rivalry.
"Whether (Arizona is) the No. 1 team in the country or the last team, we want to go kick their ass," Conyers said.
The Activation
"Good football teams are years of culture." - Kenny Dillingham
The Result
Oregon opened the game with a very characteristic drive. After Nix found Tez Johnson to pick up a third-and-long, the Ducks methodically drove down the field with accurate throws by Nix and hard runs by running back Bucky Irving. Nix then showed off his big play ability, connecting with Patrick Herbert for a 24-yard touchdown.
Picking up where they left off last week, ASU opened with a swinging gate formation and running back Cam Skattebo at quarterback. He launched a deep pass to open the drive that drew a defensive pass interference penalty, and later he hit Conyers for a 31-yard gain into Duck territory. The drive would stall, and ASU came away empty as a Dario Longhetto 43-yard field goal attempt was no good.
"We just got to convert," said quarterback Trenton Bourguet. "Once we drive down to the redzone, we got to score touchdowns or convert field goals."
The Ducks would quickly make ASU pay. After some quality runs moved the ball to midfield, Nix again found Herbert, this time on a screen, and aided by good downfield blocking, he ran untouched 49-yards for the score.
Following an ASU punt, the Ducks kept up the onslaught. With a good mix of the run and pass, Oregon marched down the field again, capped by a 16-yard touchdown from Nix to Troy Franklin.
"(Nix is) a field general out there," said ASU defensive tackle Dashaun Mallory said. "He was controlling the entire game, from the first snap to the last snap."
Rinse, repeat. After another Sun Devil punt, the Ducks struck again. This time, they needed to convert a pair of short fourth downs before Nix hit Franklin for a 45-yard score and a 28-0 lead early in the second quarter.
"(Nix) threw the deep ball as good as I've ever seen him throw the deep ball today," Dillingham said. "He threw it at an elite level."
A few minutes later, it became a 35-0 lead when Gary Bryant Jr. broke several Sun Devil tackles during a winding 71-yard scoring run after catching a pass from Nix.
"Defense just didn't execute gang tackling," said Mallory. "We knew we had to get multiple bodies on the ball carrier at all times."
ASU finally got a drive going late in the half. Keyed by three Conyers first down runs and a fourth-down pass from Bourguet to tight end Bryce Pierre, ASU drove to the Duck 22-yard line. But the threat ended when Skattebo tossed up a desperation pass near the goal line that was intercepted.
Not content with a five-touchdown lead with 66 seconds left in the half, Nix and Oregon went to work. He connected twice with Franklin for big gains, and following a 24-yard reception by Johnson, Dillingham was hit with an unsportsmanlike conduct penalty. Three plays later, Nix had his sixth touchdown pass of the half with a 16-yard strike to Johnson.
"He came out hitting all his reads, and it felt like, at times, he was making calls on his own," said Mallory of Nix. "It was his ability to be a mastermind out there."
ASU opened the second half with some momentum, as consecutive receptions by Troy Omeire moved the ball into Oregon territory. However, the drive soon stalled, and the Sun Devils turned it over on downs. Oregon then drove into ASU's redzone, where they had a touchdown pass negated by an offensive pass interference penalty. That forced them into a field goal situation, where a bad snap forced an impromptu pass that was intercepted by Ed Woods.
A 22-yard catch by Omeire again moved the drive into Oregon territory, where things would soon stall out. This time, Longhetto's kick was good, trimming the Duck lead to 42-3 and avoiding a shutout.
With the starters out and Valley native Ty Thompson at quarterback, the Ducks put together a long drive to end the third quarter than found paydirt to open the fourth. Thompson hit Casey Kelly with a well-placed throw for a 19-yard strike to make it 49-3.
On the ensuing drive, ASU was finally able to find the endzone. The Sun Devils marched 67 yards over 12 plays, the final being a 15-yard touchdown run by wide receiver Melquan Stovall.
"It's life. There's going to be ups and downs. It's how you respond," Bourguet said. "This team did a great job coming out that second half and competing."
Thompson was intercepted on the next drive by true freshman Keith Abney, and ASU was able to use that field position to set Longhetto up for another field goal to bring the game to its final 49-13 margin.
The Critical Moment
Oregon did Oregon things on the opening drive to take a 7-0 lead. But ASU looked to have a immediate, and creative, response, driving to just outside the Duck redzone. But the drive stalled out, and a missed field goal meant it was all for naught. Oregon found the endzone five plays later.
Does a 7-3 deficit, or even a tied game change the final result? Very unlikely. But the inability to cash in scoring opportunities is something ASU must fix moving forward.
"We have to finish drives," Conyers said.
The Offense
Nix and the potent Duck offense gets the headlines, but Oregon has one of the best defenses in the nation, one that has been built over the course of years.
"Good football teams are years of culture," Dillingham said. "The best football teams in the country have established cultures of offensive line, defensive line, physicality, and toughness. This was a team that had that, and we have to match it moving forward."
With their offensive line and quarterbacks still hit hard by injuries, Dillingham and his staff had to get creative once again. Like last week in the win over UCLA, ASU used Conyers and Skattebo as trick play quarterbacks. They rolled out the swinging gate formations, though not at the level seen last week. But against the big and physical front of Oregon, very little worked.
Saturday saw ASU use their 10th different offensive line combination over 11 games. The lack of offensive line depth was a factor in ASU's reluctance to run the ball. ASU's best runs came by Conyers out of the direct snap formations.
"In my perfect world, we'd be playing eight, nine O-linemen, getting reps and rolling and developing in a game," said Dillingham.
The passing game was also held in check. Bourguet, still battling injuries, completed 20 of 37 throws for just 142 yards. Skattebo had the opening 31-yard pass to Conyers, but then had the ill-advised interception near the goal line and was just 2-for-6. Conyers completed three of four throws, but for just 18 yards.
Whoever was throwing the ball principally looked at Elijhah Badger (7 catches on 13 targets) and Omeire (5 on 10), with the only other player being targeted more than six times being Stovall, who made just one catch.
It was an ugly day.
The Defense
Last week, ASU's defense put on a masterful showing, holding UCLA to seven points and showing an ability to rebound after a bad showing the prior week against Utah. This week, it came crashing down, but not due to anything unexpected. The Ducks were just better and operating at a tremendous level.
"They didn't hit us with anything we haven't seen all week," Mallory said. "They came ready to play."
Oregon scored touchdowns on all six possessions in the first half, and the stunned Sun Devils had no answers.
"Where we're not responding well is in-game," Dillingham said. "We're not responding well when somebody punches us. We can't regather ourselves yet. I faced the same thing when I was at Florida State. When it started to rain, it always poured. That's part of growth."
Compounding matters was an uncharacteristic display of poor tackling by ASU defenders.
"There was definitely a tackling problem," said DIllingham. "We've been good tacklers all year. That's something we've done a nice job of. They're just hard to tackle."
Showing tremendous balance, Oregon gained 603 total yards—463 through the air. It was the first time ASU had surrendered over 600 yards since 2017. Behind one of the nation's elite offensive lines, the Ducks did whatever they wanted to do.
"There's nothing to take away," Dillingham admitted. "You take away the run, then you play man coverage and you have to cover three wideouts that are going to play on Sundays with a quarterback that can win the Heisman. Take away the pass. Alright, they lead the country in yards per carry."
Perhaps one encouraging sign, beyond not having to face Oregon again, is that the staff used an aggressive gameplan. They brought the fight to the Ducks, and while they were knocked out, it's a possible foundational approach for the future.
"We're always going to develop a plan that gives us the best chance to win, not the best chance to keep it close," said Dillingham. "I could give a rat's ass about keeping games close. You're either going to win or you're going to lose."
The Top 3
Here are three Sun Devil players who stood out against Oregon.
DE Clayton Smith: A fourth straight week with at least a half sack, Smith is showing why he was a five-star recruit.
RB Cam Skattebo: Another week, another do-everything effort as a runner, passer, and punter.
WR Elijhah Badger: Despite the offense's struggles, he continues to be the focal point and makes defenders miss on a routine basis.
The Question: How will this impact the rivalry game?
While perhaps not this one-sided, the loss to Oregon was the expected outcome. It was one of the nation's best teams playing a program in full rebuild mode with several key injuries. But now the season has reached its final, and most important, game
"This is our bowl game," Bourguet said. "This is out chance to send out the seniors the right way, and to make sure we come home with a victory."
The Territorial Cup rivalry has shown that the records and recent forms of ASU and Arizona don't matter. The expect the unexpected cliché is alive and well in this series, but the Sun Devils will need to put Saturday's loss fully behind them if they want to reclaim the Cup. That starts when the team regroups on Monday.
"Monday is going to be another stepping stone of what the culture is going to be in the future here," said Mallory.
The team leaders think that motivation will not be an issue.
"If you can't get up for this game because we just got our tail whooped, then you shouldn't be in that locker room," Conyers said.
"It's a one-game season at this point, and we're going to give it everything we got," said Bourguet.
The Next Step
The Duel in the Desert is here. Next Saturday, ASU hosts archrival Arizona in the annual battle for the Territorial Cup. Arizona snapped a five-game losing streak to the Sun Devils last season, and the resurgent Wildcats entered the weekend ranked No. 17 in the AP poll ahead of their game against No. 22 Utah. They will likely rise in the rankings following a big 42-18 victory over the injury-depleted Utes.
A kickoff time for Saturday's game is expected to be released by the Pac-12 on Sunday.
The Extra Points
With Skattebo starting at quarterback, it marked the first time in program history the Sun Devils have had five different starting quarterbacks.

Dillingham said that he was assessed the unsportsmanlike conduct penalty for running onto the field when he saw an Oregon lineman take off a show and toss it away before the play and tried to get a whistle for safety's sake.

Both of ASU's interceptions―by Ed Woods and Keith Abney―were the first of their careers.
Copyright 2023 KTVK/KPHO. All rights reserved.