Tornado rips through Star Valley, damaging several homes, knocking down trees
Published: Nov. 19, 2023 at 3:10 PM MST
|
Updated: Nov. 20, 2023 at 1:02 PM MST
STAR VALLEY, AZ (3TV/CBS 5) — The National Weather Service of Flagstaff confirmed that a tornado touched down in Star Valley, which is east of Payson, on Sunday morning. The NWS survey team assessed the damage and determined that an EF-1 tornado hit the area. They say that winds peaked between 95-105 miles per hour. The National Weather Service Flagstaff says approximately 20 homes have some damage to the roof/windows. The tornado also knocked down trees in the area, and no injuries were reported.
"It's like a freight train coming through, and just the damage was fast and furious," said Star Valley Mayor Bobby Davis. "We're just blessed that no one was hurt. And we've had a ton of volunteers and we can't thank them enough."
Star Valley resident Robert Brier said Sunday's tornado was the scariest thing he's ever been through. "Everybody screamed microburst. It's hard to believe it's a tornado because Arizona doesn't get a lot of tornadoes," said Brier.
"I stepped into my living room, and it just hit us. The house was shaking. My back door flew open. Our (back) porch was gone...it disappeared. Then I stepped out, and it was in the front of our yard," Star Valley resident Ada Herrington said. "In the moment, I was super scared. I was actually going to go hide in my bathtub."
Arizona's Family viewers have sent photos showing damage to multiple properties and homes. One viewer video shows debris circling in the air and what appears like a small tornado.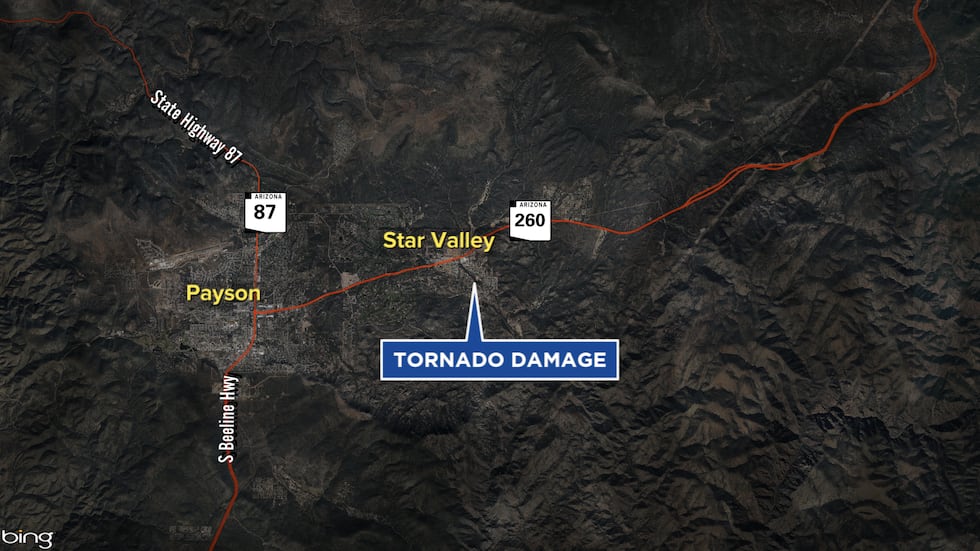 See a spelling or grammatical error in our story? Please click here to report it.
Do you have a photo or video of a breaking news story? Send it to us here with a brief description.
Copyright 2023 KTVK/KPHO. All rights reserved.