Suns survive high-scoring night, beat Jazz for first In-Season Tournament win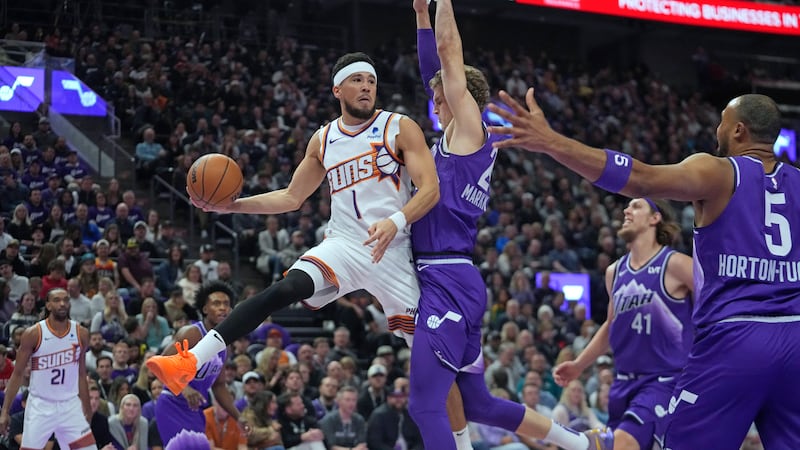 Published: Nov. 17, 2023 at 10:45 PM MST
SALT LAKE CITY (3TV/CBS 5/AP) — The Phoenix Suns hit more than half of their three-point shots and powered past the Utah Jazz 131-128 on Friday night to win their first In-Season Tournament game. The Suns had a three-point lead heading into the final quarter and, unlike some previous games, held on for the win.
Kevin Durant finished with 38 points on 15-22 shootings and had nine assists on only one turnover. He has scored at least 25 points in 11 straight games for the longest active streak in the NBA. Devin Booker had a career-high 15 assists and one turnover, plus scored 25 points and grabbed four rebounds.
The Suns were up 124-120 with two minutes left until Jordan Clarkson made a 26-footer to make it a one-point game. After getting fouled, Kevin Durant made his first two free throws of the night to put the lead back to three. With the game on the line, Durant nailed a three-pointer with 18 seconds left to seal the deal for Phoenix.
Clarkson scored a season-high 37 points for Utah. He has four straight games with 26 or more points, the longest such streak of his career. Lauri Markkanen scored 21 points for Jazz, and John Collins had 15 points and 14 rebounds.
The Suns (6-6) improved to 1-1 in West Group A, while the Jazz (4-8) dropped to 2-1. Jusuf Nurkic scored 15 points, and Eric Gordon had 14 for the Suns, who have won back-to-back games for just the second time this season.
The Suns jumped out to a 28-14 lead in the first quarter, capped off by an Eric Gordon three-pointer and then a Durant jumper. However, the Jazz found their hot three-point shooting and added a monster dunk to trim the lead to 41-38 Suns once the quarter ended. Booker, who has missed eight games with ankle and calf injuries, and Durant scored or assisted on every Suns basket in a 41-point first quarter, their top-scoring quarter this season. They combined for 19 points and 11 assists.
Durant kept up his hot shooting in the second quarter, scoring 14 points and finishing with 24 in the half on 10-11 field goals, including 4-5 from three-point land. Booker had nine assists in the first half, tying a career-high in a half. Both teams shot over 50% from the field and from beyond the arc as the teams ended the half in a 75-75 tie.
It was back and forth in the third quarter, with neither team getting a lead larger than three points until Jordan Clarkson made a floating bank shot to make it 91-87 with 5:44 left in the third quarter. Suns got the lead back with a three-pointer from Drew Eubanks, 97-95, with 1:49 left in the third. Booker had seven points and three assists in the quarter.
The Suns' big three of Booker, Durant and Bradley Beal have yet to play together this season. Phoenix announced Tuesday that Beal would miss the Utah game with a lower back strain and will be re-evaluated in three weeks. Phoenix has opted to go without a traditional point guard and put a heavy load on its scoring stars.
The Suns and Jazz play each other again on Sunday.
See a spelling or grammatical error in our story? Please click here to report it.
Do you have a photo or video of a breaking news story? Send it to us here with a brief description.
Copyright 2023 KTVK/KPHO. All rights reserved.