Scottsdale Police chief says standoff in Mesa was like a "combat" zone for his officers
Published: Nov. 15, 2023 at 9:22 PM MST
SCOTTSDALE, Ariz. (3TV/CBS 5) -Scottsdale Police Chief Jeff Walther says he is thankful his team made it out with just minor injuries after a shootout with a suspect in Mesa on Monday.
Around 11:45 a.m., investigators said special assignments unit detectives spotted a vehicle with two armed robbery suspects inside and a kidnapping victim, and they pulled into the Moreno's Mexican Grill parking lot at the northwest corner of Horne and Broadway Road. One man, later identified by the courts as 43-year-old Wyatt Edge, got out and walked into the restaurant. That's when detectives decided to try to save the man who had been kidnapped.
As detectives moved in, the suspect who was still in the car, also a man, started shooting at police, investigators said. In court Tuesday, the judge said Rene Calderon was wearing full body armor and fired first at police with an AK-47. Four detectives returned fire, hitting the Calderon, who died at the scene. A Scottsdale officer had fragments cut up their ear during the shootout.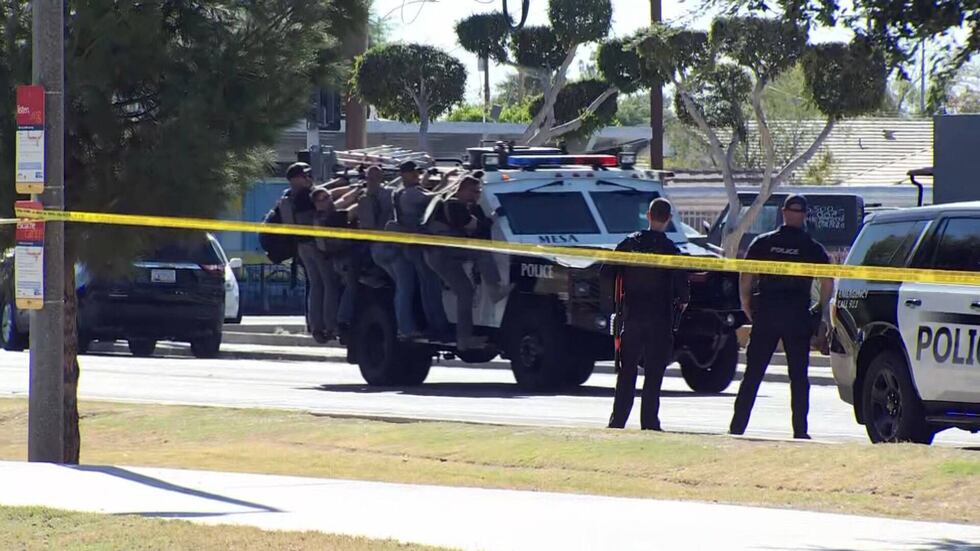 "When did this become okay? When did this become the norm? The willingness to have that level of violence in broad daylight and a populated area is still staggering to me," Scottsdale Police Chief Jeff Walther said. "It's combat. There's no other way to describe it."
The person kidnapped was able to escape. Police say it was not a random person the two men took away. Scottsdale Police say they will release body camera video of the incident in the next few weeks. Chief Walther says it's intense and will show what the officers encountered that morning. Walther said his officers were facing "significant rounds" when they arrived on-scene.
"I'll be honest with you, I think it's going to be pretty shocking to the community in terms of the level of violence that my special assignment detectives were met with," Chief Walther said. "I feel there should be more outrage in the community."
In court Tuesday, Edge's attorney said he has two kids and was planning to get married in Texas Wednesday. He was a former marine who was deployed to Kuwait and Iraq in the early 2000′s. His attorney claimed he came from Texas to help out a friend but didn't know the plan involved kidnapping.
See a spelling or grammatical error in our story? Please click here to report it.
Do you have a photo or video of a breaking news story? Send it to us here with a brief description.
Copyright 2023 KTVK/KPHO. All rights reserved.