Poll: Kari Lake leads GOP Primary; Arizona voters split on 2024 Senate race
Published: Nov. 16, 2023 at 1:49 PM MST
PHOENIX (3TV/CBS 5) -- There are 355 days until Election Day 2024, but with Arizona being a crucial swing state and being involved in one of America's hottest Senate races, new polling is showcasing a pulse of Arizona voters. As Krysten Sinema considers a run as an independent, it's drawing extra attention from the two major political parties.
Noble Predictive Insights conducted this poll between Oct. 25 and Oct. 31, surveying 1,010 registered voters. The margin of error was measured at ± 3.1%.
Ruben Gallego is the most favorable candidate, voters say
Independent voters are unequivocally important to political candidates in Arizona, so favorability and perception can be a good indicator of how those voters can be swayed in either direction. Three of the top four contenders have a positive outlook by the voter pool: Ruben Gallego, Kyrsten Sinema, and Mark Lamb. While Kari Lake has the weakest net favorability rating of -8, about four in ten voters have a "somewhat" or "very" favorable view of her. Meanwhile, Gallego has the strongest net favorability score at +19 yet has a similar percentage of voters.
It also means the Lamb campaign has a lot of marketing work to do in order to catch up. "Lamb has the most room to grow with 44% of voters who have no opinion or never heard of him, compared to Sinema's 20%," pollsters said.
Kari Lake is a clear leader in the upcoming GOP Primary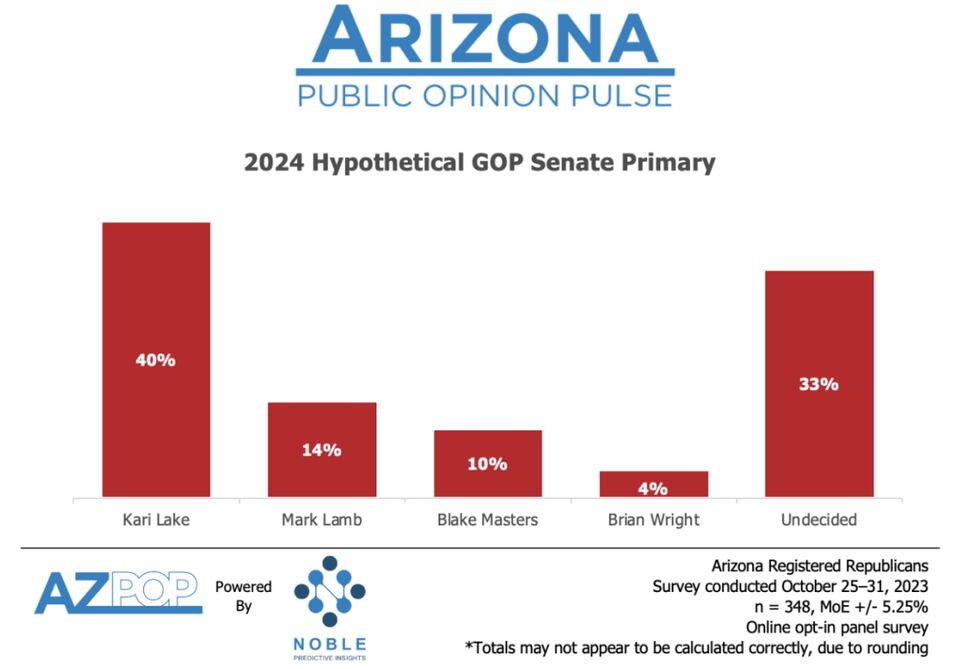 Former Phoenix television news anchor has been a clear favorite for Republican voters, and her campaign's stamina shows no slowdown in this latest poll. In the hypothetical match-up between Lake, Lamb, Blake Masters, and Brian Wright, she carried 40% of the vote, nearly three times more than Lamb in second place. It's also important to note that Blake Masters announced he would not seek a run for Senate while the survey was already taking place.
"Lake is likely to benefit the most as his 10% share of support gets distributed," said Mike Noble, the founder & CEO of the polling firm. "Lake is in the driver's seat in the GOP primary contest, meanwhile, Mark Lamb needs to step up his fundraising if he wants to mount a serious challenge to Lake."
Gallego, Sinema, or Lake?
Many political pundits believe it'll come down to these three: Congressman Ruben Gallego, incumbent Sen. Krysten Sinema and Kari Lake. In this match-up, Gallego holds a comfortable but small six-point lead. He also has the overwhelming support of Democrats, who, if given a strong turnout, could further grow his lead. Still, it's a very tight race, with Lake in second place at 33% and Sinema at 29%.
Lake also saw a solid performance along party lines. "Recent reports of Lake courting moderate Republicans makes a lot of sense given the polling numbers we've been seeing on this contest," explained Nobile.
Can the race get even tighter?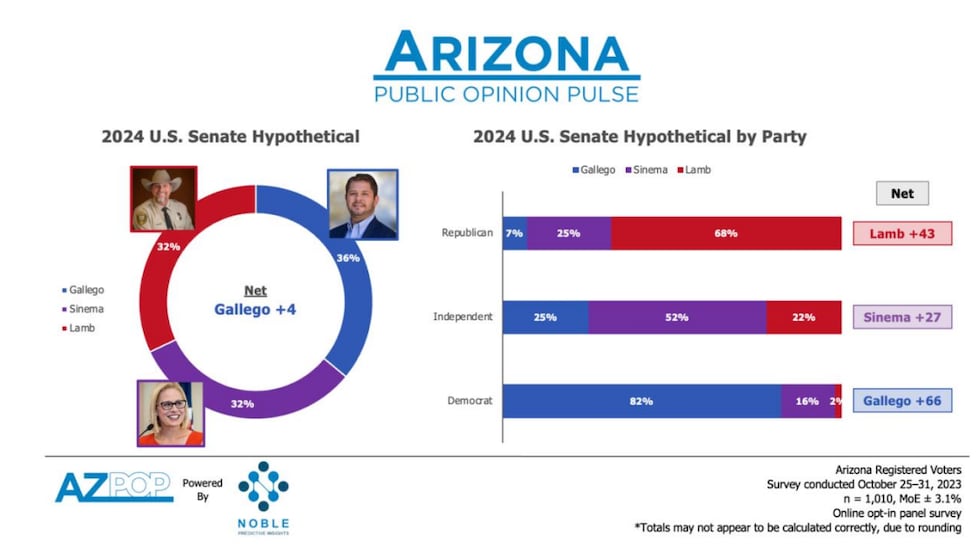 In a world without Lake – the race gets even tighter. Sinema performs even better against Mark Lamb but split support at 32%. It means that Gallego would be left with a four-point lead. Those numbers don't line up with nationwide trends.
"It's interesting to see that Gallego is still ahead even as Republicans lead in the presidential and generic House races (R+8)," said Noble. "Part of that may be the presence of Sinema scrambling things for voters. But part of it may be Gallego cultivating a strong personal brand."
See a spelling or grammatical error in our story? Please click here to report it.
Do you have a photo or video of a breaking news story? Send it to us here with a brief description.
Copyright 2023 KTVK/KPHO. All rights reserved.