Booker & Durant both score 31, Suns cruise to 133-115 win over Timberwolves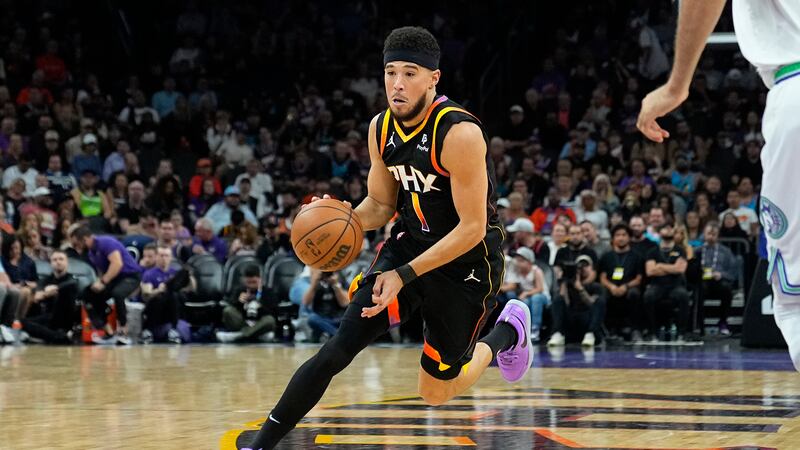 Published: Nov. 15, 2023 at 9:18 PM MST
PHOENIX (3TV/CBS 5) - Phoenix got off to a hot start and Devin Booker and Kevin Durant scored 31 points each as the Suns snapped the Minnesota Timberwolves' seven-game winning streak with an easy 133-115 win on Wednesday night in Phoenix.
The Timberwolves had the league's best defense, with a 102.1 defensive rating, but they couldn't slow down the hot-shooting Suns. Phoenix is now 2-1 in games both Durant and Booker play in. The Suns didn't have to worry about a fourth-quarter collapse as they were up by 28 points heading into the final period.
The combo of Booker and Durant provided plenty of production in front of a sell-out crowd of 17,071. Booker shot 12 of 22 from the field, adding five assists and four rebounds. Durant made 11 of 15 shots.
Eric Gordon scored 15 for the Suns, and Grayson Allen added 14 and Drew Eubanks had 13, all in the second quarter, including a dunk over Karl Anthony-Towns.
On the second game of a back-to-back, Minnesota came out flat in the first quarter, missing six three-point shots and shooting 45% from the field. The Suns, on the other hand, were 12-19 from the field, including 4-8 from three-point land, and led by 14 at one point. Still, the Suns only had 35-29 lead at the end of one.
But the Suns really turned it on the second quarter, outscoring Minnesota 41-25 on 63% shooting and making 6-9 three-pointers. The surge was led by Eubanks, who scored all his 13 points in the quarter. Durant added 10 points and three assists to help the Suns build a 76-54 halftime lead. The Suns only had three turnovers in the first half.
The Suns didn't let up in the third quarter, hitting six of eight from deep and leading by as many as 28 points.
Phoenix was hoping Wednesday night was going to be the season debut of their new 'Big 3.' Both Booker and Bradley Beal were listed as available for the game 24 hours beforehand. However, Beal was declared out on Wednesday afternoon due to back spasms. He has played in three games, averaging 17.3 points on 39% shooting. Booker missed the last five games before Wednesday night because of a calf strain. Durant has played in every game this season, three with Beal and two with Booker but never all three together.
The Suns have won five straight games over the Timberwolves.
Anthony-Towns led the Timberwolves with 25 points on his 28th birthday. Mike Conley had 14 points while Anthony Edwards, Naz Reid and Jaden McDaniels both scored 13.
The Timberwolves were playing one night after an eventful game against the Golden State Warriors. An altercation between Golden State's Klay Thompson and Minnesota's Jaden McDaniels escalated when Draymond Green grabbed Rudy Gobert around the neck and dragged him away. Thompson, McDaniels and Green were all ejected. Green was given a five-game suspension by the NBA on Wednesday.
The Suns head to Utah on Friday to face the Jazz in their second In-Season Tournament game. They lost their first tournament game 122-119 to the Los Angeles Lakers at home. Phoenix plays the Jazz again in Utah on Sunday evening. The Timberwolves end their five-game road trip at New Orleans on Saturday.
See a spelling or grammatical error in our story? Please click here to report it.
Do you have a photo or video of a breaking news story? Send it to us here with a brief description.
Copyright 2023 KTVK/KPHO. All rights reserved.