Trump's lead grows in Arizona; Nikki Haley sees slight boost in latest poll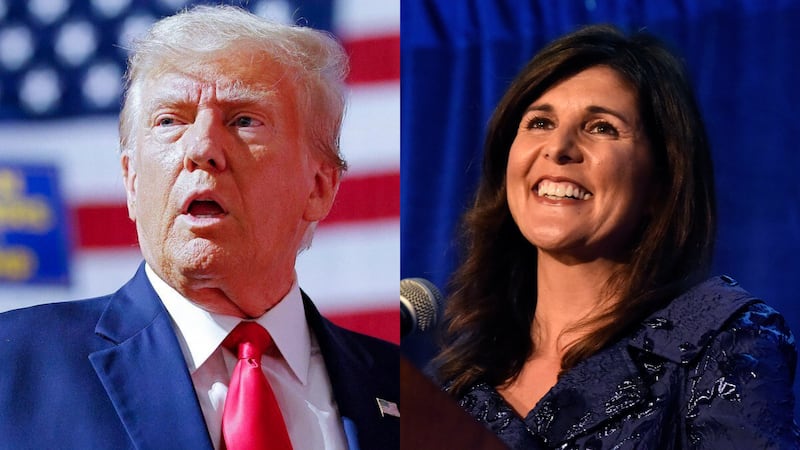 Published: Nov. 14, 2023 at 7:59 AM MST
PHOENIX (3TV/CBS 5) — The 2024 Presidential Election is about a year away, and as the campaign season continues to heat up, new polls show that former President Trump's lead continues to grow in the battleground state of Arizona.
The new data was released Tuesday morning by Noble Predictive Insight, a nonpartisan polling firm previously known as OH Predictive Insights. Noble is highly accredited, having been ranked in the top 15 most accurate pollsters by FiveThirtyEight during the 2021-2022 election cycle. The survey asked 1,010 registered voters between Oct. 25 and Oct. 31. Pollsters measured the margin of error at ± 3.1%.
All eyes now focus on the leading contenders in the Republican primary. During the survey, ex-Vice President Mike Pence dropped out of the race, and former South Carolina Sen. Tim Scott abruptly ended his campaign days later.
The poll's data shows Trump continues to lead Florida Gov. Ron DeSantis by more than 2:1, expanding his lead by six points compared to a similar survey conducted in July. DeSantis' second-place lead shrunk as Nikki Haley got boosted, likely driven by solid debate performances and favorable media appearances. In addition, Axios reported late Monday that Trump pollster Tony Fabrizio says Haley would most likely benefit from Scott's exit. It also points to a worrying spot for Ramaswamy, who is now in a statistical tie with Haley.
Battleground Arizona
The Grand Canyon state is also a key swing state that has gained the attention of not only presidential candidates but also the national media. In the October poll, Trump carried an eight-point lead, 46% to Biden's 38%
"An eight-point lead for Trump is striking, but not surprising.," David Byler, the firm's Chief of Research. "Poll averages have Trump ahead of Biden by about a point nationally — that's a five-point swing from the 2020 results. If Arizona — one of the most closely contested states of 2020 — also swung that much, we'd expect individual polls to give Trump a mid-to-high single-digit lead. That's exactly what our poll — and other recent surveys — have shown." RealClearPolitics's analysis as of Tuesday morning showed Trump pulling slightly ahead of the president among likely voters. Trump measured at 45.6% compared to Biden's 44.5%, a one-point edge well within each survey's margin of error.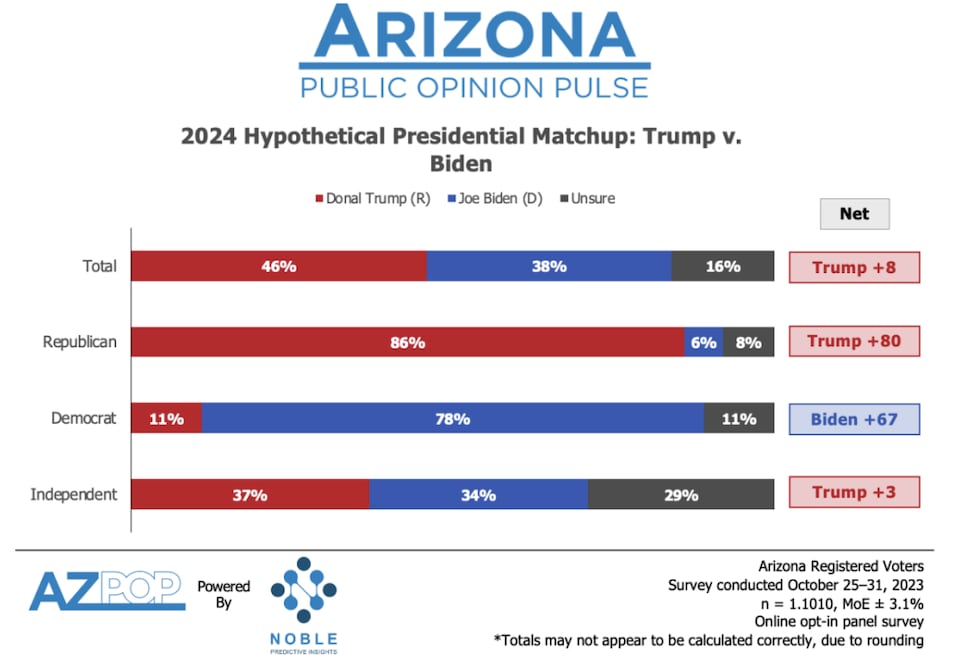 Trump v. Republican Party
The Arizona Public Opinion Pulse also looked into the "Trump Over Party" factor, asking GOP voters. Data revealed a correlation that the older the Republican voter, the more likely they saw themselves as a GOP supporter versus a Trump supporter.
Unity in the Democratic Party?
October's poll also asked state Democrats a similar question: Do you view yourself as a supporter of President Joe Biden or a supporter of the Democratic Party? In this case, a vast majority of viewers viewed themselves as party supporters.
What if it comes down to Biden v. DeSantis?
"If DeSantis wins the GOP nomination, Republicans will get to know him better — and his share of the GOP vote will likely go up. And once Democrats get to know DeSantis, they'll likely rally to Biden," said Byler.
The hypothetical matchup shows DeSantis with a three-point edge, 40% to Biden's 37%, within the margin of error. Independents are also conflicted if such a matchup occurs, with Biden having a one-point lead, 34% to Biden's 33%. It means that about one-third of Arizona independent voters — making up nearly one-quarter overall in the polling — would be unsure who to support in the General Election. Byler says that despite DeSantis being less desirable among general voters, it will still be a heated race in Arizona – whether or not Trump is on the ballot.
See a spelling or grammatical error in our story? Please click here to report it.
Do you have a photo or video of a breaking news story? Send it to us here with a brief description.
Copyright 2023 KTVK/KPHO. All rights reserved.