State GOP lawmakers outline plan for public teacher pay increase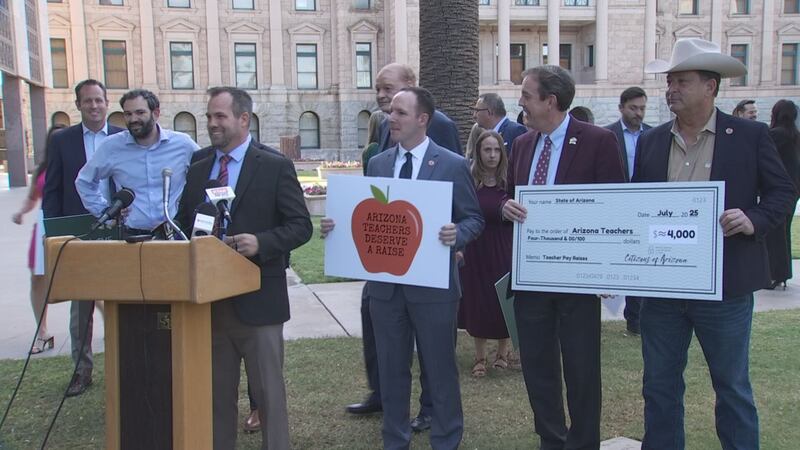 Published: Nov. 13, 2023 at 10:03 PM MST
PHOENIX (3TV/CBS 5) — Republican lawmakers gave details on Monday afternoon about their plan to increase pay for Arizona teachers in K-12 public schools.
During a news conference, they proposed a measure that would be put on the ballot that would create a fund exclusive for teacher pay and give teachers a 7% raise. That would equal about $4,000 for the average teacher. Senate President Warren Petersen, a Republican from Gilbert, said the pay raise would be done without increasing taxes. The land trust endowment would pay for it, which is a long-term savings account that helps fund education.
Currently, Arizona teachers make an average of about $56,000 per year. "This will mean Arizona teachers will be making above the national average for teachers and for starting teachers well above the national average," Petersen said. "This is going to make Arizona extremely competitive in being able to attract good quality teachers."
The proposal would be part of the option to renew Prop. 123, which was approved in 2016. It would go to the voters in November 2024, and if passed, the pay raises would start in summer 2025. "It's the ultimate prioritization of what we think is most important in education in Arizona and it's a good teacher standing in front of students every day," said Sen. Ken Bennett, who is also the chairman of the House Education Committee.
Julie Garcia, who has been teaching for 12 years, was also at the news conference and supports this proposal. She said it's a step in the right direction. "It's helpful but doesn't solve everything," she said. She pointed to large class sizes as hindering the way she teaches.
Arizona Education Association president Marisol Garcia told Arizona's Family she's happy to hear teacher pay is a priority for the Republican-led Legislature. But at the same time, she's skeptical that the funding would be stable long-term. "We don't want a band-aid. We want a good solution and we will sit at the table with whoever has that solution," Garcia said. "We want to make sure that if we're adding to teachers' salaries or educators' salaries, that it's stable. That it's not for a couple years and then it falls off or that it's not sustainable or has a negative impact on other parts of the state or other parts of the community."
See a spelling or grammatical error in our story? Please click here to report it.
Do you have a photo or video of a breaking news story? Send it to us here with a brief description.
Copyright 2023 KTVK/KPHO. All rights reserved.