Sun Devil defense dominates in 17-7 win over UCLA
A wild and weird win in the Rose Bowl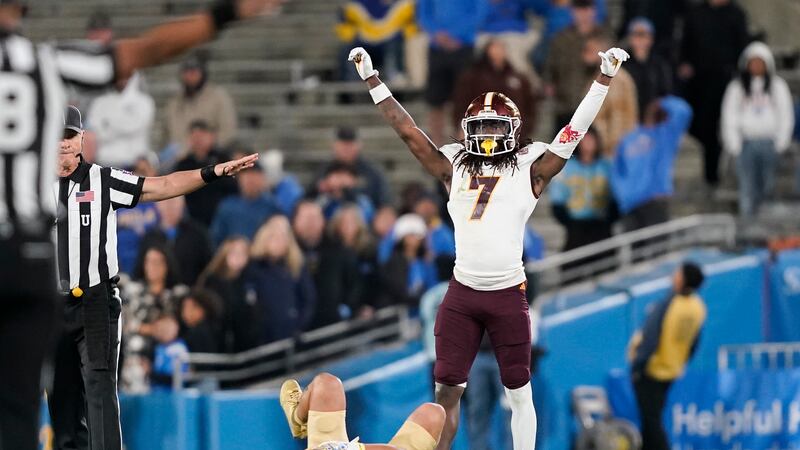 Published: Nov. 12, 2023 at 1:10 AM MST
PASADENA, CA (3TV/CBS 5) -- When in doubt, Google it.
With injuries having ravaged the team, especially at quarterback and along the offensive line, Arizona State's matchup on Saturday against a tenacious UCLA defense presented many problems. So when formulating a gameplan, ASU special advisor Marvin Lewis mentioned to head coach Kenny Dillingham that back in the 1970s, Jim Fassel used a swinging gate formation for passing plays while at Utah. Interesting.
So after some internet sleuthing on Tuesday evening, they found footage on YouTube. On Saturday, the inventive throwback attack helped the Sun Devils pull off an upset win in 17-7 the Rose Bowl.
"Kudos to the players for believing in something that is unique and goofy," Dillingham said.
While the creative offense did just enough, the Sun Devils were led by a dominating defense that was able to put last week's disastrous showing behind them. ASU kept the Bruins off the scoreboard until the fourth quarter, and stuffed UCLA on three key fourth-down runs on the night.
ASU improved to 3-7 on the year with the win, and the Sun Devils took another step forward in their rebuilding effort.
"That's what culture is: Response, response, response," Dillingham said. "We did that today."
The Activation
"It may be goofy, but I don't give a crap." - Kenny Dillingham
The Result
The first quarter was scoreless, but it was anything but dull.
ASU took possession to start, and opened the game with tight end Jalin Conyers at quarterback. The drive included some wild swinging gate formations inspired by the YouTube deep dive, as Dillingham and the staff aimed to mitigate the pressure on the offensive line. A deep completion to Troy Omeire was negated by a penalty, and ASU was forced to punt.
"It's my job to put our guys in the best chance to win the football game, whether it's unique, crazy, a little weird, it doesn't matter to me," said Dillingham.
UCLA responded with a ground-based drive, as third-string quarterback Colin Schlee got the start for the Bruins after both Ethan Garbers and Dante Moore were injured last week. After moving into ASU territory, a sack by Dashaun Mallory and Elijah O'Neal for a loss of 17 forced a Bruin punt.
"It was hard to adjust to at first, but ultimately, (defensive coordinator Brian Ward) has a plan for everything," safety Jordan Clark said.
Another drive of wild formations and Conyers quarterbacks draws commenced, and a 20-yard completion from Bourguet to tight end Bryce Pierre got ASU in scoring range. However, that threat ended after a miscommunication on a deep route, as Bourguet's pass was intercepted in the endzone by Kenny Churchwell, with no Sun Devil receiver in the area.
UCLA leaned on the run game again, with Schlee and running back T.J. Harden reeling off big gains. But just outside the redzone, Anthony Adkins fumbled the ball, which was recovered by ASU safety Shamari Simmons.
Taking advantage of the turnover, ASU fed Elijhah Badger frequently on the drive, with five targets and four receptions, including a 30-yard catch and run that got the ball to the UCLA 16. ASU was unable to move further, settling for a 29-yard field goal by Dario Longhetto to take a 3-0 lead.
A Bruin answer nearly came quickly. A 38-yard run by Keegan Jones off an option play got UCLA into ASU territory, and a 23-yard reception by Moliki Motavao moved it to the 5-yard line. But ASU's defense stood firm, stuffing four straight Bruin runs to force a turnover on downs.
"We protect every blade of grass, no matter where we're at," safety Jordan Clark said. "D-line did a great job getting push. It went out way."
However, three straight ASU incompletions gave the ball back to UCLA with great field position, as Logan Loya returned the punt to the ASU 18. The Bruins soon faced another fourth-and-1, this time at the ASU 9-yard line, and Carson Steele was stuffed on the run by Tre Brown for another turnover on downs.
"I thought, one, we had a good plan," said Dillingham of his defense's success on fourth down. "Two, Dashaun Mallory!"
"Defense has some pride to them," Mallory. "It was really just drop your nuts and play ball."
The Sun Devils again squandered that momentum, going three-and-out, and a short Carlson punt set the Bruins up at midfield. And again, the defense stood tall, with a Tate Romney sack ending the Bruin drive. Fittingly, the half ended with ASU running back Cam Skattebo blasting a 50-yard punt.
The trio of punts opened the second half, with the third by UCLA pinning the Sun Devils at their 1-yard line. It was then that ASU produced their best drive of the season to date. Mixing an aggressive run game with controlled passing by Bourguet, the Devils methodically drove down the field. Facing a third-and-10 at the Bruins' 25, Skattebo threw a dart over the middle to Badger for a touchdown and a 10-0 lead.
"We practiced it, and it worked," Dillingham said. "No risk it, no biscuit."
The 14-play drive covered 99 yards and took more than seven minutes off the clock. It was a masterful moment in an otherwise difficult offensive season.
"Taking it one play at a time," Bourguet said. "I was just trying to lock in, making sure what's my pre-snap read, what's my motion, everything like that. When all 11 guys do their job, we can score on anybody."
Facing a two-score deficit, the Bruins showed urgency on the next drive. Keyed by two long runs by Schlee, the Bruins maneuvered into ASU territory, where they soon faced a fourth-and-2. Yet again, the Sun Devil defense rose to the occasion and stuffed Steele for a turnover on downs.
Like the other chances, though, the Sun Devils couldn't make good on the stop and had to punt it away. ASU took a series of penalties to take additional time on the clock, but UCLA took advantage of the better field position, capping their 59-yard drive with a 16-yard touchdown pass from Schlee to Loya.
The Bruins finally had momentum, and it appeared they would get the ball back quickly after Bourguet was sacked on a thrid-and-14 play. But Grayson Murphy was called for a personal foul after the play, giving the Sun Devils a fresh set of downs. A few plays later, a pass interference call on UCLA converted another Sun Devil third down. Eventually, ASU faced a fourth-and-4 at the UCLA 24 with 3:33 left. Instead of kicking a field goal to go up by six, Dillingham went for it, and Bourguet found Badger for a 7-yard gain.
"There's going to be moments in a game that separate winners and losers," Dillingham said. "Fourth downs are those moments."
On the next play, Skattebo ran 17 yards for the touchdown to seal the win.
The Critical Moment
The drive was already a rousing success. Starting from their 1-yard line, ASU was now in field goal range to increase their slim 3-0 lead. Facing a third-and-10 from the UCLA 25, ASU could just run it, take some more time off the clock, and kick it.
That's not Dillingham's style.
Putting Skattebo, a running back, at quarterback was not new. But having him sling it in a key situation? That was different, but it was something that the offense was prepared to execute.
"We worked it all week," Skattebo said. "That wasn't the throw I threw all week, but I knew that was an option. I knew that we didn't have very much field. That was supposed to be a lot deeper throw."
Skattebo took the snap, faked a handoff, and ran to his right as Badger streaked downfield.
"I just saw Skat roll out and laser the ball," Badger said.
"He improvised, and I saw him," Skattebo said, who fired off a perfect pass.
"However he got it there, he got it there," Badger said.
Touchdown, Devils.
In a season in which he's done almost everything, this was perhaps the most notable yet.
"I'm not surprised by what Skat does," Bourguet said.
The Offense
Injuries have defined the 2023 season for ASU. No area had been hit as hard as the offensive line, and now Dillingham's offense was facing a Bruin defense that was among the nation's best at pass rushing,
Do we really want to play 70 snaps with these guys trying to kill our quarterback?
No. No they do not.
So with a banged up quarterback, and a patchwork line, Dillingham and his staff went to work, inspired by their YouTube findings. While it wasn't always pretty, it was effective.
"I thought it did what I thought it'd do, create 2-on-2s," said Dillingham. "We'd get all of their defensive line away from the ball and not have to block them."
It wasn't pretty. ASU gained just 250 yards and averaged under four yards per play. But the matchups allowed big plays to be made when they were needed, whether it was a key run by Skattebo or a big catch by Badger.
"You never know with Dillingham," Badger said. "He puts in a whole bunch of odd offensive formations, and we got out there and run them."
"It's strange, but football's football," Skattebo said.
Badger tied a career-high with 12 catches, gaining 116 yards in the process. Meanwhile, Skattebo ran for a team-best 61 yards on 12 carries, none bigger than the late touchdown, to go along with his clutch touchdown pass. Conyers ran six times for 14 yards, seeing plenty of action at quarterback.
Bourguet, still battling back from his leg injury last week, completed 19 of 34 passes for 149 yards and an interception. The stats don't jump off the page, but his poise, especially on the 99-yard touchdown drive, was a significant factor in the win.
"It was a great offensive gameplan," Bourguet said. "It was tough here and there to get into rhythm, but once I was able to get comfortable, we were able to drive down."
The offensive line was shuffled again, with Cade Briggs becoming the fourth different starter at left tackle over the first 10 games. They were not in an ideal situation, but like their teammates, the offensive line did just enough to get the job done.
"UCLA has a great D-line. We're down some numbers, but our O-line did a great job tonight," Bourguet said.
It was weird, wild, and wacky, but Saturday's offensive gameplan showed Dillingham's commitment to do whatever it takes to put his players in the best position to win, no matter how it looks.
"It's sound. It looks goofy and unique and different," Dillingham said. "But we didn't go out there and run something that wasn't sound. You can't be scared to be different."
The Defense
For eight games, ASU's defense was among the best in the Pac-12. Then they were blown away in last week's loss to Utah. Was it a fluke, or the start of a downward trend?
Holding the Bruins to a single touchdown points to the former.
"This is how we expect to play," Clark said.
Admitting they were embarrassed by last week's showing, the defense showed tremendous resolve in the win. An emphasis on doing their individual assignments as part of the greater whole paid off.
"Everybody did their one-eleventh," said Mallory.
Mallory played arguably his best game as a Sun Devil. The Michigan State transfer led the team with nine tackles, notched half a sack, and batted down two passes. But it was his push in the middle of the line on the three failed UCLA fourth down conversions that helped keep ASU in front.
"Everyone wanted to get the job done, and that was the result tonight," Mallory said.
The Bruins gained just 300 yards on the night, and while ASU sometimes bent, they broke only once. In the key moments, they played their best football.
The Top 3
Here are three Sun Devil players who stood out against UCLA.
DT Dashaun Mallory: Another dominant showing in the middle of the Sun Devil defense.
RB Cam Skattebo: Another week, another do-everything effort as a runner, passer, and punter.
WR Elijhah Badger: Equaling his career high in catches and hauling in a touchdown will get the job done.
The Question: How does this set up the final two games?
ASU is 3-7. They have a new staff, new schemes, and an overhauled roster. They've battled through unprecedented numbers of key injuries. And they've been close to being so much more. They had then-No. 5 USC on the ropes, had late leads against Cal and Colorado, and held a fourth quarter lead against No. 5 Washington.
Images of what Dillingham wants the program to be have flashed through the adversity. With a healthy roster, this could be a team that is fighting for .500. Or perhaps better. A key offseason awaits, and the final two games could either send them into it with positive momentum—or more coulda shoulda wouldas.
Saturday's win was a nice boost for Dillingham and the program, and it showed the kind of mental resolve after last week's loss that teams need to have. With tough games against Oregon and then rival Arizona, perhaps Saturday's victory in the Rose Bowl could act as a catalyst to kick the rebuild into a higher gear.
"We're right there," Bourguet said. "We know we're right there."
The Next Step
With the road portion of their schedule now complete, ASU returns home next week for a tough test next Saturday against Oregon. The Ducks entered the weekend ranked No. 6 in the AP top 25, and they defeated USC 36-27 on Saturday night to improve to 9-1 on the year.
Saturday will be a reunion for Dillingham, who served as Oregon's offensive coordinator last season before taking the job in Tempe.
The Extra Points
With Conyers taking the first snap at quarterback, ASU has now had four different starting quarterbacks on the season, a program first.

Elijhah Badger surpassed 1,500 career receiving yards.
Copyright 2023 KTVK/KPHO. All rights reserved.