Kyler Murray's expected return gives Cardinals needed jolt in home game vs. Falcons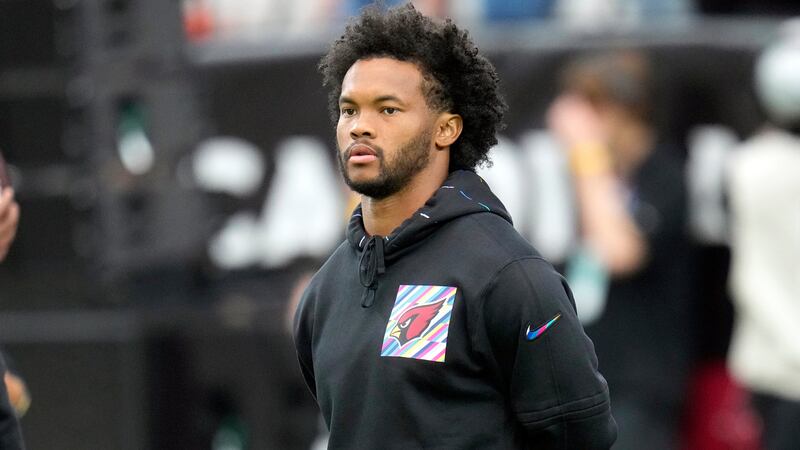 Updated: Nov. 12, 2023 at 6:00 AM MST
GLENDALE, AZ (AP) — If there was any doubt as to how much Kyler Murray means to the Arizona Cardinals, the past 14 games have eliminated it. The two-time Pro Bowl selection is expected to return to game action for the first time in roughly 11 months when the Cardinals host the Atlanta Falcons on Sunday. Murray tore the ACL in his right knee on Dec. 12 last season against the New England Patriots.
Counting the game in which Murray was hurt, the Cardinals went 1-13 in his absence. "In this league, it's very hard to win," Cardinals safety Budda Baker said. "And it's definitely very hard to win without special players on the field, offense and defense. To finally, potentially, have K1 and James Conner back, that's a huge part of our offense and a huge part of our team."
One of Murray's biggest strengths during his first four seasons was an ability to scramble, but it's unclear how much the Cardinals want him being exposed to big hits after coming off such a serious injury.
Conner, the team's leading rusher, was activated from injured reserve earlier this week. The Cardinals (1-8) hit rock bottom last week, losing to the Cleveland Browns 27-0 for their sixth straight setback, gaining just 58 total yards in the process. Rookie Clayton Tune had to start at quarterback after Joshua Dobbs was dealt to the Minnesota Vikings at the trade deadline.
Gannon said that even if Murray returns Sunday, the Cardinals have to perform much better. One of the biggest goals for the Cardinals this game is keeping Murray upright. Falcons DT Calais Campbell has three sacks in the past five games, including a safety against Minnesota last week. "We've got to play clean football in all three phases," first-year coach Jonathan Gannon said. "We've got to do our job on defense and special teams. It doesn't matter who is playing quarterback."
The Falcons (4-5) have lost five of their past seven games, including two winnable games over the past two weeks. Taylor Heinicke will make his second straight start at quarterback after Desmond Ridder lost the job. With the Falcons approaching their bye week, coach Arthur Smith has said he plans to announce a long-term starter after the game. Heinicke can keep the starting job by avoiding interceptions and sacks. He threw for 268 yards with one touchdown and one interception last week. Ridder held the ball too long and was sacked five times just in the first half against Tennessee two weeks ago while Heinicke has been sacked just twice in his game and a half.
"We're not going to sugarcoat it," Smith said. "You can be frustrated. You can be mad. You're going to feel all the emotions by it, but we have to go do something about it. As bad as it feels — nobody's celebrating being 4-5 — but the reality is when you have perspective, after we get these corrections and assess everything, we do still control our own destiny. We have half a season."
SUPPORT FOR RIDDER
Heinicke has continued to support second-year quarterback Desmond Ridder since taking over as the starter. "Me and Des have talked privately," Heinicke said Wednesday. "I've told him everything he's been doing since he was starting, running the meetings, keep doing. Everything. I think that's going to help him in the long run."
Heinicke said Ridder "has been great, the same Des. It speaks to his character." One week ago, Heinicke received a late-night text from coach Arthur Smith that he saw Wednesday morning that informed him he would start against the Vikings. This week, Smith told the quarterbacks Monday morning that Heinicke would start against Arizona. "It's nice to know Monday instead of Wednesday," Heinicke said.
CONNER'S CLOSER
Conner (knee) is back at practice after being activated from injured reserve Wednesday. The veteran was one of the most productive runners in the league before he got hurt against the Cincinnati Bengals on Oct. 9. It's unclear if Conner will be ready for Sunday's game against the Falcons. The 28-year-old is known for his intense practice demeanor, which should give the Cardinals an idea if he's ready.
"That's why he is who he is," Gannon said. "That's why he's a very productive and really good player because of the way he practices and prepares. That trickles down to the team and that's one of the reasons he's a captain, because of his habits on a daily basis.
"He displays winning behavior day-in-and-day-out. We'll be smart about how we do things with him, but we'll see how he responds."
BIJAN LEFT OUT OF RED ZONE PLAN
The Falcons have scored touchdowns on 14 of 28 red zone possessions. Rookie running back Bijan Robinson, the team's leading rusher, watched from the sideline as Atlanta's offense was kept out of the end zone when taking over at the Minnesota 1 in the second quarter last week. Robinson wasn't used when one of the Falcons' plays was a jet sweep run by tight end Jonnu Smith.
For the season, Robinson has only two carries for 3 yards inside the opponents' 10 as Tyler Allgeier has been the preferred option near the goal line.
Smith said Allgeier "to me, is one of the better short-yardage goal-line backs in the league," but added "at the end of the day, we have to find a way" to score touchdowns in those situations.
IRON MAN STREAK
Falcons LT Jake Matthews will tie a team record for longevity by making his 154th consecutive start Sunday. Matthews, who began his streak in 2014, will tie the team record set by quarterback Matt Ryan from 2009-19. Matthews has the longest active streak in the NFL.
SERIES NOTES: The Falcons have won four of the past five games in the series. In the previous game between the teams played at Arizona, the Cardinals won 34-33 on Oct. 13, 2019. ... The home team has won the past 12 meetings in the series and 16 of the past 17.
Copyright 2023 The Associated Press. All rights reserved.