Living in cities with poor air quality may raise risks of Parkinson's disease, new study finds
Published: Nov. 6, 2023 at 5:33 PM MST
PHOENIX (3TV/CBS 5) — Researchers at Barrow Neurological Institute in Phoenix have found a link between Parkinson's disease and air pollution.
According to the study, people living in areas with median levels of air pollution had a 56% greater risk of getting Parkinson's than those living in regions with the lowest level of air pollution.
Barrow researchers were looking at particulate matter, which are tiny pieces of things like dust, dirt or smoke in the air. Previous studies found that those things can cause inflammation in the brain, which causes Parkinson's disease to develop. "Using state-of-the-art geospatial analytical techniques, we were, for the first time, able to confirm a strong nationwide association between incident Parkinson's disease and fine particulate matter in the U.S," said Brittany Krzyzanowski, Ph.D., a researcher at Barrow Neurological Institute, who led the study.
A map released by the Barrow Neurological Institute shows hot spots in the Mississippi-Ohio River Valley area, parts of Texas and Illinois, eastern Michigan, Pennsylvania and the tip of Florida. They have both high air pollution and high rates of Parkinson's. Researchers didn't look into the sources of pollution but did notice the high number of roads and freeways in the Mississippi-Ohio River Valley and the Rust Belt. "This means that the pollution in these areas may contain more combustion particles from traffic and heavy metals from manufacturing which have been linked to cell death in the part of the brain involved in Parkinson's disease," says Krzyzanowski.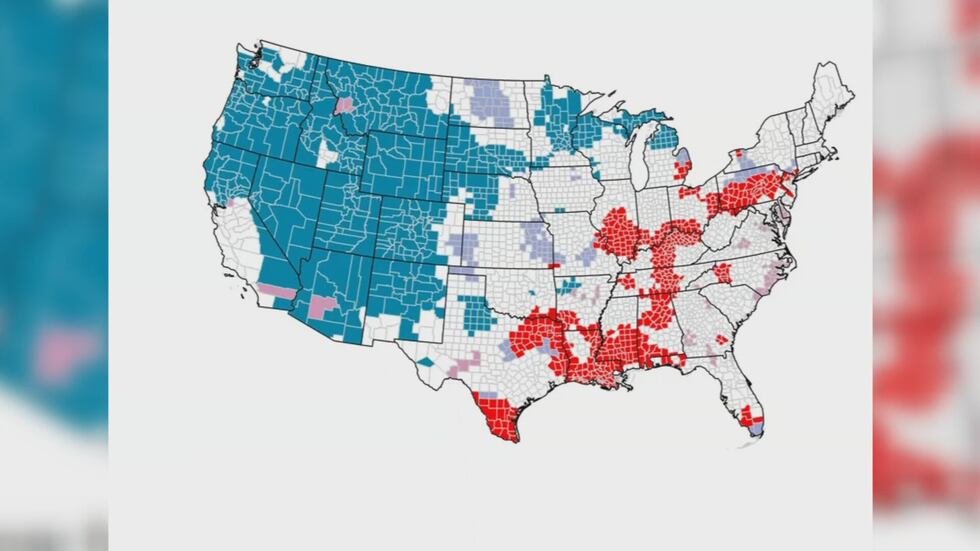 Most of Arizona has low rates of particulate matter and low rates of Parkinson's disease. However, Maricopa County is in the purple, which means high air pollution but low rates of Parkinson's. While the study found Phoenix was not a Parkinson's disease hotspot, it did find a strong geographical association between air pollution and Parkinson's disease in the Phoenix area. That's because while Phoenix has high air pollution, the Valley and surrounding counties have low levels of it compared to parts of the Southeast and Midwest. Researchers hope the data will lead to stricter policies that will lower air pollution levels and decrease the risk of Parkinson's disease and other illnesses.
See a spelling or grammatical error in our story? Please click here to report it.
Do you have a photo or video of a breaking news story? Send it to us here with a brief description.
Copyright 2023 KTVK/KPHO. All rights reserved.