Survivors of abusive Native American boarding schools to share experiences in Montana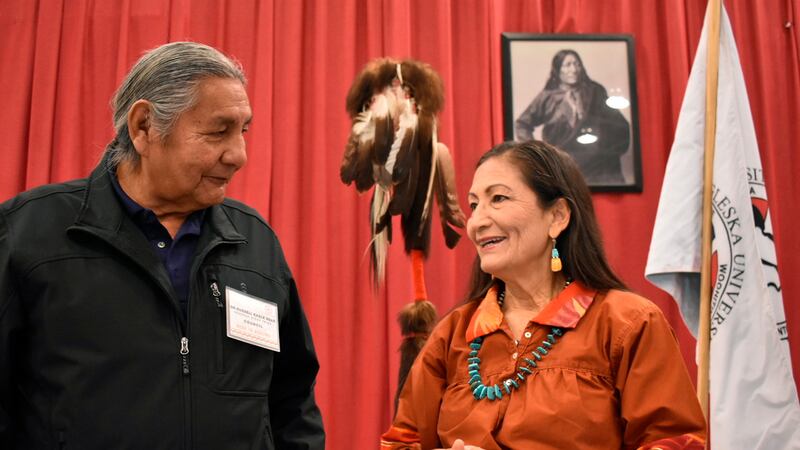 Published: Nov. 5, 2023 at 8:11 AM MST
BOZEMAN, Mont. (AP) — Survivors of government-backed Native American boarding schools and their descendants are expected to share their experiences Sunday as U.S. officials make a final stop in Montana on their yearlong tour to confront the institutions that regularly abused students to assimilate them into white society.
Interior Secretary Deb Haaland, a member of Laguna Pueblo in New Mexico, has prioritized examining the trauma caused by the schools. She was scheduled to visit Montana State University in Bozeman to wrap up her "Road to Healing" tour.
For over 150 years, Indigenous children were taken from their communities and forced into the boarding schools. Religious and private institutions ran many of the schools and received federal funding as partners in government programs to "civilize" Indigenous students.
The U.S. enacted laws and policies in 1819 to support the schools and some continued to operate through the 1960s. An investigative report released last year by the Interior Department identified 408 government-backed schools in 37 states or then-territories, including Alaska and Hawaii.
The schools renamed children from Indian to English names, organized them into military drills and compelled them to do manual labor such as farming, brick-making and working on the railroad system, according to federal officials. A least 500 children died at the schools, according to the report — a figure that's expected to increase dramatically as research continues.
One of Haaland's deputies, Rosebud Sioux member Wizipan Garriott, has accompanied her on the tour. Garriott has described boarding schools as part of a long history of injustices against his people that began with the widespread extermination of their main food source — bison, also known as buffalo. Tribes also lost their land base and were forced onto reservations sometimes far from their homelands.
Victims and survivors of the schools have shared tearful recollections of their traumas during 11 previous stops along Haaland's tour, including in Oklahoma, South Dakota, Michigan, Arizona, and Alaska.
They've told stories of being punished for speaking their native language, getting locked in basements and their hair being cut to stamp out their identities. They were sometimes subjected to solitary confinement, beatings and withholding food. Many emerged from the schools with only basic vocational skills that left them with few job prospects, officials said.
A second investigative report is expected in coming months. It will focus on burial sites, the schools' impact on Indigenous communities and also try to account for federal funds spent on the troubled program.
Montana had 16 of the schools — including on or near the Crow, Blackfeet, Fort Peck and Fort Belknap reservations. Most shut down early last century. Others were around recently enough that their former students are still alive.
A Native American boarding school school in the town of St. Ignatius on the Flathead Reservation was open until at least 1973. In southeastern Montana the Tongue River Boarding School operated under various names until at least 1970, when the Northern Cheyenne Tribe contracted it as a tribal school, according to government records.
The St. Labre school at the edge of the Northern Cheyenne continues to operate but has not received federal money in more than a century, according to government records.
The National Native American Boarding School Healing Coalition has tallied an additional 113 schools not on the government list that were run by churches and with no evidence of federal support. By 1926, more than 80% of Indigenous school-age children — some 60,000 children — were attending boarding schools that were run either by the federal government or religious organizations, according to the coalition.
Copyright 2023 The Associated Press. All rights reserved.