Phoenix Suns hope to end losing streak as they start 3-game road trip in Philadelphia
Game start at 10 a.m. on 3TV & Arizona's Family Sports network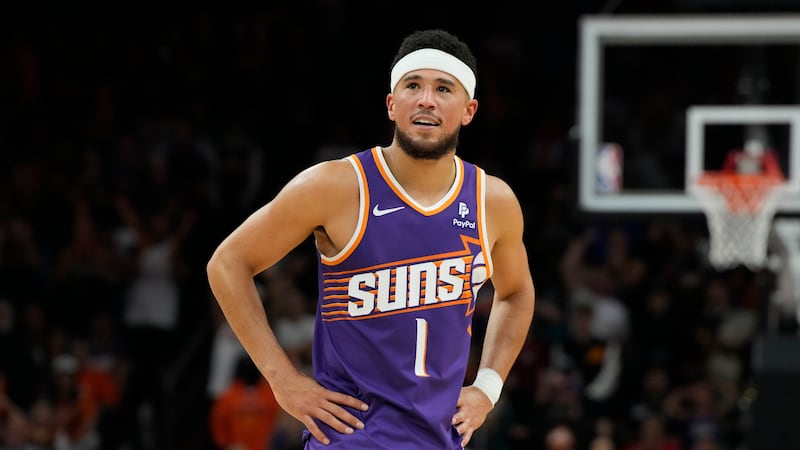 Published: Nov. 4, 2023 at 6:00 AM MST
|
Updated: Nov. 4, 2023 at 7:43 AM MST
PHILADELPHIA, PA (3TV/CBS 5) — The Phoenix Suns are back on the road on Saturday as they begin a three-game road trip in Philadelphia against the 76ers. The team is 2-3 on the year and is last in the Pacific Division. Bradley Beal has been ruled out again with back spasms. Devin Booker is out for a left ankle sprain. Tip-off for Saturday's game is at 10 a.m. and can be seen on 3TV and Arizona's Family Sports network. To find out how to watch, click/tap here.
They've lost two straight, both against the San Antonio Spurs. The games on Tuesday and Thursday were completely different. On Tuesday, the Suns let a 20-point lead slip away, and the Spurs scored the winning basket after Keldon Johnson stole the ball from Kevin Durant in the final seconds and made a contested layup with 1.2 seconds left. On Thursday, the Spurs were up by as many as 27 points, but the Suns climbed back to tie at 116 with about four minutes left. However, rookie phenom Victor Wembanyama scored 10 of San Antonio's 12 straight points, and they pulled away from a 132-121 win. Devin Booker returned to the court after being out with a left ankle sprain and nearly had a triple-double with 31 points, 13 assists and nine rebounds. Wembanyama had a season-high 38 points.
When the Suns traded for Beal, they were expected to have a high-powered offense and were hoping for a hot start to the season. But with Booker sidelined for three games and Beal out, the team has been middle-of-the-pack when it comes to points and assists per game. Phoenix is having trouble holding onto the ball, with 16.6 turnovers per game, second-worst in the league.
As for the 76ers, they're on a three-game winning streak and second in the Atlantic Division at 3-1 behind the undefeated Boston Celtics. Philadelphia made headlines on Tuesday when they traded disgruntled star James Harden to the Los Angeles Clippers for Robert Covington, Nic Batum, former Phoenix Suns player Marcus Morris, K.J. Martin, an unprotected first-round pick in 2028, two second-round picks, a first-round pick from the Thunder and swapped first-round picks. The Clippers also got former Suns forward P.J. Tucker and Filip Petrusev. Batum is out indefinitely for personal reasons.
In their first game since the trade, Philadelphia got some big buckets from some unexpected role players and cruised to a 114-99 win over the Toronto Raptors. Joel Embiid had 28 points, 13 rebounds and seven assists. Kelly Oubre Jr., another former Phoenix forward, and Tobias Harris each scored 23 points for the 76ers.
See a spelling or grammatical error in our story? Please click here to report it.
Do you have a photo or video of a breaking news story? Send it to us here with a brief description.
Copyright 2023 KTVK/KPHO. All rights reserved.