City of Phoenix worked on last 15 blocks of 'The Zone' ahead of deadline
The deadline is today, Nov. 4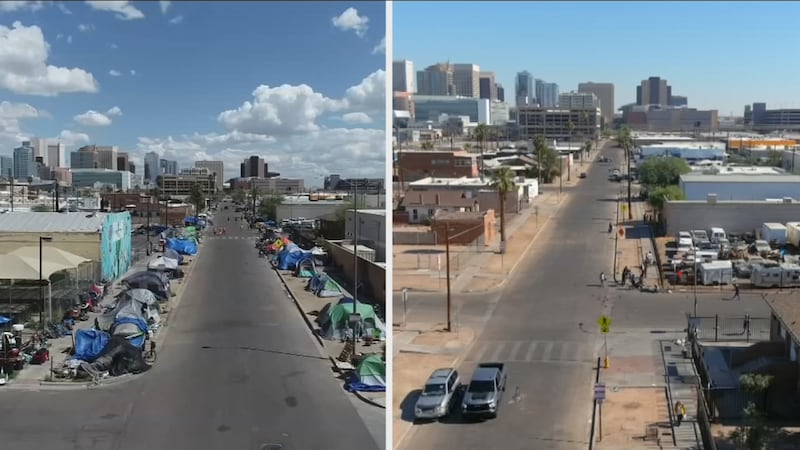 Published: Nov. 4, 2023 at 11:25 AM MST
PHOENIX (3TV/CBS 5) — Saturday, Nov. 4, is the deadline for the city of Phoenix to clear out the blocks of homeless encampments known as "The Zone."
The Zone is a 15-block area that spans from 7th to 15th Avenues and Jefferson to Harrison streets. The city says crews worked to clear out the last of the 15 blocks. At one point, more than a thousand people were living there, and Rachel Milne, Director of Homeless Solutions for the city, said her team encountered 716 individuals during this process and the goal was to clear out and relocate.
"Of those 716, 590 went to an alternative location via shelter," she said. "Occasionally some folks went straight to housing were reconnected with families, or treatment programs so that is an 82% acceptance rate."
Throughout the months of clearing out these blocks, Milnes said her team relocated the most people during Wednesday's clean up efforts. Milne reports they encountered 135 people and relocated 123 of them to shelters or reconnected them with family members. Milne adds that she is excited about the acceptance rate of relocating these individuals, but said the work is far from over.
"This is not the end," she said. "Providing someone with emergency shelter may be the first step to ending their homelessness, but it doesn't end their homelessness right there. "We have lots of work to do we need to make sure those 590 individuals that did move on to an indoor location now have the support systems and the proper services to help them in their homelessness."
Milne said her team's next steps are to keep the blocks closed off to folks who try to set up tents, and have people on the ground to connect them to help and resources.
See a spelling or grammatical error in our story? Please click here to report it.
Do you have a photo or video of a breaking news story? Send it to us here with a brief description.
Copyright 2023 KTVK/KPHO. All rights reserved.