Late basket lifts Spurs to stunning 115-114 win over Phoenix Suns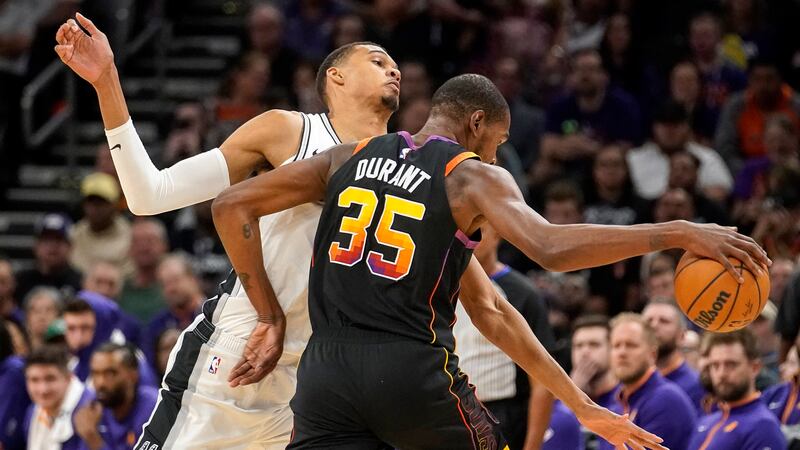 Published: Nov. 1, 2023 at 8:29 AM MST
PHOENIX (AP) — Keldon Johnson stripped Kevin Durant and made a contested layup with 1.2 seconds left to give the Spurs their only lead of the game and a 115-114 victory over the stunned Phoenix Suns on Tuesday night.
The Spurs, who trailed by as many as 20 points, broke a nine-game losing streak against Phoenix. Johnson had 27 points to lead San Antonio.
Top draft pick Victor Wembanyama missed his first five shots before throwing down a sensational dunk in the final seconds of the first half. He scored 18 points and had eight rebounds in 28 minutes. Devin Vassell also had 18 for the Spurs.
Durant led Phoenix with 26 points. Eric Gordon scored 20, Grayson Allen had 19 on 5 of 7 shooting from 3-point range for the Suns, who played without injured starting guards Bradley Beal and Devin Booker.
The Suns will face the Spurs again at 7 p.m. Thursday at the Footprint Center in downtown Phoenix. Watch the game for free on 3TV (KTVK) or Arizona's Family Sports (KPHE). Tap/click here to learn more about watching Phoenix Suns basketball on Arizona's Family.
Copyright 2023 The Associated Press. All rights reserved.