D-backs' Ketel Marte passes Derek Jeter, two others for longest postseason hitting streak
Ketel Marte has the longest hitting streak in postseason history at 18 games after a two-run single in the eighth inning of Game 2 of the World Series against the Texas Rangers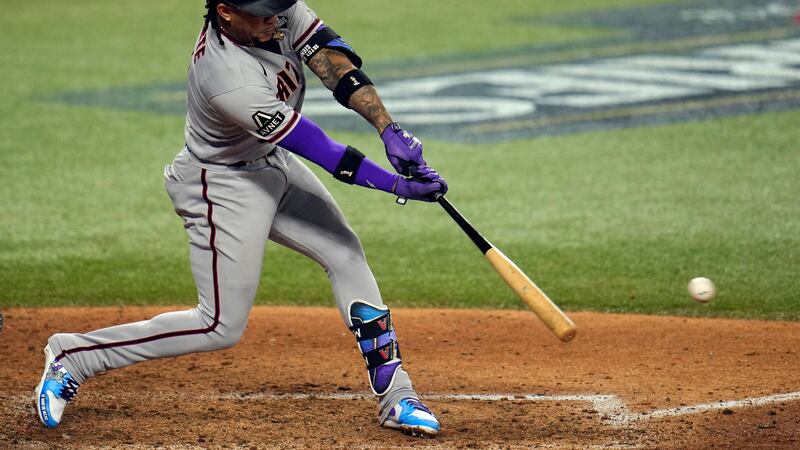 Published: Oct. 28, 2023 at 8:13 PM MST
ARLINGTON, Texas (AP) — Ketel Marte has the longest hitting streak in postseason history at 18 games after a two-run single in the eighth inning of Game 2 of the World Series.
The switch-hitting outfielder for the Arizona Diamondbacks was hitless his first four at-bats Saturday night before lining a two-out single to center off Texas Rangers reliever Martín Pérez.
Marte already had the MLB record for the longest hitting streak to start a postseason career at 17 games. The Game 2 hit sent him past Derek Jerek and Hank Bauer of the New York Yankees and Boston's Manny Ramirez for the longest overall streak.
Jeter's run came in 1998-99, while Bauer's was in the World Series from 1956-58. Ramirez had his streak in 2003-04.
Marte got his chance with the bases loaded in the eighth after consecutive walks to pinch-hitter Emmanuel Rivera and No. 9 hitter Geraldo Perdomo.
Hitting leadoff after being in the No. 2 spot for Game 1, Marte sent a changeup from Pérez on the ground up the middle. The hit was part of a three-run eighth to give the Diamondbacks a 7-1 lead. Arizona went on to win 9-1.
After the single, Marte was hitting .333 with two home runs and 11 RBIs this postseason.
Rangers slugger Adolis García had two steaks end on an 0-for-3 night with a walk. The Cuban All-Star had homered in five consecutive postseason games and driven in a run in seven straight.
___
AP MLB: https://apnews.com/hub/mlb