Devin Booker, Bradley Beal unable to play in Suns' 2nd game of the season vs the Lakers
Devin Booker and Bradley Beal are sitting out due to injuries when the Phoenix Suns visit the Los Angeles Lakers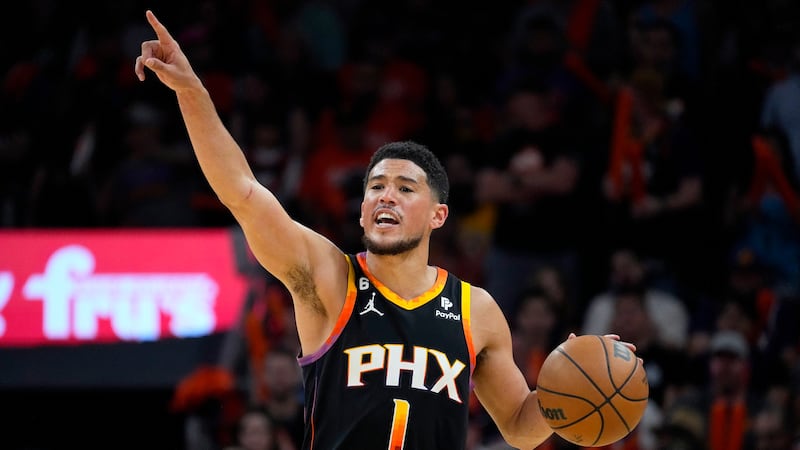 Published: Oct. 26, 2023 at 7:49 PM MST
LOS ANGELES (AP) — Devin Booker and Bradley Beal are sitting out due to injuries when the Phoenix Suns visit the Los Angeles Lakers on Thursday night.
Phoenix coach Frank Vogel said Booker "tweaked his foot" late in the Suns' season-opening victory over Golden State, and the high-scoring guard "is dealing with significant left foot soreness." Booker led Phoenix with 32 points against the Warriors.
Beal has yet to make his Suns debut because lower back tightness has kept him out of their first two games. Phoenix acquired the veteran guard from Washington last June in a multiplayer trade involving Chris Paul and several draft pick exchanges.
"Brad is ramping up his work and continues to be symptomatic as a response to the work, so he's not ready," Vogel said.
The injuries left Kevin Durant as the only healthy member of the Suns' new Big Three as they faced LeBron James and Anthony Davis in the Lakers' home opener. Vogel declined to say who would replace Booker in their starting lineup.
James and Durant improbably were facing each other for the first time since Christmas 2018. The superstars missed each other in their teams' last 13 meetings due to injuries, load management and health and safety protocols.
The game also was Vogel's return to face the Lakers for the first time since they fired him 18 months after he led Los Angeles to its 17th NBA title in the 2020 Florida bubble.
"I wouldn't call it strange," Vogel said. "I would say it's wonderful. It's great to see all the friendly faces, and it's nice to be back in this building. I had some great memories, and became part of the Lakers' championship legacy. Very, very fond memories here."
___
AP NBA: https://apnews.com/hub/NBA