Speak of the Devils Podcast: Defensive dominance & ASU vs. Washington State preview
The tide has to turn at some point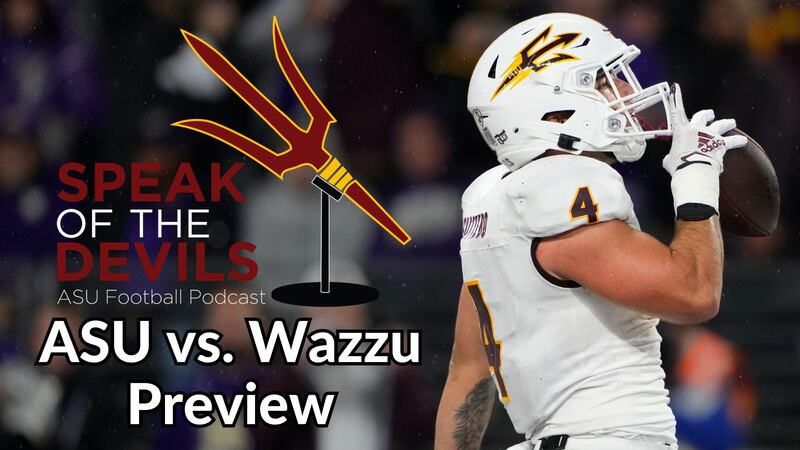 Published: Oct. 24, 2023 at 11:18 PM MST
(3TV/CBS 5) -- Oh. So. Close. After a look at the news, we examine the defensive dominance and missed opportunities from ASU's loss to No. 5 Washington. We then talk to left tackle Isaia Glass (27:14) and wide receiver Gio Sanders (31:28) about the adversity faced by the offense and the plan to turn the close losses into wins. We then go behind Washington State lines with Michael Preston of CougCenter.com (36:05) before diving into our game preview and predictions.
LISTEN & SUBSCRIBE
Stream | Apple Podcasts | Spotify | YouTube | Google Podcasts | Amazon Music | iHeart Radio | Pocket Casts
RECENT EPISODES
ASU vs. Washington Preview: We preview the Battle in Seattle with Cam Skattebo and Kaleb Black.
Midseason grades: With the legendary Chilly and Hod Rabino of DevilsDigest.com in studio, we recap the Sun Devils' first six games, hand out midterm grades, and look ahead to the home stretch.
Frustration by the Bay & ASU vs. Colorado Preview: Another "almost" by the Devils and a look ahead to a prime battle against Colorado.
Signs of life & ASU vs. Cal preview: We examine the promising developments shown against USC, talk with TE coach Jason Mohns, and preview the road trip to Cal.
An offensive display & USC preview: Diving into the Fresno State debacle, previewing USC, and talking with TE Bryce Pierre and RB Kyson Brown.
Testing the depth & ASU vs. Fresno State preview: A dive into the Oklahoma State loss, a look to Fresno State, and conversations with Steven Miller and Tevin White.
A wild week 1 & ASU vs. Oklahoma State preview: We breakdown the soggy opener, talk QB play with Gus Farwell, and preview Oklahoma State.
ASU vs. Southern Utah preview: A preview of the season opener, plus DB Jordan Clark.
2023 season preview and predictions: Hod Rabino and Caleb Campero join us in studio to take a detailed look at the 2023 Sun Devils & make season predictions.
Jaden Rashada named starting QB: We discuss the decision to name true freshman Jaden Rashada the Sun Devils' starter.
QB battle and fall camp update: We discuss the latest camp updates and talk with WR Andre Johnson and RB George Hart III.
A Big (12) Move and Camp Update: We break down ASU's Big 12 move and talk with Ra'Shaad Samples, Chris Johnson II, and the great Ralph Amsden.
LIVE from Graduate Hotel!: Our first live show features guests D.J. Foster, Bo Moos, Tim Healey, and Hod Rabino.
2023 fall camp preview: We preview camp & talk with QB Drew Pyne, RB Cam Skattebo, WR Xavier Guillory, LB JuJu Mitchell, and LB James Djonkam.
2023 Pac-12 Media Day Recap: On the drive back from covering Pac-12 Media Day in Las Vegas, Brad recaps the biggest storylines and developments (or lack of some key developments) from the event, breaks down Kenny Dillingham's comments, brings you Jalin Conyers' harrowing near-death roller coaster experience, and more.
Pac-12 and national preview: ESPN's Matt Barrie joins us to preview the Devils, the Pac-12, and the national landscape.
10 most important Devils for 2023: We count down the 10 most important players for 2023 and talk with two ASU commits: 2025 4-star QB Michael "Butter" Tollefson and 3-star athlete Plas Johnson.
The Rashada Sun Devil legacy: In this special episode, we take an in-depth look at the past, present, and future of the Rashada family's Sun Devil legacy with conversations with Jaden, Roman, and Harlen.
Hall of Famers, blue chips, & baseball review: We talk with new Sun Devil Hall of Famers Jason Kipnis and Shaun McDonald, local commits Dylan Tapley and Kanyon Floyd, and break down the baseball season with Jack Loder.
Key additions & baseball on the brink: We discuss new portal additions, talk with DT Dashaun Mallory and CB Dee Ford, and dive into baseball's problems with Jack Loder.
NFL Draft analysis & portal additions: We dive into a review of the latest football and basketball additions and departures, discuss what's left on the shopping list, and get a Draft recap and 2024 preview from Cole Topham.
Portal windows & comeback wins: We discuss the flurry or portal moves & baseball's wild week with Jack Loder.
Spring Practice Review: ASU's 2023 spring practice slate is in the books. With Hod Rabino and Cole Topham of DevilsDigest.com joining us in studio, we break down the quarterback competition, major developments, key position battles, questions both raised and answered, and the Sun Devils' updated offseason to-do list.
Spring football heats up & baseball midseason review: Spring is in full swing for the Sun Devils. After a recap of a physical third week of spring football practice, we're joined by Jack Loder of DevilsDigest.com for an in-depth midseason review of Arizona State baseball.
Spring Update & ASU Pro Day: We review spring and the Pro Day performances of ASU's NFL Draft hopefuls with Cole Topham of DevilsDigest.com & catch up with DT Nesta Jade Silvera, LB Kyle Soelle, RB X Valladay, and LB Merlin Robertson.
Early spring impressions & hoops heartbreak: Week 1 of ASU's spring football practice is in the books...and the latest chapter of Sun Devil hoops heartbreak has been written. We break down the notable early developments on the gridiron and the fallout of the NCAA Tournament loss with Hod Rabino of DevilsDigest.com (53:15). Then hear the first public comments from ASU QB Jaden Rashada he gave after Saturday's practice.
2023 spring practice preview: Hod Rabino of DevilsDigest.com joins us in studio to discuss the quarterback competition, the key position battles, players to watch, questions that need answers, and so much more.
"He made it! He made it!": Tim Healey joins us to discuss the McKale Mary and what it means for the Devils.
Hoops in the homestretch: Kyle Dodd joins us to break down a critical stretch for Sun Devil basketball.
2023 ASU Baseball preview: Head coach Willie Bloomquist and DevilsDigest.com's Jack Loder joins us to preview the season ahead for the Devils.
2023 Signing Day Recap: We recap the signing class, talk to OL coach Saga Tuitele, and get analysis on Jaden Rashada from Cole Topham.
ASU lands elite QB Jaden Rashada: National Signing Day brought MASSIVE news for ASU: Jaden Rashada, one of the nation's elite QB recruits and a Sun Devil legacy, committed to Arizona State. In this emergency episode, we discuss the impact of the move with Hod Rabino of DevilsDigest.com.
Portal recap and 2023 schedule breakdown: We recap the portal action, analyze the new schedule, and talk with local QB recruit Luke Moga.
New Year, New Goals :The calendar has turned to 2023 and a new era of Sun Devil football is upon us. After a talk with new running back Cam Skattebo and a look at the latest transfer portal activity, we dive into our New Year's resolutions for ASU football and Sun Devil sports.
2022 Sun Devil season awards: We honor the best—worst—of Arizona State's 2022 football season.
Meet the New ASU Coaching Staff: Sit down with EVERY member of ASU's new coaching staff: head coach Kenny Dillingham, offensive coordinator Beau Baldwin , defensive coordinator Brian Ward, assistant head coach and special teams coordinator Charlie Ragle, offensive line coach Saga Tuitele, cornerbacks coach Bryan Carrington, tight ends coach Jason Mohns, defensive line coach Vince Amey, wide receivers coach Ra'Shaad Samples, linebackers coach AJ Cooper, and running backs coach Shaun Aguano.
Signing Day, the Portal, and Festivus: We recap a whirlwind Signing Day & then celebrate a Sun Devil Festivus by airing grievances and celebrating ASU's feats of strength from 2022.
Tracking the portal homecomings with Chilly: We discuss the latest portal moves and the coming home surge with Chilly. Plus, we talk with new ASU RB DeCarlos Brooks.
New coaches, portal moves, scheme talk, and Simone: We break down Dillingham's scheme with Cole Topham, discuss the new coaching hires, and talk with Jordan Simone.
Kenny Dillingham hired as ASU's new head coach: The new era of Arizona State football is here, as Kenny Dillingham returns home to take the reins of the Sun Devil program.
Copyright 2023 KTVK/KPHO. All rights reserved.