ASU squanders defensive gem in 15-7 loss to No. 5 Washington
The Devils were close to another major upset win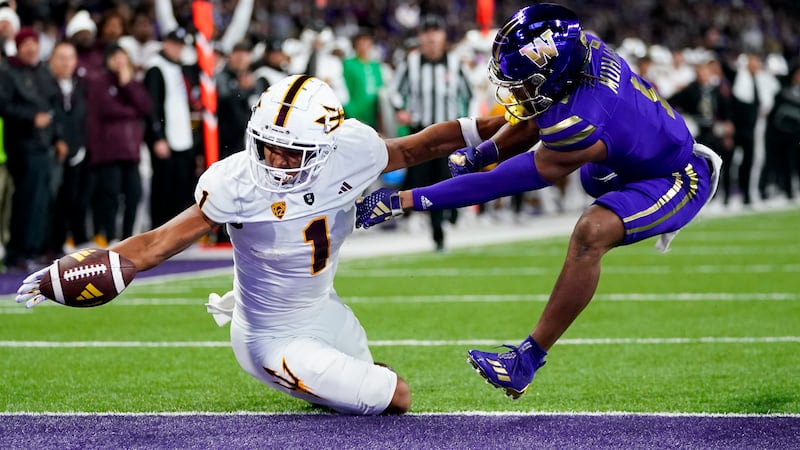 Published: Oct. 22, 2023 at 2:37 AM MST
SEATTLE (3TV/CBS 5) -- Sitting in a curtained-off corner of a storage area underneath the stands of Husky Stadium, Arizona State safety Shamari Simmons sat at a fold-up table in from of reporters. He had just been a key part of an incredible defensive effort that kept the Heisman Trophy frontrunner and one of the nation's elite offenses out of the endzone. It was also part of a losing effort, as the team's continued struggles on offense resulted in another disappointing loss.
"The world ain't going to feel sorry for us," Simmons said.
The Sun Devil defense put forth one of the best showings in recent program history, holding the explosive Washington offense and quarterback Michael Penix Jr. to season lows in points and yards. In fact, it was the first time the Huskies failed to score an offensive touchdown in five years. But failures by ASU's offense and special teams units, and a late interception returned for a touchdown kept No. 5 Washington perfect on the season and the Sun Devils searching for answers. They know they have been this close to an entirely different trajectory.
"I hate losing. This is so frustrating because we could've won the last four football games," ASU head coach Kenny Dillingham said. "Our guys are playing solid-to-good football who are finding different ways to lose, and I have to remove that."
Saturday's loss drops ASU to 1-6 on the season and 0-4 in Pac-12 play. It was also the latest almost-but-not-quite-there moment for the rebuilding program that serves up equal parts optimism and disappointment.
"It hurts a lot to know we were that close to another big win," said quarterback Trenton Bourguet.
The Activation
"Right now, it's a bingo card for how are we going to lose, even though we're playing winning football." - Kenny Dillingham
The Result
Through the first half of the season, ASU's defense had been impressive, save for one glaring deficiency: Turnovers. Over the first six games, the Sun Devils had generated just a single turnover from an opposing offense, the fewest total of any of the 133 FBS teams. Coming off of their bye week, they made up for lost time immediately.
After the ASU offense punted to open the game, Sun Devil cornerback Ro Torrence intercepted Penix on the third play of the drive. Bourguet managed to guide the offense into the redzone, where the drive stalled at the Husky 8-yard line. Following a delay of game penalty, kicker Dario Longhetto's field goal try bounced off the right upright, the first of several squandered opportunities on the night.
Following a Washington punt, ASU again marched down the field and into Husky territory. Facing a fourth-and-4 at the UW 40, the aggressive Dillingham went for it, but Bourguet's pass to Elijhah Badger was incomplete, setting up Washington with good field position.
"We're able to drive the ball down and up the field, but we keep making minor mistakes. Me being the quarterback, that's on me," said Bourguet.
Penix appeared to finally get in gear, finding Rome Odunze for 19 yards on a third-and-11 to close out the first quarter and then hitting tight end Jack Westover for 21 to open the second. But with a first-and-goal at the Sun Devil 7-yard line, Penix's pass was tipped by linebacker Caleb McCullough and intercepted by Simmons.
"It felt good," Simmons said. "We've been talking about it comes in bunches. As soon as we got one, we were eager to get more."
ASU's offense managed to gain a first down to help with the field position but were forced to punt. The Sun Devils lost pass rusher Clayton Smith to a targeting penalty on the next drive, a call that put the Huskies in ASU territory, but a Penix fumble was recovered by Simmons to end the threat.
This time, the Sun Devil offense took advantage of the situation. Bourguet connected with Melquan Stovall for 13 yards on a third down to move the chains, and a 14-yard catch-and-run by Cam Skattebo put ASU in the redzone. Five plays later, Skattebo ran it in from a yard out to give ASU an improbable 7-0 lead.
Penix and the Huskies were able to answer back just before halftime. With some explosive runs, a few measured completions, and a late-hit penalty on ASU, Washington was again able to get to the Sun Devil 7-yard line before being stonewalled, settling for a shot Grady Gross field goal to send the teams to the break.
The swarming Sun Devil defense continued their pilfering ways to open the second half. Cornerback Ed Woods, forced to sit out of the first half due to a targeting penalty in ASU's prior game against Colorado, forced a fumble on the second play of the third quarter, which was pounced upon by freshman defensive tackle C.J. Fite at the Husky 36.
But despite the good field position, ASU went three-and-out and had to punt.
"We had a couple opportunities to really extend that lead and we gotta take advantage of that against a team like Washington that is one of the top teams in the nation," said Bourguet.
Things got rolling to the Sun Devils on their next drive, thanks to a ground game buoyed by the return of running back DeCarlos Brooks to complement Skattebo, who picked up two fourth downs on the drive. The drive stalled at the UW 25, and a depleted line for the Sun Devils was exposed when Elijah Jackson was able to block the kick.
ASU's defense again forced a Husky punt, but their next drive ended in a turnover on downs. A 21-yard pass from Penix to Ja'Lynn Polk and a pass interference call on Woods got Washington in field goal range where Gross' 47-yard connection trimmed the lead to 7-6 with just over 12 minutes left.
Feeling their upset bid starting to slip away, the Sun Devil offense punched back. Bourguet hit Badger for a 34-yard gain to open the drive, and ASU was in the redzone four plays later. A deep throw into the endzone to Troy Omeire drew what appeared to be a defensive penalty, but after consultation, the official picked up the flag.
"They threw it from the back judge and said he grabbed him," Dillingham said. "The side judge on the other side said that there was no restriction, so he overruled it."
After a third-down run by Skattebo fell short of the sticks, Dillingham opted to go for it on a fourth-and-3 from the UW 12. Or rather, was forced to go for it, as injuries along the offensive line meant ASU couldn't field a proper field goal unit. Bourguet's pass was intercepted by Mishael Powell and returned for an 89-yard touchdown. All of a sudden, ASU trailed 12-7.
"That's a big emotional swing," Dillingham said.
ASU was forced to punt on their ensuing drive, and Washington soon appeared poised to ice the game, driving inside the 10-yard line. But a solid stand by ASU's defense forced them to settle for another field goal, upping the Husky margin to 15-7.
Taking over at their 25 with 3:17 left, ASU drove to midfield, but an illegal block-in-the-back penalty sapped the momentum and the Sun Devils turned over the ball on downs to mark another loss.
The Critical Moment
The fifth-ranked Huskies were on the ropes, and the Sun Devils could've delivered a knockout blow. But in a season defined by almosts, this momentum swing was the most damning yet.
Had ASU enough healthy linemen, they could've kicked a field goal to extend their lead to four points, forcing the Huskies to score a touchdown. Earlier in the game, Dillingham had said that if they lost two more linemen, they would be unable to field an effective block. They had lost one, which manifested in the blocked attempt earlier in the game, and in that time, another was knocked from the game. So while it may have appeared as if he had a decision, he did not.
"It was 100 percent a go," Dillingham said.
Bourguet's pass was then jumped by Powell for the game-winning score.
"We had a chance to put them away," Bourguet said. "The guy made a good play. I thought I had them, but he guy made a good play. You just got to tip your cap."
Dillingham's full breakdown of the play and the decision:
The Offense
At times, this looked like a functional offense.
"The formula was there," Dillingham said. "We wanted to keep the ball. We wanted to run the football. We wanted perimeter runs. We wanted to throw the really quick passing game and not take negatives, which we did. Throughout the game, we wanted to use that to keep possession of the ball."
Most notably, the return of Brooks helped spur a rushing attack that put up a season-high 145 yards.
"I thought we moved the ball, to be honest," Dillingham said. "We only had two three-and-outs against a pretty good defense. Where we are, personnel-wise, I thought we ran the ball well. I thought some of the misdirection runs were good. Getting DeCarlos back was good for Skat, was a good mix-up."
After missing four games, Brooks led the team with 63 yards on 10 carries while Skattebo added 51 and a touchdown.
"It's awesome to have two running backs that are very versatile and can do everything," said Bourguet. "They did a great job."
But the passing game faltered, with Bourguet having a tough night behind the injury-ravaged line. Already down multiple starters, the line lost starting right tackle Max Iheanachor in the first quarter, among other key losses. Although he wasn't sacked, Bourguet was hurried through the night, and his accuracy was erratic. He completed 26 of 47 throws for 196 yards and the pick six. For most of the game, the longest completion was 15 yards before Badger's 34-yarder to open the ill-fated pick six drive.
While the game totals were solid—341 total yards—the lack of explosive plays and the miscues in the key moments held ASU back yet again. The Sun Devils scored on just one of their three redzone trips.
"Seven points at the end of the day, that's not going to win a lot of games, especially in the Pac-12," said Bourguet.
Since taking over playcalling duties after Week 3, Dillingham has placed a priority on getting the ball in his playmakers hands. While Badger had eight catches on the night, they totaled just 50 yards, while tight ends Jalin Conyers had 41 on three catches and Bryce Pierre gained 29 on four grabs. Simply put, there's too much playmaking talent for these kind of results, and the injuries on the offensive line can only account for so much.
"I'm calling the plays for a reason, because it's me. It's on me. Every lack of success this offense has is my fault, 100 percent," Dillingham said. "And I have to get it fixed."
With the defense playing at a high level, the offense knows they need to raise their game in a hurry.
"We gotta have their backs in the future," said Bourguet.
The Defense
We already know that ASU has a good defense, even with some key players out. The question is now: Does ASU have the best defense in the Pac-12? It's worth discussing.
"Unbelievable," said Dillingham of his defense's performance. "Defense battled, attacked, played aggressive. They played way better than enough to win the football game versus that offense."
Washington entered the game with one of the nation's elite offenses, averaging over 540 yards and 44 points per game. ASU held them to 288 yards and nine offensive points score. ASU defensive coordinator Brian Ward called a masterful game.
"We just had faith in what Coach (Ward) brought to us, scheme-wise," Simmons said. "We just stayed locked in, stayed focused."
Facing one of the best wide receiver rooms in the nation, ASU challenged their defensive backs to play more man coverage on early downs, and they did well. The explosive Huskies did not have a pass completion for more than 21 yards.
"We already knew what the gameplan was. We knew what there tendencies were," Simmons said. "Just knowing we're a great defense."
ASU did not register a sack for just the second time this season, but the pass rush brought pressure to Penix frequently, resulting in multiple off-target passes.
"It really felt like we got sacks off him," Simmons said. "We played good, but we just didn't get it done, so it don't matter."
He came to Tempe as a noted offensive mastermind, but in Year 1 of Dillingham's tenure at Arizona State, it's been his defense that has led the way. Whether they can continue that level of play without more support from the offense remains to be seen.
"It's moments. It's 80 moments in the game that you have to make. 90 moments. Win your moment," Dillingham said. "Our defense won a lot of moments."
The Top 3
Here are three Sun Devils who stood out against Washington.
LB Caleb McCullough: Filling in as a starter due to team need, he continues to excel. He led ASU with eight tackles, plus 1.5 tackles for loss and a tipped pass that was intercepted.
S Shamari Simmons: A ballhawking safety at the FCS level, Simmons is finally showing that off at this level.
RB DeCarlos Brooks: His physical running style added a much-needed element to ASU's offense.
The Question: Are these losses signs of progress?
All that matters are wins and losses. Until they don't. At least for now.
With the program self-imposing a postseason ban right before the season, the Sun Devils were left in a weird position. Wins are what ultimately determines the fates of coaches and regimes, but in 2023, 12-0 and 0-12 would have the same postseason impact. So growth, trajectory, and culture building became the most crucial measure of success for the Sun Devils. On that front, at least, Dillingham is pleased.
"I'm so proud of our guys. Our guys are battling," Dillingham said. We're 1-6. Our guys are competing their butts off. We couldn't go to a bowl game preseason. Nobody cares about us, and our guys are showing up to work every day. They're competing every day. They're in that locker room hugging each other. We're building the right culture here. We can see how close we are in Year 1 through all of this, through all of the banged up, all the negative, we're this close. We're not just this close to being a solid team. We're this close to beating the No. 5 team in the country. We're this close to beating USC. We're this close to beating good football teams. We're going in the right direction."
The direction may be right, but the road has remained rocky. The last several games have followed familiar scripts: Great defense, some flashes but ultimately not enough on offense and special teams.
"We work and we believe," Dillingham said. "We can't keep losing games in different ways. We eventually have to get over the hump. We eventually have to make a play. We eventually have to catch that fourth down. We eventually have to make those plays in those critical moments of the football game, and I have to do a better job training those moments."
Yet as the losses mount, Dillingham's belief that his team is growing closer to the breakthrough grows.
"When we learn how to win, we're going to be a really, really dangerous football team."
The Next Step
ASU returns to Tempe for their Homecoming game next Saturday against Washington State. The Cougars started the year 4-0, rising to No. 21 in the rankings before dropping their last three games, the most recent being Saturday's 38-24 loss to No. 9 Oregon.
The Extra Points
Dillingham, likely in an effort to avoid a fine from the conference office, complimented the officiating after the game: "I thought the officials did a really nice job in the game, to be honest."

With the dire nature of ASU's offensive line depth chart and the impact on special teams, Dillingham put out a postgame plea: "We got to clean up and get more consistent on field goal. I don't know if there are big bodies at ASU who just go there that want to play field goal for us. If you weigh 330 pounds, and I mean it, reach out to our team. Because we need big bodies to put out there on field goal, because we're down a lot of them."
Copyright 2023 KTVK/KPHO. All rights reserved.