Yuma Territorial Prison voted top haunted destinations in U.S.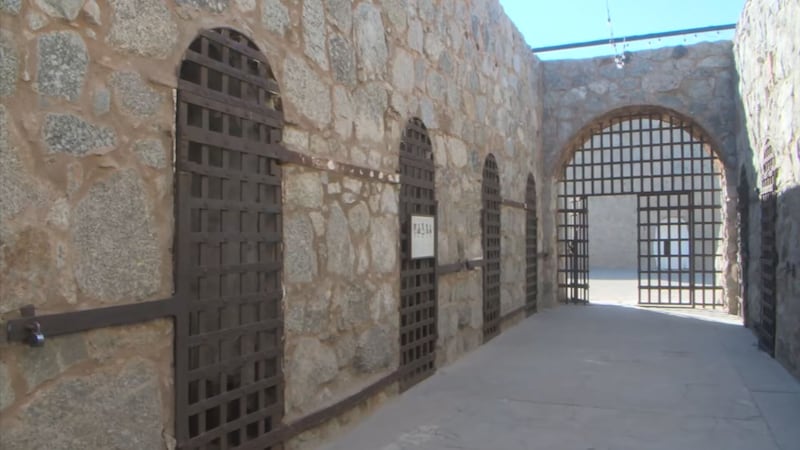 Published: Oct. 19, 2023 at 5:00 PM MST
|
Updated: Oct. 19, 2023 at 5:02 PM MST
YUMA (3TV/CBS 5) - For those looking for scary Halloween activities, the Yuma Territorial Prison Historic Park is a great option. It was recently nominated the second-best haunted destination by USA Today's Readers' Choice.
Parks manager Yanna Kruse said hundreds of people visit around this time seeking paranormal activity.
More than one hundred prisoners died at the prison when it was open from 1876-1909. "There were no mourners, no music, no flowers," Kruse said. She said a handful of prisoners were claimed by family members but the rest were buried at the prison's cemetery.
The eerie stories about prisoners and the life they lived behind their iron cell doors is intriguing to many, especially ghost hunters. "We have a number of paranormal investigation groups that visit the prison. They have voiced that they have heard spirits amongst us," she said. She said she's encountered some curious activity herself, but it's something people need to experience for themselves.
From all the stories told between the prison walls, she said there's one that lives on that happened right outside the prison by the Colorado River. "A little girl playing with a doll along the river's edge many years ago. The doll was wearing a red dress. Her doll fell in the river and she drowned looking for it." She said visitors who have worn the color red to the prison often feel a pinch. "They attribute that to the little girl who is trying to get your attention to help her find her missing doll," Kruse said.
The nomination will surely bring visitors to the prison. "It sheds wonderful light on this treasured historic site," Kruse said.
On Saturday October 21, the prison will hold a Dia De Los Muertos celebration from 5:00pm to 10:00pm. It will allow visitors to experience the prison at night, which she said many look forward to.
See a spelling or grammatical error in our story? Please click here to report it.
Do you have a photo or video of a breaking news story? Send it to us here with a brief description.
Copyright 2023 KTVK/KPHO. All rights reserved.