Kari Lake's lawsuit over metro Phoenix's electronic voting machines has been tossed out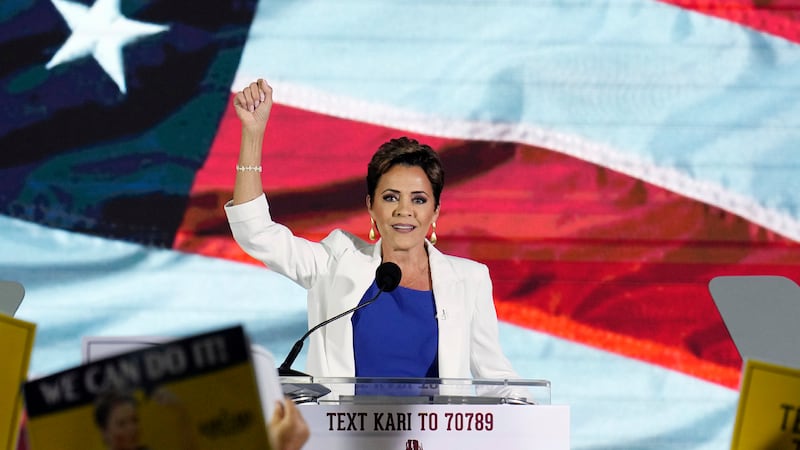 Published: Oct. 17, 2023 at 11:32 AM MST
PHOENIX (AP) — A federal appeals court tossed out a lawsuit brought by former Arizona gubernatorial candidate Kari Lake that was previously dismissed, challenging use of electronic voting machines and sought to ban them in last year's midterm elections.
Lake and failed Arizona Secretary of State candidate Mark Finchem, both Republicans, filed a lawsuit in April 2022 that alleged the ballot tabulation machines were not trustworthy. The former Phoenix TV anchor wound up losing her race by more than 17,000 votes while Finchem lost by over 120,000 votes.
In the ruling Monday, the 9th U.S. Circuit Court of Appeals said their claims didn't show "a plausible inference that their individual votes in future elections will be adversely affected by the use of electronic tabulation, particularly given the robust safeguards in Arizona law, the use of paper ballots, and the post-tabulation retention of those ballots."
The challenge focused on problems with ballot printers at some polling places in Maricopa County, home to Phoenix and where more than 60% of the state's voters live. The defective printers produced ballots with text that was too light or too small for the paper and therefore couldn't be read by the on-site tabulators at polling places.
Amid the confusion, lines were backed up in some areas. But the Arizona Court of Appeals concluded that no evidence was presented that voters whose ballots were unreadable by tabulators at polling places were ultimately unable to vote.
Messages left for lawyers for Lake and Finchem seeking comment on the appeal court's ruling weren't immediately returned Tuesday.
Still pending is a ruling in another lawsuit that Lake filed this year over Maricopa County's ballot signature-verification process. She has demanded that Arizona's most populous county release 1.3 million ballot envelopes signed by voters.
Lake is among the most vocal of last year's Republican candidates promoting former President Donald Trump's election lies, which she made the centerpiece of her campaign.
While most other election deniers around the country conceded after losing their races in November, Lake did not. She is regarded as a contender to be Trump's running mate in his 2024 campaign.
Copyright 2023 The Associated Press. All rights reserved.