Former Navajo Nation president announces his candidacy for Arizona's 2nd Congressional District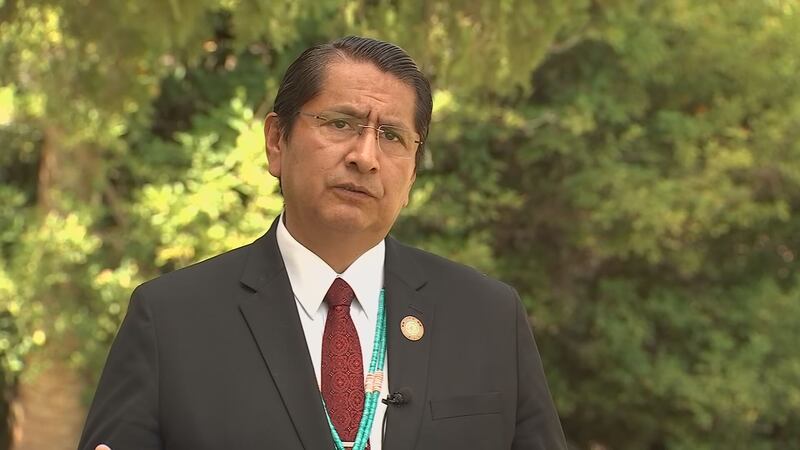 Published: Oct. 16, 2023 at 8:00 PM MST
FLAGSTAFF, AZ (AP) — Former Navajo Nation President Jonathan Nez announced Monday that he's running for Congress. Nez, a 48-year-old Democrat, will vie for the seat occupied by incumbent Eli Crane, a Republican who has represented Arizona's redrawn 2nd Congressional District since last year. The district covers a large portion of northern and eastern Arizona and includes 14 of the 22 federally recognized tribes within the state. "I grew up in a rural, low-income home, in a long-overlooked community where my family lived paycheck-to-paycheck, worried about how we'd make ends meet. I understand the struggles that many Arizona families are facing right now," Nez said in a statement Monday.
Nez was born in Tuba City and grew up in Shonto, both located on the vast Navajo reservation. He was the Navajo Nation's president from 2019-23 after serving four years as the tribe's vice president. Nez lost in his presidential reelection bid last year and now hopes to become the first Native American to represent Arizona in Congress. However, the state's 2nd District has about 30,000 more voters registered as Republicans than as Democrats with an estimated 160,000 voters registered as independent.
Nez said he believes voters care less about which party holds the seat than whether their representatives are taking concrete action to improve their lives. "We need leadership in Congress that will put aside the politics of drama and division and fight for rural Arizona families instead," Nez said. "We cannot afford to have representatives who take us to the brink of a government shutdown just to prove a political point."
At least two other people have filled out paperwork to possibly run for the 2nd District seat — Lindsay Bowe, a Democrat, and David Bies, a Libertarian.
Copyright 2023 The Associated Press. All rights reserved.