Sen. Mark Kelly expresses more support for Israel after taking shelter in Tel Aviv
The shelter was located on the 22nd floor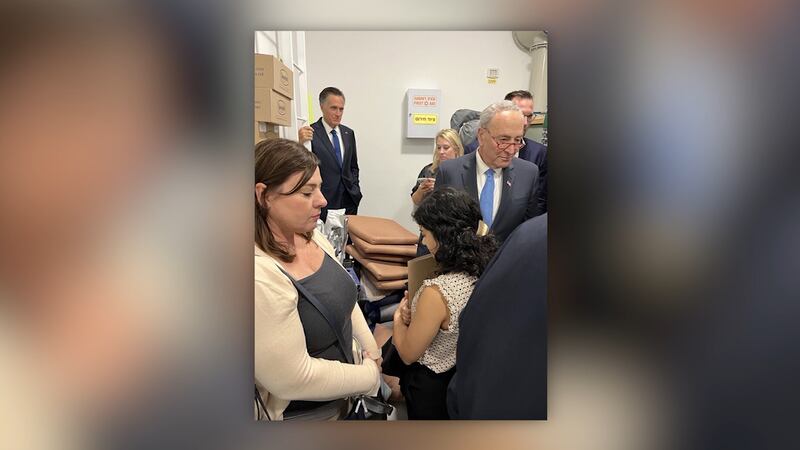 Published: Oct. 15, 2023 at 9:47 AM MST
|
Updated: Oct. 15, 2023 at 11:40 AM MST
(CNN/3TV/CBS 5) — A bipartisan U.S. Senate delegation was forced to take shelter in Tel Aviv amid rocket fire on Sunday, according to a social media post by U.S. Senate Majority Leader Chuck Schumer. Arizona Senator Mark Kelly is among those on the overseas trip.
"While in Tel Aviv today, our delegation was rushed to a shelter to wait out rockets sent by Hamas," Schumer wrote. "It shows you what Israelis have to go through. We must provide Israel with the support required to defend itself."
Schumer, who is leading the delegation on a trip to meet high-level Israeli officials and show U.S. support for Israel, posted a photo of senators and staffers standing in an Israeli shelter. His office says the trip is to show "unwavering support for Israel."
Arizona's Family spoke with Sen. Kelly's communications director, who said the delegation had to take shelter twice while in Israel. A press conference was on the schedule when the press and the delegation went to take shelter. Once they were clear to exit the shelter, they continued with the press conference.
Kelly expressed his support for Israel, saying, "I'm here to say that the United States has and will continue to support and stand by our ally, Israel, as you defend yourself from these barbaric attacks by Hamas."
Kelly went on to say that he would speak with members of the U.S. Congress one by one to try and get Israel more weapons and support.
The-CNN-Wire™ & © 2023 Cable News Network, Inc., a WarnerMedia Company. All rights reserved.