Explore rich history, hidden gems and local food favorites in Yuma
Field Trip Friday is sponsored by Sanderson Ford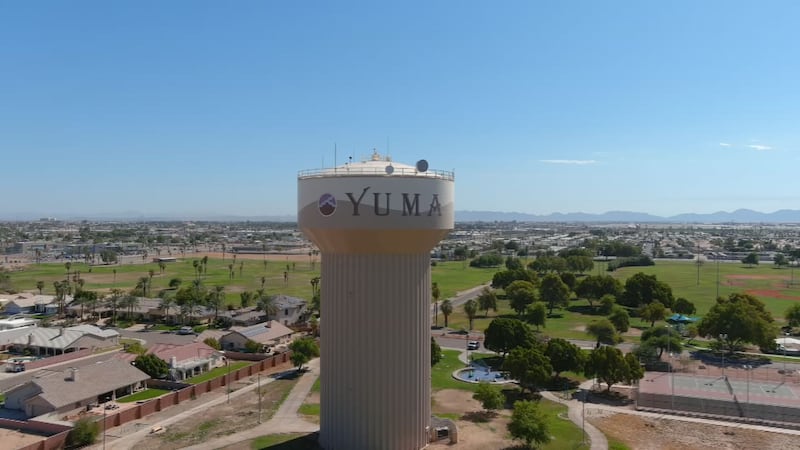 Published: Oct. 6, 2023 at 8:00 AM MST
|
Updated: Oct. 6, 2023 at 10:20 AM MST
YUMA, AZ (3TV/CBS 5) — You've probably passed by it on your way to California, but consider Yuma your next destination on a road trip! Arizona's Family stopped by this Friday, showing off some local favorites and the rich history behind the ever-growing city.
Welcome to Main Street
In case you missed it, Arizona's Family is now in Yuma! Residents can now watch Arizona's Family on Channel 27 over the air. The Good Morning Arizona team caught up with Arizona's Family Yuma reporter Alexandra Rangel on Main Street.
Tacos and Tunes
Looking to listen to good music and munch on delicious tacos? Look no further than the second annual Tacos and Tunes Block Party! The festival kicks off this Saturday, Oct. 7, from 10 a.m. to 9 p.m. along Main Street in Yuma. There will be live entertainment by a Pitbull tribute band, a lowrider car show, 12 taco vendors and a special area for kids! The event was a huge hit among locals last year when 25,000 people attended. About 30,000 people are expected to turn out this year!
Chretin's Restaurant will also be serving up its famous margaritas for those looking for a cool drink! Arizona's Family caught up with Chretin's owner Robby Rodriguez to find out how the food truck is preparing for the big festival.
Another vendor participating in the fun will be Mr. Burros! Martin Ramos is the brain behind the restaurant, which offers tons of different breakfast burritos. Not in the mood for breakfast? Don't worry. Grab a lunch burrito filled with carne asada, carnitas or chile verde. You have to taste the tacos and tostadas, too!
The lowrider car show is an event many locals are thrilled to see. Arizona's Family caught up with Sal Arroyo, President of Streetwise Car Club, to get a sneak peek at what cars attendees can expect to see at the block party this weekend.
Need Caffeine?
Google the "best cup of coffee in Yuma, AZ," and you'll come across Cafecito. The shop serves up delicious drinks perfect for any coffee lover or those who opt out of caffeine! Taste "The Corchata," a cold brew with Horchata, Cafecito Mocha or a "Yuma Float Down," a root beer with cold foam. Hungry? Grab some filling oats, "Avocado Everything" toast or try their "El Changito" toast!
Historic Prison
Explore the Yuma Territorial Prison State Historic Park the next time you hit the road. The prison broke ground in April 1876, and the first seven inmates moved into the facility just three months later. Legendary stagecoach robber Pearl Hart was among those held inside. Operations continued for 33 years until all inmates were moved to Florence, Ariz.
Rebel and Rove
Get some shopping done on Main Street at Rebel and Rove. The shop has been a staple since 2014 and offers a wide range of apparel, accessories, gifts, home decor and more! Owner Serena Koogle says the goal when they opened was to provide customers with a place where they could shop for the whole family, no matter your style or age.
Best Burritos in the West
If you're heading to Yuma or even passing through, this next stop is a gem. It's such a staple that even some Phoenicians make it a point to stop on the way to San Diego! Mr. G's is known for its amazing burritos. Gibby Parra took us inside to get a glimpse and of course, a taste! Tasty dishes include a calabacita burrito, a green chile con carne burrito, tacos, carne asada quesadillas, tostadas and more.
"Where the Elite Meet and the Locals Eat"
The Good Morning Arizona team checked out the quirky classic Lutes Casino — which sports an interesting history. The casino's decor is what some call "interesting junk," but it's a gem for locals. Regulars drink beer, play dominos, or try their hand at a game of pool. You may even catch a glimpse of something in the corner of your eye. Lutes was featured on an episode of Ghost Adventures in March 2019, so beware of ghouls lurking in the casino.
See our full list of Field Trip Friday destinations here!
See a spelling or grammatical error in our story? Please click here to report it.
Do you have a photo or video of a breaking news story? Send it to us here with a brief description.
Copyright 2023 KTVK/KPHO. All rights reserved.