Humane Society of Southern Arizona suspends CEO and CPO amid investigation into a small animal transfer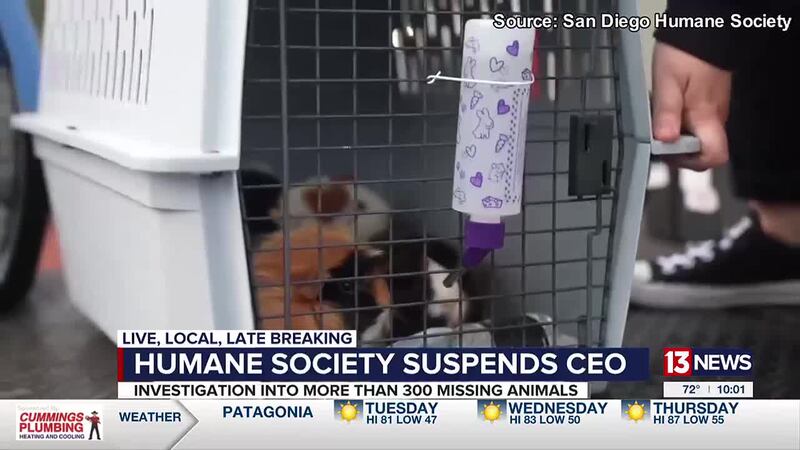 Published: Oct. 2, 2023 at 10:22 PM MST
TUCSON, Ariz. (13 News) -Big changes are coming to the Humane Society of Southern Arizona (HSSA) as the HSSA Board of Directors announced the suspension of CEO Steve Farley and CPO Christian Gonzalez.
This is pending an investigation into more than 300 missing small animals transferred from the San Diego Humane Society to HSSA last month. Over the past several weeks, questions have been raised by San Diego and animal advocates about these animals going to a private group in Maricopa County.
After learning about the transfer and concerns, the HSSA board of directors began monitoring the situation. The board announced this weekend they have hired an investigator to look even further into this. The San Diego Humane Society said they had a very good working relationship with HSSA until they were unwilling to provide proof of the animal's wellbeing.
The San Diego group says this suspension is a step in the right direction.
"We could have never foreseen this situation in our wildest dreams. It's been frustrating. It's been disappointing. It's been something that just has caused immense anger the entire time," said Brian Daugherty, vice president of the San Diego Humane Society.
Daugherty said transporting animals across state lines is a common practice. He added that the problem arose with HSSA not being upfront with them about what would happen to these animals.
"The idea of an organization not being upfront that the animals were going to a single group that was going to remain anonymous, that is not a 501c3, that at this point the idea that they're even a rescue group needs verification and clarification because we can see nothing that indicates that they actually gave these animals to a rescue group. We could have never seen that coming," said Daugherty.
In a statement, the HSSA Board of Directors said, "The board understands 254 of the animals at issue were placed in adoptive homes. The board is aware of no evidence to the contrary."
Daugherty said they are looking for simple answers that HSSA has not provided.
"We're looking for some type of proof that these animals were adopted and received a lifesaving outcome. We've been told that they've been adopted, we've been told that we need to just accept their word that they were adopted," said Daugherty.
The board statement said the private group that took on the animals does not maintain adoption records like larger organizations. The statement added that they are looking at all information available.
"Taking into account information received to date and representations made by the leader of the private group to the board's investigator, the board presently has no evidence indicating any animal was harmed," said an HSSA Board of Directors statement.
Daugherty said they are looking at all legal options to learn about these animals' whereabouts.
"We owe it to the animals, we owe it to our community, we owe it to our staff, the volunteers, the folks that have worked for and with these animals for months, and even over a year," said Daugherty.
The HSSA board statement said the private group requested that HSSA take 63 of the animals not adopted. Of the 63 animals, 24 were adopted and taken to California and all but three of the remaining animals have been adopted.
The HSSA board is asking that if anyone has any information they would like to share with the board or its investigator about this matter, they can email the board at board@HSSAZ.org.
Be sure to subscribe to the 13 News YouTube channel: www.youtube.com/@13newskold
Copyright 2023 13 News. All rights reserved.