Tucson boy badly burned doing social media challenge honored during UArizona game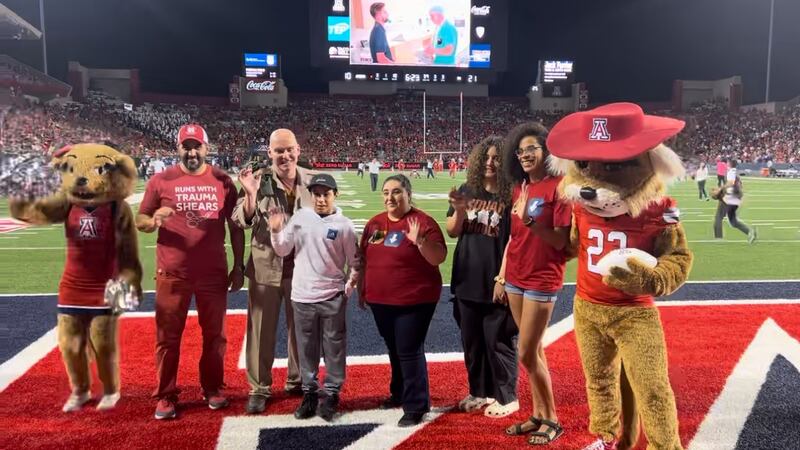 Published: Oct. 2, 2023 at 7:38 AM MST
|
Updated: Oct. 2, 2023 at 2:47 PM MST
TUCSON, Ariz. (13 News) - A Tucson boy who was severely burned while attempting a TikTok challenge was honored during the University of Arizona's football game.
During the Wildcats' game against the Washington Huskies on Saturday, Sept. 30, University Medicine recognized the family who was impacted by a TikTok challenge gone wrong.
Last month, 12-year-old Corey Roper was severely burned while trying a TikTok challenge that involves alcohol and fire. Corey was treated for 2nd and 3rd-degree burns on his chest, back, arm, neck, chin, stomach, and side.
He received care at Banner-University Medical Center in Tucson and has since been released from the hospital. Corey is currently undergoing physical therapy and recovering from his burns.
Corey, his mother Tiffany Roper, and his sister Lette were given special recognition during halftime for their resilience. Dr. Marc Matthews, MD, Burn, Trauma, Acute, and Critical Care Surgeon, and Dr. Lourdes Castañón, MD, Surgeon, and Director of the Banner-University Medicine's Burn Program were also honored for their care and expertise.
During the past few months, the family has been raising awareness by sharing their story to help prevent other children from attempting to do any social media challenges.
Roper said back in September, it's now her mission to encourage parents to talk with their children about the dangers. She told 13 News, that one child being hurt by this challenge is one too many.
Be sure to subscribe to the 13 News YouTube channel: www.youtube.com/@13newskold
Copyright 2023 13 News. All rights reserved.