Arizona Senate GOP wants US Supreme Court to ban public sleeping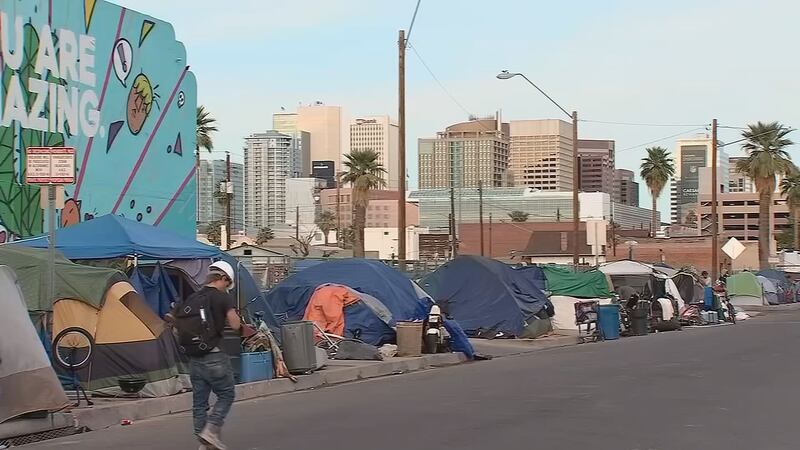 Published: Oct. 2, 2023 at 8:24 AM MST
PHOENIX (3TV/CBS 5) -- Arizona Senate Republicans are calling on the U.S. Supreme Court to review a case that could impact where homeless people live. A recent federal ruling in Oregon says police cannot forcibly remove someone for sleeping on the street. Republicans here want it reversed.
Right now, in Phoenix, the city is going block by block, meeting with homeless people in this encampment. It's offering them shelter and treatment. But if they refuse, the city cannot arrest them because of a federal ruling in Oregon.
Lawmakers in Grants Pass, Oregon, created several ordinances that banned how and where a homeless person could sleep in a public space. Three homeless people sued the city, and the 9th Circuit Court judge ruled in their favor. The judge ruled it was cruel and unusual punishment and violated the Eighth Amendment if law enforcement arrests someone just for sleeping outside or in their cars if they have nowhere else to go.
Still, at least few members of the Arizona GOP appears to want to enforce bans. Warren Petersen (R-District 14) is now calling on the nation's highest court to take on the case. He claims that if a homeless person is offered shelter and mental health treatment, and they refuse, it would not be cruel or unusual to then forcibly remove them off the street. If the Supreme Court reviews this case, it could change how municipalities and the state treat individuals experiencing homelessness.
We contacted the City of Phoenix for a comment and did not hear back.
See a spelling or grammatical error in our story? Please click here to report it.
Do you have a photo or video of a breaking news story? Send it to us here with a brief description.
Copyright 2023 KTVK/KPHO. All rights reserved.