Pursuits in Cochise County rise as human smuggling activity increases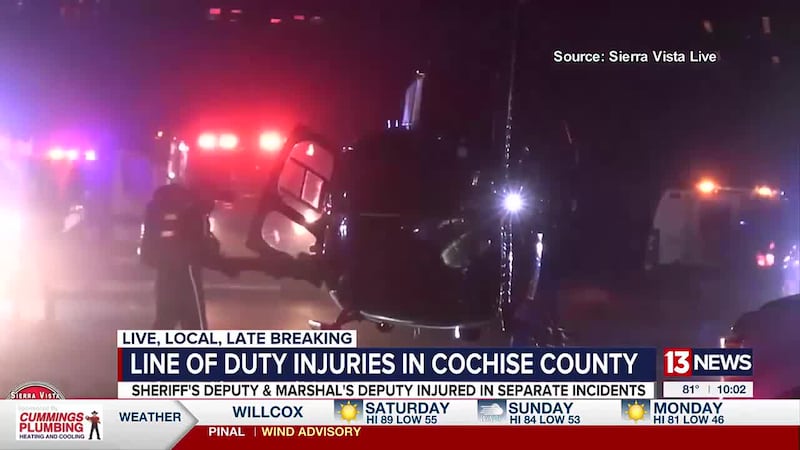 Published: Sep. 29, 2023 at 10:34 PM MST
TUCSON, Ariz. (13 News) - In Tombstone, officers have noticed an increasing number of dangerous pursuits, and officials attribute it to an increase in human smuggling.
One deputy is currently in recovering after a pursuit last night. The officer was trying to set tire spikes to stop a vehicle from speeding away but fell 15 feet instead. The driver was arrested.
A separate pursuit also occurred last night, where a deputy also suffered minor injuries but is expected to be okay.
Marshall Jim Adams from Tombstone says the number of pursuits along Highway 80 this year alone is alarming. According to Adams, those responsible for most of the pursuits are drug or human smugglers.
"Highway 80 is one of the most notorious, high-intensity drug trafficking and human smuggling corridors in Cochise County," said Adams.
"The typical pursuit will come across to Douglas, Highway 80, Mexican Border, so it goes through Douglas, then Bisbee comes through Tombstone, goes through Benson, Interstate 10, then it goes to parts unknown."
Last night's incidents were not isolated. Cochise County Sheriff Mark Dannels says he's noticed an increase in these pursuits within the last two years, and they haven't gone down.
"We've had deputies and law enforcement officers placed in harm's way all week," said Dannels.
"It's been a very sad week in Cochise County, but this has become the norm. When it comes to the smuggling drivers that drive recklessly, they have no regard for human life, or respect for the communities and citizens, or the migrants that they're transporting."
As the number of pursuits goes up, the number of available resources goes down with every incident officers respond to.
Marshall Adams says that a small community like Cochise County has had to rely on the state government to provide funds for overtime and adequate staffing.
"So at any given time, like today, there's 2 of us on right now, but at night, there might be one," Adams said.
"Sometimes officers will come and help out other officers, maybe do a little overtime to combat this problem and be backup for them, because otherwise, my deputy is out there by himself."
One thing Sheriff Dannels says is the federal government needs to be more aware of the dangers stemming from the border, and more resources are desperately needed to keep staff prepared for the next pursuit to come.
Be sure to subscribe to the 13 News YouTube channel: www.youtube.com/@13newskold
Copyright 2023 13 News. All rights reserved.