Lake Mead officials ask for volunteers to clear out trash and abandoned boats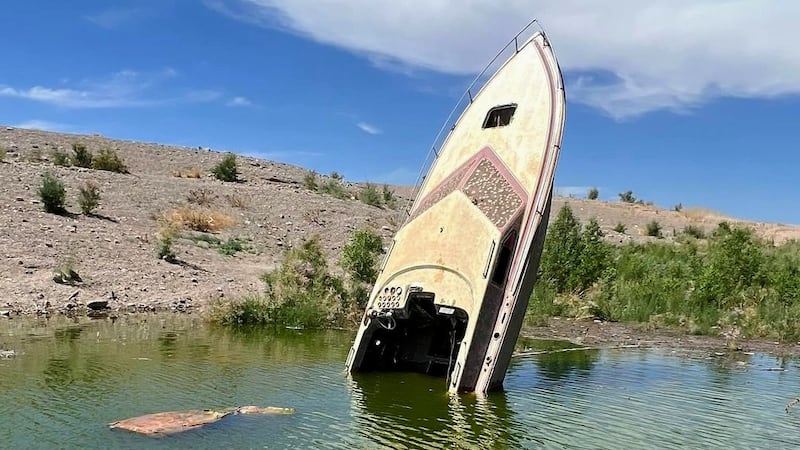 Published: Sep. 28, 2023 at 11:42 PM MST
LAS VEGAS, Nev. (FOX5) - Lake Mead officials have called for an army of volunteers to clean up trash across the National Recreation Area, and that includes hauling away those infamous abandoned boats that have become an unofficial symbol of the lake.
In a new quarterly update report for the recreation area, Superintendent Mike Gauthier and other officials expressed concerns over litter: crowds leaving trash on beaches and on trails, visitors stepping on broken glass on the beach, and bins left overflowing that are vulnerable to wildlife. Officials called on visitors to do their part, but also described how volunteers are crucial to the efforts to keep 1.5 million acres free of debris.
Gauthier said, since he took over his role, tourists and businesses gave negative feedback about the resurfaced abandoned boats. When lake levels plummeted to historic lows in 2022, a number of those boats became an unofficial attraction for tourists and adventure seekers.
"We really want to clean up the park and make it look good, so it's around for future generations. We really want to clean up some of these boats that are left. These visuals are unattractive and don't help the park," Gauthier said, calling them "eyesores."
"They are a nuisance," he said. They sort of give you the impression the place is trashed," he said, noting most do not have historical significance.
Gauthier called the publicity "unfortunate," considering the other attractions and natural beauty offered around Lake Mead.
Gauthier called on volunteers and businesses to offer their resources to clear out those boats when lake levels drop again.
Youtubers Adrian Montero, Sr. and Adrian Montero, Jr. of Sin City Outdoors began to document the drought discoveries that emerged from below the surface as well as the progress of the lake levels falling and rising. They gained quite a following after the law enforcement discovery of a body in a barrel in the lake and other sets of human remains.
Montero, Jr. said he would like to see many of the abandoned boats stay; the avid fishermen explained how the lake creatures have turned them into their homes.
"I've been out here so long, I like looking at them," Montero, Jr. said. "Even if they're underwater, they're still down there," he said.
There are volunteer events for cleanups on the following days:
October 14 (Cottonwood Cove)
October 21 (Make a Difference Day Campground Beautification)
October 28 (Willow Beach Cleanup)
November 11 (Veterans Day Campground Beautification
You can join the event mailing list or contact the National Park Service and call (702) 293-8714 or email Nancy_Bernard@nps.gov or LAKE_Volunteer_Coordinator@nps.gov.
Copyright 2023 KVVU. All rights reserved.