Arizona AG Mayes, Rep. Gallego emphasize commitment to help solve fentanyl crisis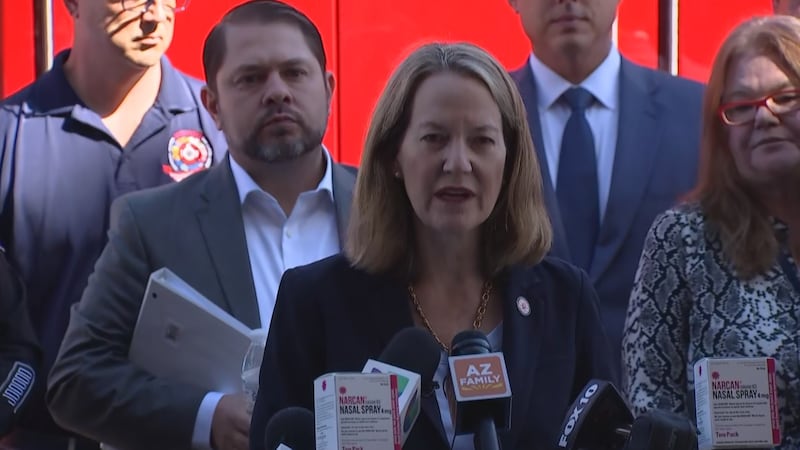 Published: Sep. 25, 2023 at 10:06 AM MST
|
Updated: Sep. 25, 2023 at 11:22 AM MST
TEMPE, AZ (3TV/CBS 5) — Several leading state officials, including Arizona Attorney General Kris Mayes and 3rd congressional district Representative Ruben Gallego, held a news conference on Arizona's grip with a growing fentanyl problem.
According to state figures, nearly 2,000 Arizonans died from opioid overdoses last year. The two leading political figures are expected to discuss new efforts to combat the drug epidemic. For example, Rep. Gallego has introduced bills like the "The Buck Stops Here Act." to target bank accounts linked to human and drug smugglers.
"We must double down to keep this killer drug from entering our state and our country," Mayes said. "Sadly, Arizona has become the fentanyl funnel to the rest of the country. The cartels are treating our state like UPS." Mayes further explained that nearly 50% of fentanyl that enters the United States goes through a port of entry in Arizona. Thirthy-three million fentanyl pills were seized in 2022, state numbers show. For comparison, 1.2 million fentanyl pills were seized in the state of Texas during that same time period.
The news conference came about a week after a K-9 helped bust travelers hauling drugs through Gila County. In recent weeks, Pinal County deputies seized powdered fentanyl with a street value of $15 million, and a man was arrested with 1 million fentanyl pills in his car. He was believed to have delivered millions of pills to the Valley for the drug cartels. Back in August, a Glendale man was sentenced to more than three years in federal prison for selling fentanyl and crystal meth on the dark web.
"We cannot prosecute our way out of this problem," Mayes said. The attorney general believes a multi-tiered approach is necessary to help fight the state's growing demand for the destructive drug. "We must have a combination of prevention, prosecution, treatment, and education," she said.
What resources are available to help fight the epidemic?
Earlier this year, the city of Phoenix rolled out free naloxone kits at public libraries. The city worked with the Phoenix police and fire departments to provide naloxone kits, complete with two doses of NARCAN brand nasal spray, through all 17 of the city's libraries. In recent weeks, NARCAN has become available over the counter, available for sale online or in-store at Walgreens, Rite Aid, Walmart and CVS, according to CNN.
See a spelling or grammatical error in our story? Please click here to report it.
Do you have a photo or video of a breaking news story? Send it to us here with a brief description.
Copyright 2023 KTVK/KPHO. All rights reserved.