ASU hangs tough in 42-28 loss to No. 5 USC
The banged-up Devils fought until the final whistle.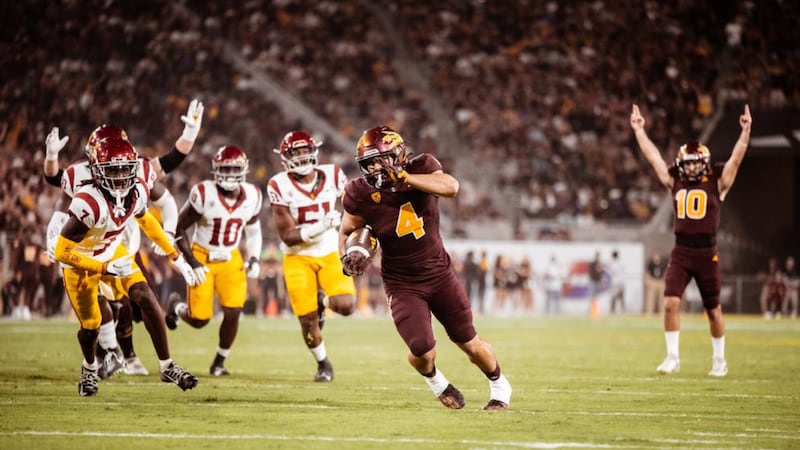 Published: Sep. 24, 2023 at 2:46 AM MST
TEMPE, AZ (3TV/CBS 5) -- It was the eyes.
Arizona State had just been embarrassed at home in a fashion not seen in nearly 40 years. In the locker room after the Sun Devils' 29-0 loss to Fresno State last Saturday, head coach Kenny Dillingham looked at his players and was heartened by what he saw looking back at him. Better days were coming soon. He saw a group of young men disgusted with what had just happened and wanted to do something about it.
His Sun Devils—still ravaged by key injuries—did something and more in a hard fought 42-28 loss to No. 5 USC on Saturday night. While Cam Skattebo's versatility and aggressive playcalling spurred an offensive revival, the defense put forth a solid effort against reigning Heisman Trophy winner Caleb Williams and the elite Trojan offense. However, struggles with pass protection and the sheer talent advantage of USC would ultimately end in a Sun Devil defeat.
Despite the loss that drops his team to 1-3 on the season, Dillingham saw plenty to give him confidence that the trendline for his rebuild of Sun Devil football is progressing.
"Our brotherhood is growing," Dillingham said. "Players are feeding off each other more. The belief in the vision is still rising. The belief in the process is still rising. Those are the things that excite me."
The Activation
"It's not too big for them. They want these moments." - Kenny Dillingham
The Result
It was shaping up to be a miserable week for Sun Devil faithful. ASU was coming off their first home shutout loss since 1988, the injury list remained long, and they were 33-point underdogs to USC, the fifth-ranked team in the nation. But a closer inspection revealed signs of hope.
The ASU defense had played well throughout the young season, and the offense was getting a new vibe with Dillingham taking over playcalling duties from offensive coordinator Beau Baldwin. With a marquee opponent in town, the stands were full with an announced sell out. All factored in to what transpired on Saturday night.
On the game's opening possession, the noise from the stands resulted in a pair of procedural penalties that quickly put USC in a third-and-20 situation. But the magic of Williams kept the drive alive with a 23-yard pass to Zachariah Branch. A pair of MarShawn Lloyd runs tallied 37 yards soon after, and a 1-yard Williams run gave USC an early 7-0 lead.
ASU's first drive soon fizzled out, but in a bit of trickery, running back Cam Skattebo punted the ball, catching USC off guard, and the ball was downed at the Trojan 17-yard line. On the next play, Williams lost possession of the ball and it was recovered by ASU linebacker Tate Romney. Three plays later, on a third-and-10, Skattebo ran untouched into the endzone to tie the game.
"It was super aggressive," Skattebo said of the playcalling. "We ran the ball a lot more than we have in the past. We were downhill attack. We knew we could run the ball on these guys."
USC's potency helped them respond quickly. Driving into ASU territory, the crowd noise pushed them back from a fourth-and-2 into a fourth-and-7 at the ASU 43. Undaunted, Williams delivered a deep ball to Brenden Rice for a 43-yard score.
"It's really, really hard to stop what (the Trojans) do when you combine the talent with good scheme," Dillingham said.
Starting the next drive off with good field position thanks to USC's kickoff out of bounds, the Sun Devils methodically moved the ball downfield with Skattebo runs and short passes from quarterback Drew Pyne, who made the start with starting quarterback Jaden Rashada out four-to-six weeks. The drive would stall in Trojan territory, where kicker Dario Longhetto connected from 35 yards to close the gap to 14-10.
Knowing that his outmatched team needed to create some opportunities, Dillingham opted for a surprise onside kick attempt. It didn't work, as USC recovered at the ASU 43-yard line. A 14-yard connection to Dorian Singer and a 19-yard run by Lloyd put the Trojans near the goal line, which Williams crossed a play later on a sneak.
"We're trying to attack. Bottom line," Dillingham said. "You have to play the game attacking if you want to beat teams like that."
Now down 21-10, the Sun Devils appeared to be on the verge of letting the game get away as they quickly faced a fourth-and-5 at their 29-yard line. With Skattebo behind center, the Trojans expected another pooch punt. Skattebo looked over at wide receiver Elijhah Badger and yelled his name. Taking the snap, instead of another kick, he lofted a pass downfield to Badger, who made the catch for a 25-yard gain.
"I know he's got my back if I put the ball in the air," said Skattebo.
It wouldn't be the last time Skattebo's arm would be on display on the drive. Five plays later, facing a second-and-13, Skattebo took a toss from Pyne, and then threw a pass downfield back to Pyne for a 17-yard gain inside the Trojan redzone. He then nearly threw a touchdown pass to running back Kyson Brown three plays later, narrowly overthrowing the freshman.
"I like to do everything. I believe I can do everything," Skattebo said. "When they put me in those situations, I believe I'm going to excel at them."
ASU settled for another Longhetto field goal to cut the lead to 21-13, a score that held into halftime.
With a chance to tie the game taking the opening kickoff of the second half, ASU instead collected just a single first down before punting. Two receptions by Rice got USC in field goal range, and a sack by Prince Dorbah forced the Trojans to settle for a 53-yard kick by Denis Lynch to make it 24-13.
Skattebo helped ASU answer right back, with runs of 10 and 18 yards, along with a facemask penalty tacked on to one of his carries. Pyne then connected with Badger for a 25-yard touchdown to make it a three-point game.
"He went into the game with a great plan, and (Dillingham) was aggressive," said Badger.
The Trojans' firepower then answered right back, with a 43-yard run by Lloyd and a 36-yard catch by Branch getting USC to the ASU 4-yard line. However, an offensive pass interference call pushed them back 15 yards, and USC had to settle for another field goal by Lynch.
Pyne was intercepted on the second play of the ensuing drive, setting USC up at the Sun Devil 42-yard line. But a strong stand by the defense resulted in a turnover on downs, as Ed Woods knocked away Williams' fourth-down pass at the 12. ASU picked up a couple of first downs to change field position, but had to punt the ball away after Pyne was sacked by Bear Alexander.
After another strong defensive series forced a Trojan punt, the Sun Devil offense was poised to take an improbable lead. A 26-yard completion to Badger got ASU into Trojan territory, but back-to-back sacks ended the drive, with Pyne fumbling on a third-and-21 play. USC recovered, and two plays later, Williams found Rice for a 29-yard touchdown. A successful two-point conversion made it 35-21 USC.
"We were put in the right position to win that football game, and we just had a couple of mistakes," Skattebo said.
Desperation was setting in, but the Sun Devils kept fighting. On the next drive, ASU faced a fourth-and-7 from their 48. Pyne dropped back and found Skattebo in the flat. He ran over one defender, kept his balance, and ran over a second Trojan on the way to an incredible 52-yard score.
"I expect to score on every play, so on that last play, I just kept my feet and was able to stay balanced and keep going."
The glimmer of hope was short lived. Williams found Tahj Washington for a 45-yard touchdown three plays into the next drive to end thoughts of an upset win for the Sun Devils.
The Critical Moment
Injuries have battered the Sun Devils over the season's opening weeks, with quarterback and offensive line hit hardest. With both starting tackles out of the lineup, the struggles in the trenches were costly on Saturday night.
After the Sun Devil defense forced their only three-and-out by USC of the night, ASU's offense had a chance to take a lead. But left tackle Bram Walden was beaten by Solomon Byrd, who took down Pyne and forced a fumble, which was recovered by Romello Height.
Two plays later, the Trojans were in the endzone.
The Offense
When discussing his decision to assume playcalling duties earlier in the week, Dillingham mentioned the desire to infuse a new energy into the offense. Mission accomplished on that front.
Dillingham called an aggressive game, involving his playmakers more consistently and taking greater risks than the team had shown over the first three weeks.
"It was working. We called our shots when the shots needed to be called," Skattebo said.
ASU totaled 353 yards, their best showing since the opening win over Southern Utah, and posted a season-best 28 points. But the injuries along the offensive line, along with some poor decisions by Pyne, derailed the upset win.
"The more aggressive you can be, the better," said Dillingham. "But you have to get a feel for how your guys are holding up. I should have known with our depth at the O-line, that there's going to be a little bit more rush as the game progresses because they are rolling 10 deep on the D-line."
ASU allowed seven sacks in the second half.
"We said we wanted to call every shot we had in the game, and I probably called about three too many in the second half on first down when it's a six-point game that I want to have back," Dillingham said. "The first half, we were ahead of the chains. The second half, first downs were aggressive calls that we were getting sacked on. We have to throw the ball away or not call those calls."
Pyne, ASU's third different starting quarterback over the first four weeks, completed 21 of 36 throws for 221 yards and two touchdowns, along with one interception. Even with the issues along the line, he was often slow with his progressions, resulting in sacks or misfired throws.
He did involved Badger and Conyers more, which is a necessary change from recent weeks. Two of the conference's best at their positions, Badger led the team with nine catches for 88 yards and Conyers added five for 71. But it was Skattebo who stole the show. He posted his first 100-yard rushing effort as a Sun Devil, notching 111 on 20 carries, and added 79 yards on four catches.
Coming off a dismal shutout loss last week, the results on Saturday were encouraging. Dillingham's playcalling and the involvement of the key playmakers could provide a springboard for better consistency as Pac-12 play continues. But the unit's potential will likely be limited without improvement along the offensive line and at quarterback.
The Defense
Another week, another winning effort squandered by the Sun Devil defense, despite the deceiving appearances of allowing 42 points and 535 yards. With the skill of the elite Trojan offense, it was a matter of limiting their damage, and the Sun Devils did so enough to give the team a chance. Given the situation, that's all you could ask for from them.
"Our defense did a solid job," said Dillingham. "(USC has) a great offensive scheme, they have a great quarterback that's really hard, and they check almost every play at the line of scrimmage."
Defensive coordinator Brian Ward continues to put forth a strong showing in his first year in Tempe. But while the overall play, considering the opponent was solid, there were still some major lapses that proved costly.
"We didn't execute plays that we wanted to," said Romney.
There remain several potent offenses on the schedule, but Saturday's showing shows that this unit can hang with the Pac-12′s best.
"I think our guys realize that we have the ability," Dillingham said.
The Top 3
Here are three Sun Devils who stood out against USC.
RB Cam Skattebo: Responsible for 232 yards from scrimmage, as well as the night's best punt, Skattebo did just about everything for the Devils.
LB Tate Romney: The homegrown player continues to be a stalwart in the middle of the defense.
WR Elijhah Badger: With more passes thrown his way, he showed why he's one of the Pac-12′s best receivers.
The Question: Can this game serve as a turning point?
You could blame the injuries. You could blame it being Year 1 of a rebuild. You could blame the quality of opponent. But you won't catch the Sun Devils making excuses after Saturday's game. They know they let a golden opportunity slip away.
"We believe we can beat anybody in the country," Skattebo said. "We should have beat that team. We had a couple of mistakes late. We had them on the ropes."
After the game, Dillingham said that he doesn't believe in moral victories, that no one should feel good about this, or any, loss. But he does think that the team made strides, and that this disappointment will serve them well in the future.
"Adversity either tears you apart or brings you together," said Dillingham. "I think our guys now are treating this adversity and coming together."
One significant development had nothing to do with the on-field product. The sell-out crowd provided an electric atmosphere, and the Sun Devils seemed to feed off that energy as their upset bid continued throughout the night. It had value on Saturday, and it could have value moving forward.
"The environment we create is not only going to effect wins, it's going to effect recruiting," said Dillingham. "That environment today, I challenge people to brings that because that was an environment you can win at a high level in. That was an environment our kids deserve. That was an environment our fans deserve."
As the program continues its long-term rebuild, nights like tonight, where the Sun Devils went blow-for-blow with the nation's best, could prove to be a catalyst.
"I can't always guarantee the perfect call. I can't always guarantee a lot of things," said Dillingham. "I can guarantee you our guys are going to go to work and play with passion."
"There are good things coming forward. We feel like we can keep building from this," Romney said.
The Next Step
ASU hits the road for the first time next season for a Saturday showdown with Cal. The Golden Bears fell to 2-2 on the season after a 59-32 loss to No. 8 Washington. Next Saturday's game will kick off at noon PT with television coverage on Pac-12 Network.
The Extra Points
ASU offensive line coach Saga Tuitele did not coach in the game after experiencing a medical situation during the week. Dillingham did not have an update on his status after the game.

Cam Skattebo is the first non-quarterback Sun Devil with multiple passing attempts in a game since Kalen Ballage vs Oregon in 2016 (2/2, 27 yards, TD).

The eight sacks allowed tonight were the most surrendered by ASU since Nov. 10, 2016 against Utah (11 sacks, part of 22 TFLs given up)
Copyright 2022 KTVK/KPHO. All rights reserved.