Arizona governor says state is 'overwhelmed' by latest migrant surge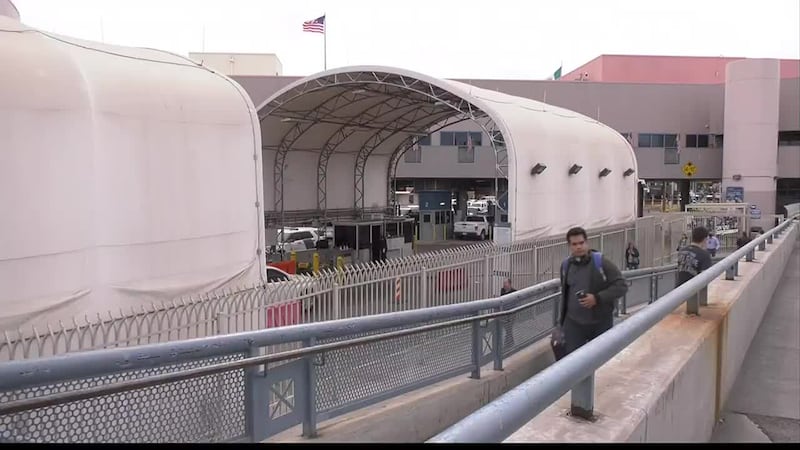 Published: Sep. 22, 2023 at 10:33 AM MST
|
Updated: Sep. 22, 2023 at 7:45 PM MST
PHOENIX (3TV/CBS 5/CNN/AP) -- Arizona Gov. Katie Hobbs announced on Friday that her administration is giving a $10 million grant to the Nogales Police Department as federal officials reassign what the state is calling critical personnel away from the border.
In a news release, the governor's office said 50 CBP staff members were reassigned even as migrant releases increased. Now, millions of dollars will be used to help the police department buy communication equipment, which it says is needed to ensure a "safe and orderly border."
"Time and again, I've asked the Biden administration for assistance at the border, but instead, they have chosen to redirect resources to speed the release of migrants without the support and coordination our local communities deserve," said Hobbs. "Arizona is being overwhelmed, and we can't afford to lose manpower at our ports of entry. I'm glad to deliver border security resources to our communities, but the federal government needs to do its job and take action to ensure our border is secure and the migration process is orderly and humane."
State officials say that staff removed from the southern border is now being deployed to expedite migrants' immigration processing. Migrant crossings along the United States' southern border are rising, reaching more than 8,000 apprehensions on Monday, a Department of Homeland Security official told CNN earlier this week. On Wednesday, a group of migrants from China surrendered to a Border Patrol agent in remote Southern California as gusts of wind drowned the hum of high-voltage power lines, joining others from Ecuador, Brazil, Colombia and elsewhere in a desert campsite.
In May, before the expiration of the COVID-era restriction known as Title 42, U.S. Customs and Border Protection encountered more than 8,000 people daily and had around 25,000 migrants in custody, raising alarm within the Biden administration, CNN reported. The Homeland Security Department said Wednesday it would grant Temporary Protected Status to an estimated 472,000 Venezuelans in the U.S. on July 31, easing paths to work authorization. That's in addition to 242,700 Venezuelans who already had qualified for temporary status.
What is the State of Arizona doing at the border?
Figures provided by the governor's office shows that DPS spent over $35 million on border security, drug interdiction, anti-human trafficking and local community support efforts so far this year. In addition, the state homeland department has awarded $16.38 million in grant to law enforcement agencies to secure the border. More than $13 million has been used to transport and manage migrants that have made the way into the state, according to the Arizona Department of Emergency and Military Affairs.
See a spelling or grammatical error in our story? Please click here to report it.
Do you have a photo or video of a breaking news story? Send it to us here with a brief description.
Copyright 2023 KTVK/KPHO. All rights reserved.