Cards have enjoyed recent success against the Cowboys. Vegas doesn't believe that trend will hold
The Arizona Cardinals have enjoyed some recent success against the Dallas Cowboys, winning six of the past seven meetings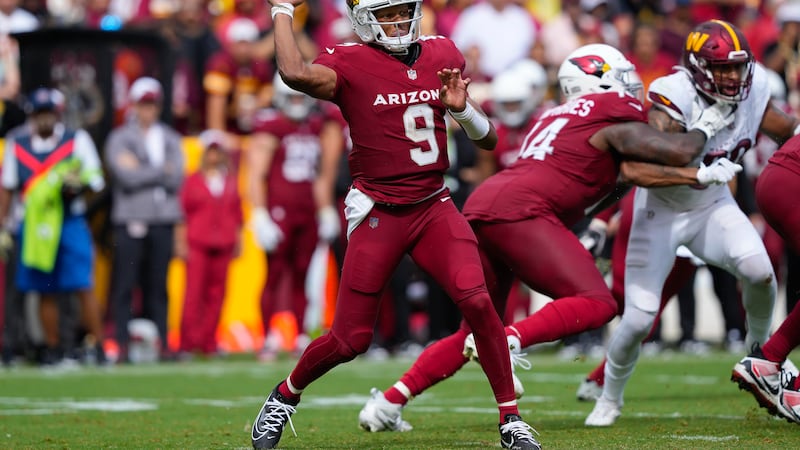 Published: Sep. 21, 2023 at 9:06 PM MST
GLENDALE, Ariz. (AP) — The Arizona Cardinals have enjoyed some recent success against the Dallas Cowboys, winning six of the past seven meetings.
It's safe to say Vegas doesn't believe that trend will hold on Sunday.
The Cowboys (2-0) are 12 1/2-point favorites when they travel to face the Cardinals (0-2) on Sunday, according to FanDuel Sportsbook. The point spread is an indication of how good Dallas has looked in the first two weeks. It's also an indication that wins might be hard to come by for the Cardinals.
Dallas has won its first two games by a combined scored of 70-10, drubbing the Giants 40-0 in Week 1 and handling the Jets 30-10 in Week 2.
The hardest challenge for the Cowboys at this point might be staying humble, though players and coaches say that won't be a problem.
"We're 2-0 because of execution and how we prepared," linebacker Micah Parsons said. "That's why we're 2-0. We're not 2-0 because of anything else. It's just remember what's our process, where are we at in our process."
Even though the Cardinals are winless, it's been a somewhat encouraging two weeks for a franchise that's rebuilding under first-year coach Jonathan Gannon. Arizona has lost two tight games. The Cardinals built a 28-7 lead against the Giants last week before a second-half collapse and a 31-28 loss.
Gannon and the Cardinals hope it was just a speed bump in a gradual climb. The Cardinals are in a difficult part of their schedule, with games upcoming against the 49ers, Bengals, Rams, Seahawks and Ravens.
"The momentum here and there — I don't really buy into all that," Gannon said. "I buy into execution, coaching and playing well. That's what we've got to do better at for four quarters because we've shown that we can do it for a period of time.
"We've just got to make sure we do it for 60 minutes."
BLOW FOR DALLAS DEFENSE
Cowboys cornerback Trevon Diggs tore the ACL in his left knee in practice Thursday. It's quite a blow for a defense off to a great start with 10 sacks and seven takeaways without a turnover by the Dallas offense. The plus-seven turnover margin led the NFL through two games.
The 2021 All-Pro, who signed a $97 million, five-year contract extension at the start of training camp, had his first interception of the season in last week's win over the Jets. Diggs is tied for the NFL lead with 18 interceptions since entering the league in 2020.
NO BAKER
The Cardinals put safety Budda Baker on injured reserve earlier this week, meaning they will be without their defensive leader for at least the next four games. Arizona's defense played OK without Baker in Sunday's loss to the Giants, but certainly could have used him as it coughed up a 21-point lead.
"We'll get on the practice field this week and we've got some guys that we feel comfortable with in that spot," Gannon said. "We've all got to kind of pick up our game because no doubt we'll miss him a little bit."
HUFFING, PUFFING POLLARD
In his second game in the lead role after the offseason release of two-time rushing champion Ezekiel Elliott in a cost-cutting move, Dallas running back Tony Pollard had career highs in rushes (25) and catches (seven).
The load was heavy enough that coach Mike McCarthy said Pollard's reps in practice would be somewhat limited. And Pollard said he was "a little banged up just from the hits but other than that I was good."
The fifth-year back also thought he proved a point.
"I mean, I've been saying this for a long time now," Pollard said. "Whatever they give me, whatever they call, I got it. So I feel like that was a great example of it."
The efficiency needs to be better. Pollard averaged just 3.4 yards on the 32 touches. His per-carry average was 2.9 yards, and the Cowboys had to settle for field goals on four trips inside the 20-yard line.
CALLING ON CONNER
Cardinals running back James Conner had a solid game against the Giants, rushing for 106 yards and a touchdown on 23 carries. The 28-year-old is in the prime of his career and — with franchise quarterback Kyler Murray still on the sidelines — the focal point of Arizona's offense.
"He's the workhorse," Gannon said. "The run game's going to go through him."
Even without Murray, the Cardinals have received pretty good quarterback play from Joshua Dobbs, who was acquired in a trade with the Browns just two weeks before the season. Dobbs completed 21 of 31 passes against the Giants for 228 yards and a touchdown. He also ran for a 23-yard touchdown.
SHADES OF DOOMSDAY
The Parsons-led Dallas defense is in position to allow the fewest points through three games in franchise history. If the Cardinals don't score at least 17 points, the Cowboys will top their "Doomsday" defense of 1974, which allowed 27 points through three games.
The 60-point margin thus far is the second-highest in Dallas history behind the 68-point differential from the first two games of 1968.
This from a defense that is the first since the early 1970s to lead the NFL in takeaways in consecutive years, along with being among the league leaders in sacks last season.
"Just understand all your hard work that you've put in over the years isn't going in vain," defensive end DeMarcus Lawrence said. "Just feel like we continue to gradually grow and feel like we're in the right space that we can actually do something special."
___
AP Pro Football Writer Schuyler Dixon contributed to this report.
___
AP NFL: https://apnews.com/hub/nfl