What we know about Phoenix's $13 million plan to build a space for the homeless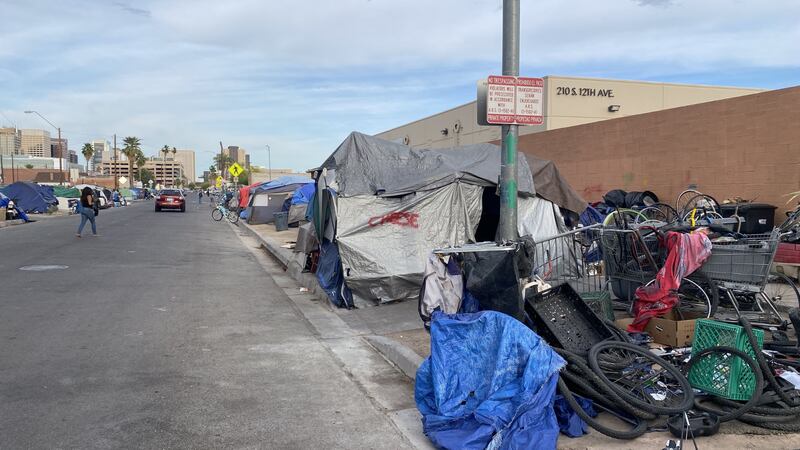 Published: Sep. 21, 2023 at 10:15 AM MST
PHOENIX (AP/3TV/CBS 5) -- The Phoenix City Council formally approved building a homeless campground downtown on Wednesday.
City leaders say the guarded outdoor complex will have 200 spaces, showers, bathrooms and shade. It will cost $13.3 million and be funded through the Arizona Department of Housing. The move rezones the state land near 15th Avenue and Jefferson Street.
The Phoenix City Council approved the purchase of 4.2 acres of state-owned property in June to create a structured campground for the city's growing homeless population. The now-vacant land was previously used for the state's surplus property. The city had announced plans to purchase the land by Oct. 1 after being awarded the money through the Hobbs Administration's newly created Homeless Shelter and Services Fund.
City officials say grant funds will partially cover the cost. They said the planned campground would give people not ready to be at shelters a safe place to camp. It is expected to handle more than 400 people and has security, bathrooms, showers and an indoor cooling center. The camp would be voluntary, with the services preparing people to move to an indoor shelter or off the streets. It is estimated the campground will operate for two to three years.
"We need to do this because we need to provide a form of shelter in The Zone. However, I am concerned about providing a place where the rules will be limited based on discussions we've had," Councilwoman Ann O'Brien said minutes before the passage. "I will vote yes, but I am doing it with much caution."
Phoenix is under a court order to clean up a large homeless encampment. In a ruling issued this week, Judge Scott Blaney said the city has until Nov. 4 to get rid of all the tents, "makeshift structures," and debris near the Human Services Campus in the area of 12th Avenue and Jefferson Street. The block-by-block cleanup started May 10 and continues every two or three weeks to ensure shelter space for everyone who has to relocate.
WATCH: Finding solutions to the Phoenix homeless encampment known as 'The Zone'
Nicole Crites spoke with community leaders on the progress being made on helping our unhoused population. Scott Hall, Deputy Director of the Office of Homeless Solutions for the City of Phoenix, joined our discussion. We also got a better understanding of the outreach steps that are being taken by nonprofits in the area.
The Associated Press contributed to this report.
See a spelling or grammatical error in our story? Please click here to report it.
Do you have a photo or video of a breaking news story? Send it to us here with a brief description.
Copyright 2023 KTVK/KPHO. All rights reserved.