2 suspects shot, 2 others arrested following break-in at apartment in Mesa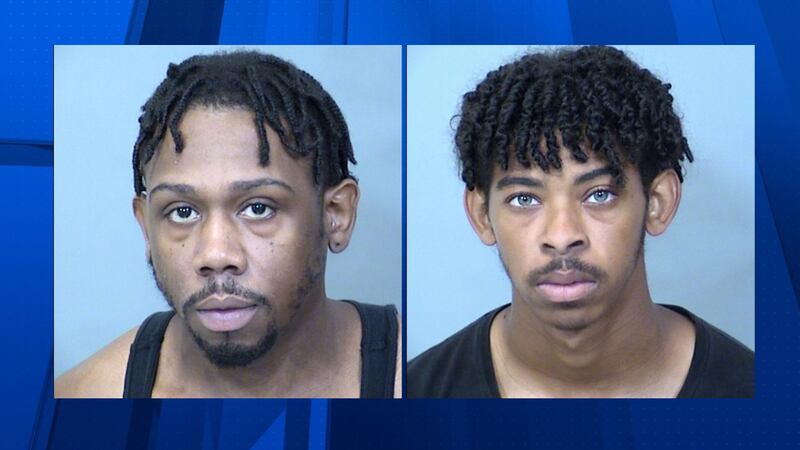 Published: Sep. 20, 2023 at 7:54 PM MST
MESA, AZ (3TV/CBS 5) — At least two suspects have been arrested after an apartment break-in in Mesa earlier this week led to a shooting. Nakeem A. Evens, 25, and Charles L. Bartlett, 19, are facing multiple charges including kidnapping and robbery.
Tuesday night, Evens, Bartlett and two women wore masks and entered an apartment on Billings Street near Sossaman Road and Main Street, police said. Once inside, court documents say the four attacked two people who were sleeping. The suspects reportedly pepper-sprayed both victims, then began punching, kicking and hitting them with other objects. The suspects then duct-taped their wrists, ankles, mouths and eyes, and then moved them into a bathtub. There, one of the crooks hit one of the victims, a woman, several more times and cut off her hair.
Documents say the two victims then sat in the tub for about an hour as the four ransacked the apartment, stealing marijuana and clothes. During the robbery, a man returned to the apartment and was also attacked by the suspects. He was armed and fired a shot, hitting the two women. All four thieves then fled the apartment.
The two women were dropped off at a hospital by Evens and Barlett, documents say, in the same U-Haul moving van seen outside the apartment during the robbery. Police soon identified and arrested the two men.
During an interview with investigators, Evens reportedly said he and the other suspects had traveled from North Carolina and watched the victims before the robbery. Per documents, Evens admitted that he was later invited into the apartment, pretending that he was interested in working for the people who lived there. He said he left the sliding patio door unlocked so the other part of his crew could enter later. Evens also reportedly had the job of making sure the armed man wouldn't be home. When the four entered the apartment, they thought the woman would be alone and didn't expect the other person to be there.
Bartlett allegedly admitted to pepper-spraying and duct-taping the victims, then stealing from the victims. He told detectives it was revenge for an alleged robbery that happened months before.
Surveillance video from a neighboring unit shows the masked suspects jump a small wall to a patio and go in through an unlocked door. Other witnesses also reported seeing the suspects carrying items out of the apartment for nearly an hour.
Evens is facing kidnapping, aggravated robbery and burglary charges. The same charges are also pending for Bartlett, including aggravated assault. It's unclear if their two alleged accomplices have been arrested.
See a spelling or grammatical error in our story? Please click here to report it.
Do you have a photo or video of a breaking news story? Send it to us here with a brief description.
Copyright 2023 KTVK/KPHO. All rights reserved.