Number of people missing following devastating Maui wildfires stands at 66, governor says
Published: Sep. 8, 2023 at 3:35 PM MST
|
Updated: Sep. 8, 2023 at 5:27 PM MST
HONOLULU (HawaiiNewsNow/Gray News) - Hawaii Gov. Josh Green on Friday sought to reassure Lahaina residents that the community will rebuild when they're ready — and with them steering the effort — as he also stressed that government and private aid for survivors will continue for years to come.
The address was delivered as Hawaii marks one month since flames tore through the historic town of Lahaina, leaving at least 115 people dead and razing more than 2,200 structures. In addition to the unthinkable death toll, the fire has devastated Maui's economy and left 7,500 displaced.
In an address Friday from his ceremonial room, Green said that Hawaii continues to grieve with families who have lost loved ones. He also offered an update on the number of missing, saying that number now stands at 66 — down from 385 last week and more than 3,000 originally.
"Today marks one month since deadly fires devastated Lahaina and other areas of Maui," the governor said, "and since then we have been working constantly to shelter survivors, deliver supplies and medical care, and locate the missing and reunite them with their families."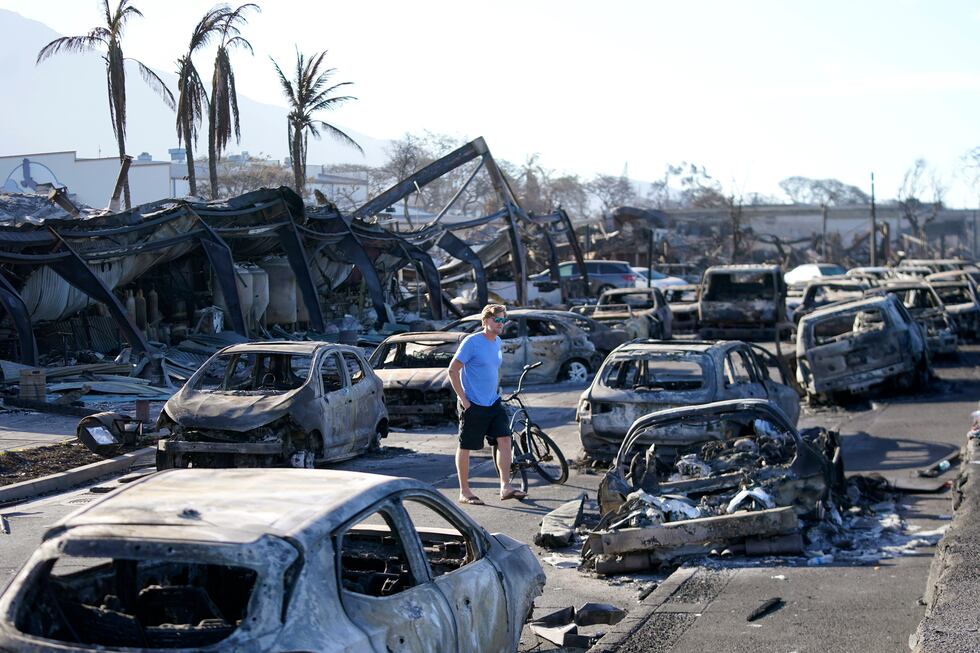 Green stressed that support for Lahaina's residents would continue, saying that as thousands remain in hotels or vacation rentals the state is looking to develop long-term housing solutions.
He said the Federal Emergency Management Agency is working with the state to offer direct leases and rental assistance grants to ensure people stay housed "well into 2025." Costs will be covered by federal and state aid and private donations. He said the state will also contract with up to five hotels for long-term housing.
Green also acknowledged that recovery includes allowing people to return to Lahaina to survey devastated properties.
"In the coming weeks, we will begin to schedule supervised visits for displaced people to return and view their property under safe conditions," he said.
He added: "The ash we are told is quite toxic, so we need to be careful."
Green also said that once the Environmental Protection Agency completes its work of removing toxic materials — a project expected to take up to three months — crews will begin removing debris from Lahaina. The governor said the project will cost at least $1 billion and take "the better part of a year" to complete.
"We have engaged 25 cultural practitioners to help guide this effort and ensure that Hawaiian traditions are respected during this process, and we will make every effort to use local workers and local companies to complete the work," Green said.
The governor stressed that the effort to rebuild Lahaina will be community-driven.
"The people of Maui must have as much time as they need to heal and recover, and we will begin to rebuild only when they are ready, according to the timeline they choose. Lahaina belongs to its people — and we are committed to rebuilding and restoring it the way they want it," he said.
The Lahaina wildfire is the deadliest in the U.S. in more than a century.
And one month after the disaster, basic questions about the government's preparation and immediate response to the blaze that destroyed Lahaina remain unanswered — as the painstaking task of identifying remains and putting out fires continues.
The state has pledged an independent investigation into the wildfire, including the government's response as the fire destroyed the town and what could have been done to prevent the disaster.
"We will get answers to exactly what happened and there will be full accountability," Green said.
In a question-and-answer session with reporters after his address, the governor added: "My view of the crisis is it is a tragedy beyond belief and we'd better get to the answers so we don't have another."
Copyright 2023 Hawaii News Now via Gray Media Group, Inc. All rights reserved.