Dog rescued while fleeing wildfire near Sunflower finds forever home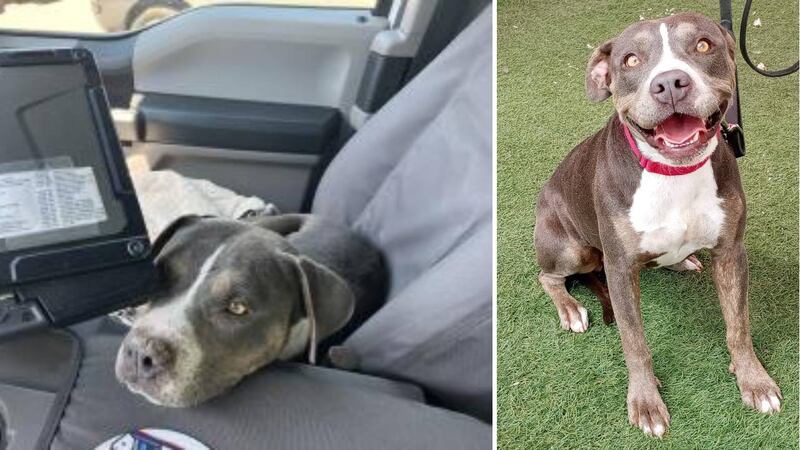 Published: Sep. 6, 2023 at 10:35 AM MST
SUNFLOWER, AZ (3TV/CBS 5) — A scared, injured pup that was rescued near the site of a large wildfire earlier this summer has found a new home.
As fire crews battled the Diamond Fire in the Tonto National Forest on July 26, ADOT crews from Payson were dispatched to set up traffic control along State Route 87 near Sunflower. That's where they found the pit bull mix that was fleeing the nearby fire. ADOT workers rescued the dog, naming her Sunflower after the nearby town.
Brett Rupp, an ADOT maintenance supervisor in Payson, says he reached out to someone in Sunflower but couldn't find anyone who knew where the dog came from. "So I gave her a little water, loaded her up in the truck, gave her some cool AC, and brought her to the Humane Society of Central Arizona in Payson," he said.
Sunflower was treated for road rash on her front right leg and an ear infection. She wasn't wearing a tag and hadn't been microchipped.
"Initially, when she was brought in, even when we were looking at her and removing all the ticks, she just wanted to lay in your lap," said Nicole LeBeau, medical director at the Humane Society of Central Arizona. "It took less than a week for her to really flourish and bloom into this amazing dog who seemed like all she wanted at the end of the day was love."
When no one came looking for her, LeBeau says Sunflower was adopted by a loving couple about two weeks later. "She loves her brother Chaco, and they love to play," said Alexis Kesterson, her new owner. "She loves toys, treats, and, most of all, cuddles! She is the sweetest girl!"
The Diamond Fire started on July 22, leading to evacuations as it burned thousands of acres. It has since been contained.
See a spelling or grammatical error in our story? Please click here to report it.
Do you have a photo or video of a breaking news story? Send it to us here with a brief description.
Copyright 2023 KTVK/KPHO. All rights reserved.