New data: Phoenix first responders, teachers can't afford to live where they work
Published: Sep. 1, 2023 at 6:48 PM MST
PHOENIX (3TV/CBS 5) - Buying a home is expensive, and because of that, becoming a homeowner in the Valley is a goal many are unable to achieve. July data shows salaries for many critical jobs aren't high enough to buy a home, and in many cases, even renting a one-bedroom place is out of reach.
Police answer the call to protect our city, but most officers across Phoenix can't afford to buy a home in the same community they serve. "A lot of our officers live outside the city of Phoenix for a variety of reasons, but a lot of it comes down to what their dollar buys them for their homes," said Darrell Kriplean, president of the Phoenix Law Enforcement Association.
He's been with Phoenix Police for nearly three decades. "My first home was about $150,000. Course I was only, I graduated the Academy making just under $12 an hour," he said.
According to July 2023 data from a local economic firm, the least affordable city is Scottsdale, with the median home price at $795,000. The most affordable option is Avondale, with a median home price of just over $413,250.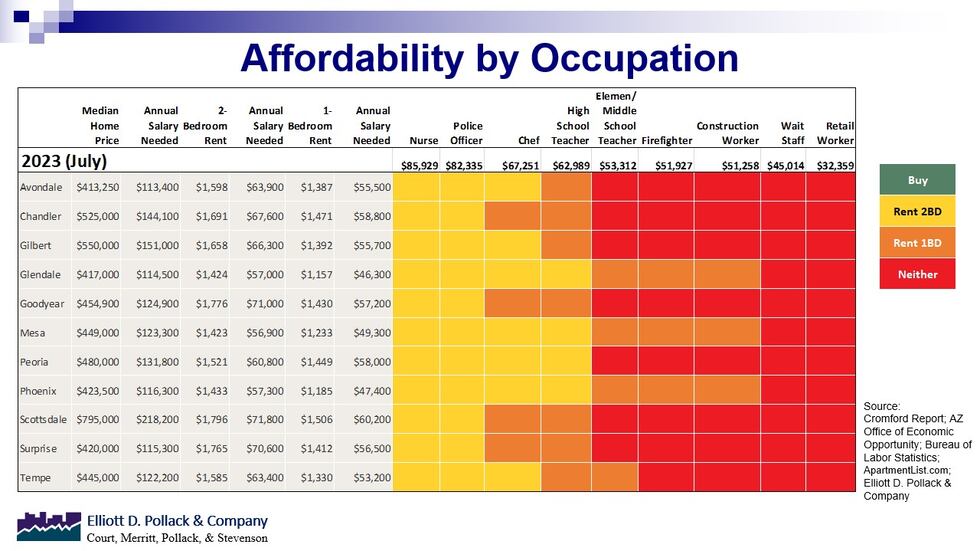 In many cases, a police officer's salary isn't enough to buy a home anywhere. "I'm not shocked by it," said Kriplean. The situation is even worse for teachers. Not only can they not afford to buy a home, but in some cities across the Valley, rent for a one-bedroom apartment is out of budget. "We see teachers living with their parents or grandparents. Three generations in a home. Three roommates in a two-bedroom apartment," said Marisol Garcia, president of the Arizona Education Association.
She said educators not being able to afford to live in the same neighborhoods they teach in takes a toll. "It really does put a strain on our ability to do our jobs the way we want to and the way we've been trained to," said Garcia.
These same jobs are suffering severe shortages. Schools and police departments are struggling to recruit and retain teachers and officers, and pay not measuring up to the current cost of living is part of the reason why. "This has always been an issue, but it's gotten to a little bit more of a crisis point over the last three years," said Garcia.
See a spelling or grammatical error in our story? Please click here to report it.
Do you have a photo or video of a breaking news story? Send it to us here with a brief description.
Copyright 2023 KTVK/KPHO. All rights reserved.