Gas prices are up across Arizona as Labor Day weekend nears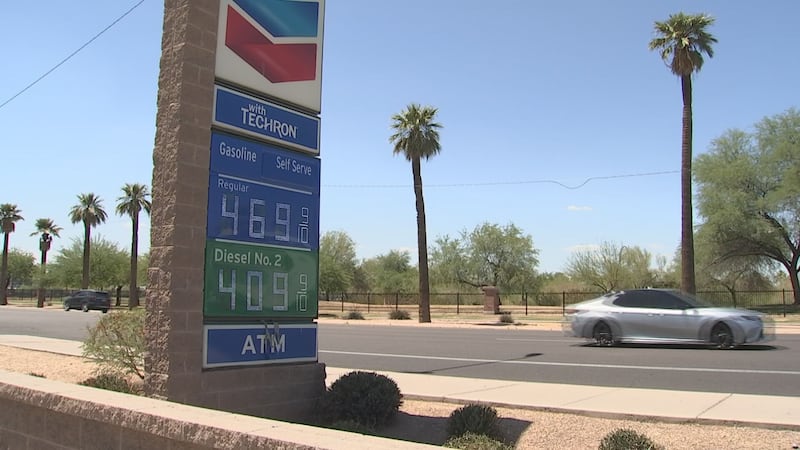 Published: Aug. 30, 2023 at 8:38 AM MST
PHOENIX (3TV/CBS 5) -- Gas prices in Arizona continue to tick up as Labor Day weekend nears, averaging $4.33 a gallon statewide and $4.54 in Maricopa County, according to AAA Arizona.
Prices in Phoenix are up more than 60 cents compared to a month ago and be prepared for them to tick even higher! GasBuddy experts say prices will likely inch up over the next few weeks, but don't expect prices to increase because Hurricane Idalia.
"This hurricane is not likely to impact any refineries simply because the path is through Florida. There are no refineries in Florida, there's not a whole lot of energy infrastructure either so at least from the impact on oil and petroleum and refineries, the hurricane is not likely to take a path that has any impact on gas prices," Patrick De Haan with GasBuddy said.
De Haan says prices could increase statewide because of other factors like "refinery issues plaguing refineries that supply into Arizona." He added the increase could be around for the "next couple of weeks" but then prices should start falling as the state switches to a cheaper winter blend of gas.
"The change happens as early as September 16th so that's something that should be really getting into the prime by late September we should start seeing some more of those healthy decreases to gas prices," De Haan said.
So how much could prices drop in Arizona once we make that switch? De Haan says "gas prices will fall potentially 20 to 40 cents or even more per gallon."
Click/tap here for the Arizona's Family gas price tracker, powered by GasBuddy.
See a spelling or grammatical error in our story? Please click here to report it.
Do you have a photo or video of a breaking news story? Send it to us here with a brief description.
Copyright 2023 KTVK/KPHO. All rights reserved.