Dog found in Glendale reunited with family after 12 years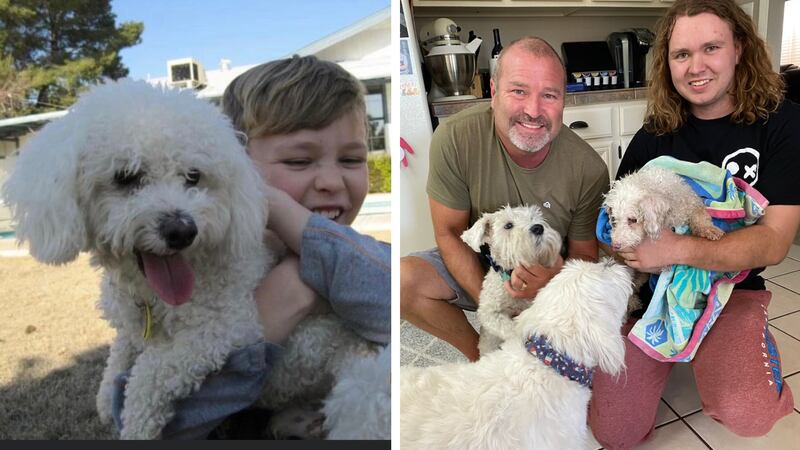 Published: Aug. 30, 2023 at 9:26 AM MST
GLENDALE, AZ (3TV/CBS 5) — A 15-year-old dog got the treat of a lifetime over the weekend after he was found by Maricopa County Animal Care and Control.
A field officer with MCACC picked up a stray dog on Friday near Glendale and 48th avenues. The dog was timid, didn't seem happy or sad and didn't pay much attention to the officer, according to an MCACC spokesperson. The officer scanned the dog for a microchip and learned that the dog was named Minion and that the chip hadn't been updated since 2011. She called in to report finding Minion and, a few hours later, started getting phone calls from a number she didn't recognize.
She picked up, and a man said that she found his dog. Minion went missing in 2011 after a maintenance worker left the back gate open, he tells her. He said he and his family searched and searched for Minion but never found him. Rather than ask the family to meet Minion at a shelter, the field officers drove him back to his family, 22 miles from where he was found.
Once she arrived and went to open the vehicle kennel, she told the family that Minion was old and hadn't been very active since finding him. However, the demeanor changed when the officer opened the kennel and Minion saw where he was and who he was looking at. He started wagging his tail and moving around excitedly. Once inside, he began circling the other dogs and wagging his tail. He was home at last after over 10 years.
The MCACC says the reunion wouldn't have been possible without a microchip and encourages all pet owners to make sure their furry friends are chipped and their contact information is up to date.
See a spelling or grammatical error in our story? Please click here to report it.
Do you have a photo or video of a breaking news story? Send it to us here with a brief description.
Copyright 2023 KTVK/KPHO. All rights reserved.