Politics Unplugged Podcast: Adam Kinsey and Daniel Scarpinato
A dive into politics...and definitive American rock bands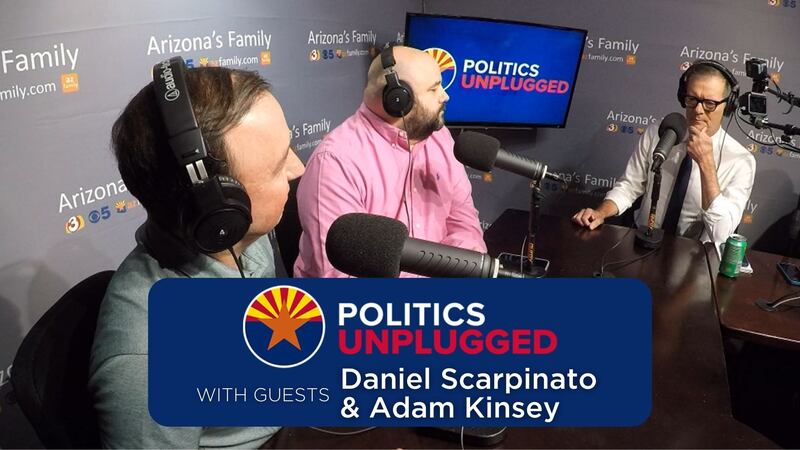 Updated: Aug. 28, 2023 at 6:00 AM MST
PHOENIX (3TV/CBS 5) - This week, Dennis is joined by political consultants Adam Kinsey and Daniel Scarpinato to discuss the Republican presidential debate and Donald Trump's latest legal troubles. Then, Dennis and Colin debate the definitive American rock and roll bands.
LISTEN & SUBSCRIBE
Available Now: Stream | Apple Podcasts | Spotify | Pocket Casts | Amazon Music | Stitcher | Google Podcasts
RECENT EPISODES
Ruben Gallego: On this week's Politics Unplugged podcast, Dennis talks with Congressman Ruben Gallego about why he's running for Senate, taking on former Democrat Kyrsten Sinema. Also, Dennis and Colin discuss whether a sitting U.S. Senator should really be referred to as "Coach."
Chuck Coughlin and Tony Cani: Dennis is joined by political consultants Chuck Coughlin and Tony Cani for a discussion on how the abortion issue will impact next year's elections. The group also looks at whether we're locked into a Biden-Trump rematch, and whether voters actually want to seem them battle it out again.
Mike Haener & Marcus Dell'Artino: This week, two of the state's top politicos, Mike Haener & Marcus Dell'Artino, stop by the pod to give us their takeaways from the longest legislative session in Arizona history. Plus, Colin and Dennis speculate on who's to blame for killing the Pac-12. Spoiler Alert: It's not Oregon!
Dawn Penich-Thacker & Paul Bentz: Dennis sits down with Dawn Penich Thacker & Paul Bentz, a couple of Arizona's finest political pros, to discuss the politics and problems surrounding the state's school voucher program. Plus, they discuss why Gov. Hobbs may not be as unpopular as one poll suggests.
Chad Campbell: Chad Campbell, the new Chief of Staff for Arizona Gov. Katie Hobbs, joins Politics Unplugged this week to discuss recent moves and the road ahead.
Jessica Boehm: This week, Axios' ace reporter Jessica Boehm joins the pod to talk about the heat and the homeless in Phoenix. Then a couple of politicos discuss the possibility of a controversial candidate jumping into one of the most important races of 2024. And we learn just how new Dennis is to this whole podcast thing.
Adrian Fontes: Secretary of State Adrian Fontes joins us to talk about the January 6 investigation and election related issues. In addition, Dennis apologizes to Colin for slandering his musical tastes.
Stephen Richer: Dennis is joined by Maricopa County Recorder Stephen Richer to talk about his defamation lawsuit against Kari Lake, the former Republican nominee for governor. Dennis also talks to Richer about his political future and whether he will run for reelection or seek a different office.
Doug Ducey: In the debut episode of Politics Unplugged, Dennis Welch sits down with former Gov. Doug Ducey to talk about what he's been up to since leaving office. They discuss his latest project, MAGA, and the exploding growth and cost of the state's school voucher program that he championed. Ducey also tells us the rest of the story behind that infamous phone call from the Trump White House while he was certifying the 2020 election results.
Copyright 2023 KTVK/KPHO. All rights reserved.