As hundreds remain missing in Maui, electric company admits evidence to determine how wildfires started may have been compromised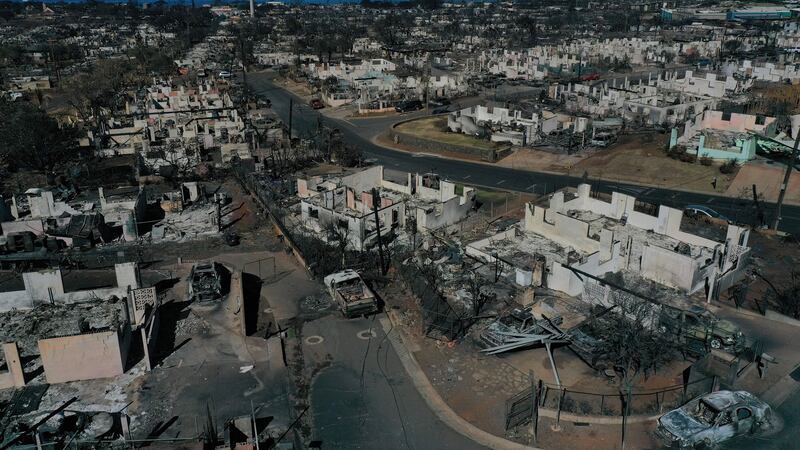 Published: Aug. 27, 2023 at 2:09 PM MST
(CNN) — Hundreds of people are still listed as unaccounted for after this month's devastating wildfires on Maui – a number that's expected to change as the FBI continues vetting names.
The "validated list" curated by the FBI currently includes 388 names, Maui County said Thursday, as cell phone data is now being used to try to pinpoint where victims may have been when the deadliest US wildfire disaster in more than 100 years tore through the Hawaiian island. At least 115 people are confirmed dead, though authorities say that number is likely to change.
The FBI on Friday acknowledged the list of names was "a subset of a larger list" of people who are believed to be missing. Steven Merrill, the bureau's special agent in charge in Hawaii, said those currently on the list are people who authorities had more complete information about. Since the list was released, they've gotten "at least 100 people that have notified us that a certain person shouldn't be on the list," Merrill said – so the number of those still unaccounted for is expected to change.
As the race to identify the lost continues, the state's main electrical utility stands accused of compromising evidence in the fire investigation, and Maui County officials have followed others in suing the company over responsibility for the fire. First responders also are pressing for answers about why they weren't better prepared after a similar ruinous fire five years ago.
The updated list of the missing was released with hopes of confirming anyone who's not truly still lost, officials said.
"We're releasing this list of names today because we know that it will help with the investigation," Police Chief John Pelletier said in the release. "We also know that once those names come out, it can and will cause pain for folks whose loved ones are listed. This is not an easy thing to do, but we want to make sure that we are doing everything we can to make this investigation as complete and thorough as possible."
Pelletier said Friday that since the names were released, authorities have received hundreds of calls. Authorities would like to do a weekly update on the list of missing people to help notify the public, he said.
The FBI has worked with agencies "to unduplicate people that have been reported missing," Hawaii Gov. Josh Green said earlier Thursday in a social media post. Some 800 to 1,200 people have been listed as unaccounted for since the fires, he said.
The grim search for those believed missing began shortly after wind-whipped flames tore through the island on August 8. Much of the western Maui community of Lahaina – once a lively economic and cultural hub – was left in ruins, with entire neighborhoods and businesses reduced to ash. Some residents were forced to jump into the ocean to survive as flames overtook the town.
Search crews and cadaver dogs have searched 100% of single-story homes in the disaster area, Maui County officials said Tuesday. They are now going through multistory homes and commercial properties.
And an FBI team that specializes in using cell phone data has launched in Maui to help identify potential fire victims, a law enforcement source told CNN. The Cellular Analysis Survey Team was on the island working with local law enforcement, the official said.
The team can get and analyze cell phone company subscriber records and cellular tower registration data, which could prove useful to the search efforts by geolocating the last known area where a victim's cell phone was operating.
The team, in the past, has used information obtained through court orders to help with terrorism, kidnapping and criminal investigations.
"Cellular telephone analysis" is among the resources being provided by the bureau, Steven Merrill, special agent in charge of the FBI's office in Hawaii, said during a news conference Tuesday without giving specifics.
Additionally, Maui County has named a new interim administrator of the Maui Emergency Management Agency after its prior chief resigned from the post on August 17.
In announcing Darryl Oliveira's hiring Friday, Maui County Mayor Richard Bissen said he has a track record of "invaluable experience and skill during challenging times."
Oliveira, who previously served as the administrator of the Hawaii County Civil Defense Agency, is expected to begin leading the county's emergency agency Monday.
Evidence may have been compromised, power company says
As the human toll of the fire comes into focus, investigators also are trying to determine what sparked the flames, and while no official cause has been announced, the Hawaiian Electric Company is facing scrutiny over its actions before and after the fires broke out.
Some evidence potentially vital in determining the cause of the deadly fire in Lahaina may have been compromised, Hawaiian Electric Company (HECO) acknowledged in an exchange with attorneys included in court documents obtained by CNN.
The company said fallen power poles, power lines and other equipment were moved during firefighting efforts and as officials worked to make the area safe for residents, according to letters part of a class action lawsuit. The company told attorneys, who are representing Lahaina residents in the class action suit, that it was "possible, even likely" that evidence that "relate(s) to the cause of the fire" might be lost, correspondence obtained by CNN shows.
The equipment was removed from the area around the Lahaina substation – which is thought to be where the blaze started – before federal investigators arrived.
Those actions could have violated national guidelines, which say the fire scenes should be heavily preserved for investigators and any and all evidence should be secured and not removed from the site without documentation, court documents filed by attorneys say.
The ATF said on August 17 that its National Response Team was being deployed to Hawaii to help determine the cause and origin of the deadly fire – days after the utility company acknowledged equipment and evidence had likely been moved or lost.
On August 10 – two days after the wildfire devastated the town of Lahaina, a group of attorneys notified the utility of anticipated litigation and requested that all electrical equipment that may relate to the origin of the fire – including power poles, lines and conductors – be preserved.
An attorney for Hawaiian Electric responded on August 11 that some potential evidence may have already been compromised during the firefight, not by the utility itself, but by others.
John Moore, an attorney for the utility, wrote to attorneys for the families on August 11 that the company's main focus was the safety of first responders and displaced residents and restoring power.
The company also noted it was taking steps to preserve property but local, state and federal agencies were on the ground and it was possible "that the actions of these third parties, whose actions Hawaiian Electric does not control, may result in the loss of property or other items that relate to the cause of the fire."
The families' attorneys then submitted a request for a temporary restraining order to stop Hawaiian Electric from altering the scene where it's believed the Lahaina fire started, court documents show.
A judge signed an interim discovery order on August 18, detailing how the company should handle evidence around the scene, including preserving and protecting all physical evidence within a defined area and refraining from destructive testing.
The order also specified that it was not making any findings of any wrongdoing at this time.
The class action lawsuit was filed several days after the fires ignited, alleging Hawaiian Electric failed to deenergize power lines ahead of the fire despite high wind and red flag warnings. The cause of the fire has not yet been determined. It is believed to have ignited near a power substation "where authorities reported a downed power line early on August 8, 2023," the complaint says.
Hawaiian Electric vice president Jim Kelly previously told CNN that "as has always been our policy, we don't comment on pending litigation."
"At this early stage, the cause of the fire has not been determined and we will work with the state and county as they conduct their review," he said.
Hawaiian Electric has been "in regular communication with ATF and local authorities and are cooperating to provide them, as well as attorneys representing people affected by the wildfires, with inventories and access to the removed equipment, which we have carefully photographed, documented and stored," a spokesperson told CNN.
The spokesperson for the utility company told CNN, "Hawaiian Electric understands its legal obligations and took extraordinary steps to preserve evidence."
The ATF's National Response Team, which is investigating the cause of the fire, declined to comment.
The county has sued the electric company
While the investigation continues, Maui County officials made their position clear in a lawsuit filed Thursday, claiming "the negligence, carelessness, and recklessness, and/or unlawfulness" of Hawaiian Electric Company and its subsidiaries is directly responsible for the fires.
The utility, known as HECO, "inexcusably kept their power lines energized" in early August, despite the National Weather Service issuing a High Wind Watch and a Fire Warning, the lawsuit alleges. The warnings cautioned that strong winds could knock down power lines and ignite a fire that would spread quickly due to dry conditions, the lawsuit indicated.
Maui County is seeking damages from HECO that may total tens or hundreds of millions of dollars, said John Fiske, an attorney representing the county in the suit.
"Our primary focus in the wake of this unimaginable tragedy has been to do everything we can to support not just the people of Maui but also Maui County. We are very disappointed that Maui County chose this litigious path while the investigation is still unfolding," a spokesperson from Hawaiian Electric told CNN in a statement.
Hawaiian Electric Company serves 95% of the state's customer base.
As of Thursday, officials still were tracking at least three active fires on Maui, including the Lahaina fire, which was 90% contained after burning more than 2,170 acres. The Olinda fire, which has burned an estimated 1,081 acres, was 85% contained, and the Kula fire was also 85% contained, with just over 200 acres burned, county officials said.
'We all knew this was going to happen again'
And even as fire crews work to find and contain hot spots, a Hawaii police union official said firefighters "were set up for failure" ahead of the outbreak.
Following a destructive wildfire that broke out in 2018 under similar conditions in the same area, no wildfire management or other preventative methods were taken to mitigate future disasters, Nicholas Krau, the Maui Chapter Chair for the State of Hawaii Organization of Police Officers, told CNN.
"We all knew this was going to happen again. While no one could have predicted this much destruction or loss of life, we all knew there would be another destructive fire that would threaten these same businesses and homes again," Krau said. "I don't know who's responsible for preventing wildland fires and managing the privately owned land where the fire started, but they should definitely answer for it."
More than 2,000 acres burned and 20 homes were damaged in the 2018 fire, county officials have said.
Many police officers who helped with evacuations this month suffered smoke inhalation because they didn't have proper respiratory protection, even after it was requested following previous fires, Krau said.
"If someone needs help, (the police) are going to rush in and do everything they can to help. But the department and county of Maui have the obligation to properly equip them," he said.
CNN has reached out to Maui County and the Maui Police Department for comment on Krau's claims.
The-CNN-Wire™ & © 2023 Cable News Network, Inc., a Warner Bros. Discovery Company. All rights reserved.