Thousands of stadium lights along border, conservationists warn detrimental impacts on wildlife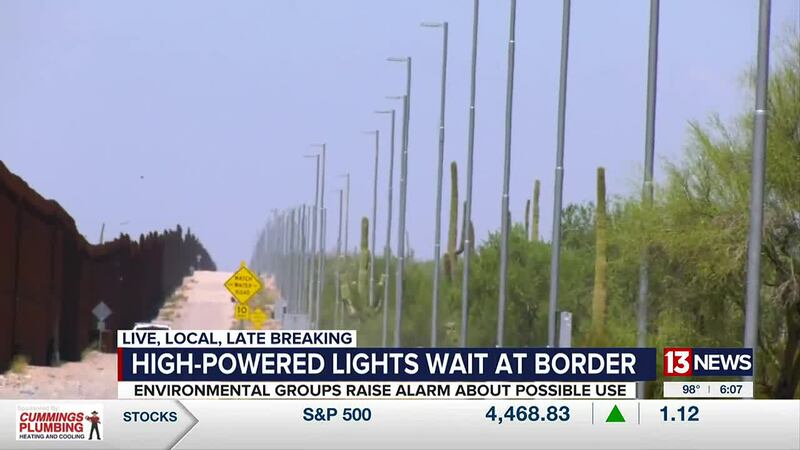 Published: Aug. 10, 2023 at 7:32 PM MST
TUCSON, Ariz. (13 News) - Hundreds of stadium lights stand along Arizona's southern border., But these lights have never once been turned on. According to a recent survey, if these lights were ever to be switched on, endangered animals living along the border could be at risk.
During the Trump administration, these lights were installed between 2019 and 2021 to secure the border and keep CBP agents safe. But, when the Biden administration took office, they were never turned on.
They stretch on for miles. But just how many stadium lights are standing along Arizona's border?
"Earlier this year I was communicating with CBP (Customs and Border Patrol) about how many lights were out there and nobody could give me an answer, so that's where this survey kind of came up." So, Southwest Conservation Advocate Russ McSpadden went to the border to find out himself.
"I counted over 500 lights and marked them with GPS coordinates," he said. In the survey, it was also noted that there was 1,800 on Arizona land not one of them every turned on.
McSpadden wants it to stay that way for the sake of the wildlife that calls the area home.
"There is scientific consensus that artificial light pollution is one of the most widespread threats to biodiversity around the globe. What we are most concerned about is these lights going on in some of the wildest places left in north America," he noted.
These lights run across critical habitats for 16 endangered species. According to McSpadden would change the natural behavior of wildlife if they were forced to live under these blazing lights. "From foraging to mating, where birthing happens, sleeping cycles. So, what we are really concerned about these populations that live in this area."
Today, the lights don't stand in good shape. Many show wiring problems and some that are just broken. According to Border Patrol, there's no immediate plan to turn these lights on.
Before they do, CBP officials say, they'll conduct environmental research in accordance with the National Environmental Policy Act.
This could mean installing new lights where none exist and powering on the lights where they are already installed.
Something Cochise County Mark Dannels said he's on board with.
"It's all about prevention," he said. "Officer safety and officers working the border they can see on the border beyond their headlights at night."
He added that these lights would provide integral safety for deputies and agents working along the border. "There's not a lot of lighting along the rural parts of our southwest border," Dannels said.
Border patrol officials say CBP is evaluating the priority areas for powering on lights. They'll take biologically sensitive areas and Federal lands that use night sky initiatives into account.
In a letter to Border Patrol and several other agencies in June, the Center for Biological and Diversity urged CBP to remove the existing lightning and consider alternatives to the installed blazing lights.
Saying in part: "We are deeply concerned about the impact of artificial light pollution across some of the most biodiverse and remote reaches of the United States. We urge you to remove stadium lighting infrastructure in the aforementioned conservation areas as soon as possible."
Be sure to subscribe to the 13 News YouTube channel: www.youtube.com/@13newskold
Copyright 2023 13 News. All rights reserved.